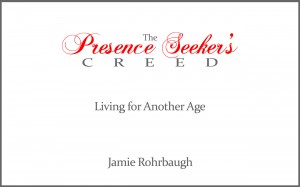 Hello and happy Saturday! Are you having a good day?
I'm excited to announce that I have written a new ebook! This one is not the 21 Prayers book that will be coming out in April. This is a different one. 🙂
It's called:
The Presence Seeker's Creed: Living for Another Age
The Presence Seeker's Creed is an artistic book of prose. It's 32 pages long, but only 1,004 words… kind of like a coffee table book. It's only words, with neat text designs.
It's short and powerful. It's my manifesto on what it means to dedicate one's life to the presence of Jesus.
It will turn your heart toward heaven. (I cried when I wrote it.)
It's great to read as a devotional, or to encourage yourself. It has a challenge for everyone, and an invitation to adopt the Presence Seeker's Creed with me.
The Presence Seeker's Creed will be offered on Amazon for Kindle soon, and it will also be offered to my blog subscribers.
But today…
I am looking for 10 readers to review The Presence Seeker's Creed in exchange for a free copy.
Here's how it would work:
Fill out the form below to let me know you'd like to review the book.
I will email you the .pdf file.
After you read it (which you can do in 10 minutes or less), please give it some thought and send me your written feedback within 3 days.
I really do want honest feedback! If you love it, please tell me so! But if you can offer any tips for improvement, I really want to hear those too.
You would also be giving me permission to publish your review.
I believe this book will be a blessing to you, and I want it to be the best it can be. Your feedback will help me make it so.
Thanks in advance, and I can't wait to hear from you!
Contact me here: