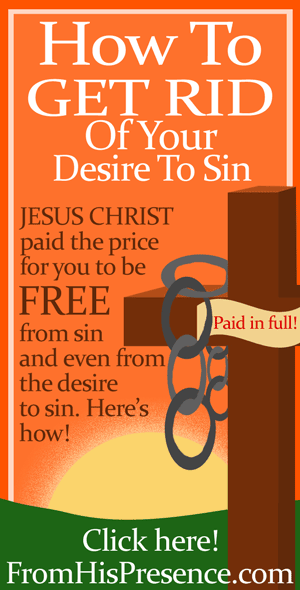 Did you know that Jesus paid the price for you to be free of the desire to sin? That means you can get rid of the desire to sin. Easily.
True story.
I've been talking to some folks lately who have been struggling with sin of various kinds. They earnestly desire to walk in purity before the Lord. They don't want to sin, at all, ever. They love Jesus and desire to seek Him.
But sometimes actually walking in holiness doesn't happen. Sometimes people want to get rid of the desire to sin, but they struggle to actually do it.
Does this sound familiar? It should. I think we all struggle with this to some degree, and we're not alone if we do. This is what the Apostle Paul wrote about from his personal experience. He described his conundrum by saying:
For we know that the law is spiritual, but I am carnal, sold under sin. For what I am doing, I do not understand. For what I will to do, that I do not practice; but what I hate, that I do" (Romans 7:14-15).
But you know what? The good news is:
Jesus Christ paid the price for you to be free from sin AND from even the desire to sin. Here's how:
Isaiah 53:5 tells us that Jesus was bruised–He bled on the inside of His body–for our inner tendency to sin. This passage says:
But He was wounded for our transgressions,
He was bruised for our iniquities;
The chastisement for our peace was upon Him,
And by His stripes we are healed" (Isaiah 53:5).
"Iniquity" is not the same as sin. Sin is the evil actually committed. Iniquity is the inner tendency to sin. It's the root, the perverseness, the evil tendency on the inside that produces sin on the outside. Iniquity is the thing on the inside that gives you the desire to sin:
It's the rage on the inside that you feel before lashing out in anger on the outside.
It's the lust on the inside that you give in to before you sin by watching pornography.
It's the desire, the inclination, the bent toward sin that nobody might even sees … but God sees. And that iniquity is wrecking your life.