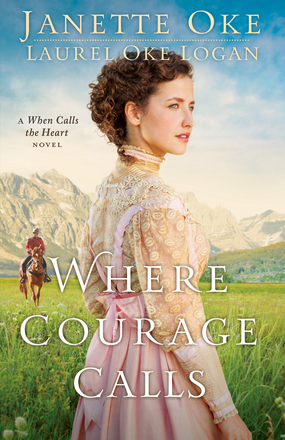 I really believe in good, godly entertainment. This world is too serious sometimes, and people of faith can get too serious too! The Kingdom of God is JOY, right? So we need to have fun things that we enjoy doing, just to feed our creativity and "fun tanks."
I've started reading a little bit of Christian fiction recently. I didn't used to be able to read it because my mind had been really impacted by reading UNgodly fiction years ago. But God has healed my mind! Yay! And now I can enjoy a good story again!
So I just finished reading Janette Oke's newest book last night. This book, "Where Courage Calls
" is classic Oke material. It contains a strong lead female with a strong faith in rugged and untamed wilderness. Complete with a couple of potential suitors from the from the Royal Canadian Mounted Police. What could be better than that?
"Where Courage Calls
" is a fun story about a young woman who moves out on her own adventure, away from a society family and into the wilds of Canada. The story did move a little slower than Oke's material usually does. (The potential romance factor didn't really come out until the last couple of chapters.) Nevertheless, it was intriguing and enjoyable. And, to be totally fair, the majority of the book was spent developing a plot that didn't really need romance!
I suspect that this is the first in another series for Oke. I hope it is. It was perfect for a couple of snowy nights' entertainment!
Do you need some fun, godly entertainment? Pick this book up on Amazon
and snuggle up for a fun read! I definitely recommend it.
Disclosure: I received a free copy of this book for review purposes. However, the fact that the book was free for me didn't influence my opinion about it. Also, the links above are my Amazon affiliate links. If you purchase this book using these links, Amazon will pay me a small commission (at no additional cost to you, of course). Thanks in advance for helping support this blog in this way!