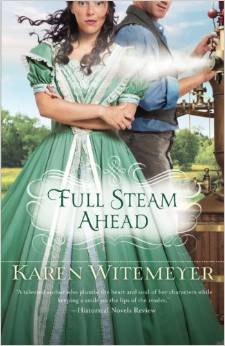 I rediscovered my great love of fiction recently, and so I've been posting some book reviews in case you need a fun evening's entertainment too. 🙂 I read Full Steam Ahead by Karen Witemeyer a couple of weeks ago, and I have to say it was the best novel I've read in a long time.
Witemeyer's writing is excellent. Full Steam Ahead was gripping from the first page to the last page. I've read several of Witemeyer's books before, and loved them all, but this one was maybe even the best. Her characters are fully-developed. Her plot was intense but not overwhelmingly so. Her heroine was smart and funny and skillful. It was well-researched historically. It was just awesome. I couldn't put it down. I stayed up late into the night to finish it. For this 7:00-PM-bedtime-girl, that's SERIOUS. 'Nuff said. Go read this book!
I did receive a free copy of this book in exchange for an honest review, but the free copy didn't influence my opinion. The book still rocks and I'd have paid for it in a heartbeat. 🙂
You'll get an email when new content is posted. You'll also receive my free, printable blessing cards and my ebook–The Presence Seeker's Creed–for free when you confirm!