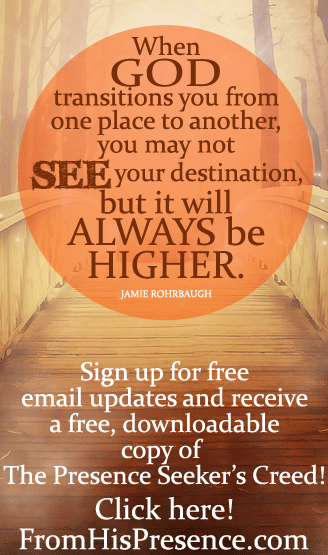 Dear, precious, amazing readers,
I have a special gift coming your way IF YOU SUBSCRIBE TO THIS BLOG BY EMAIL. On Friday of this week, I am going to send my email subscribers a FREE, huge gift. It will contain:
Timely insight about this season of prophetic transition that we discussed here and here, last week;
My inside tips and keys to success this season–the most personal, privately-held ones that I won't be sharing except with my email subscribers;
FREE study helps that will help you understand God's plan for you in this next season; and
A brief, personal update that I also won't be sharing with anyone except my email subscribers.
You're going to want this info.
Not on my email list? Hey, it's not too late.
Sign up now here and you'll receive a downloadable copy of my ebook, The Presence Seeker's Creed, right away. You'll also receive my power-packed, printable blessing cards … and I've heard from a bunch of people that these have been a huge, you guessed it, blessing in their lives. 🙂
So don't wait. Head on over here to sign up for free email updates. You can always unsubscribe later if you need to, but I don't think you'll want to. I'll be sending these private email updates to my email subscribers more and more as time goes on. 🙂
Why am I sending this info only to my email subscribers?
Because you, fellow Presence Seekers, are the ones who identify the most about the message of this blog–keeping the Presence of Jesus. And since you believe in my message so much that you allow my updates into your inbox, I know you'll value the message the Lord has given me to share for this season.
You'll get an email when new content is posted. You'll also receive my free, printable blessing cards and my ebook–The Presence Seeker's Creed–for free when you confirm!