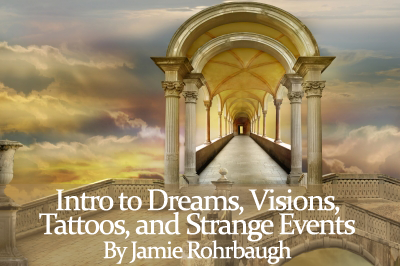 Hi friends! Today I have a great freebie for you. It's Week 1 of my teaching series called "Intro to Dreams, Visions, Tattoos, and Strange Events."
This is a class series I began teaching at my church about six weeks ago, and am still teaching. It's about how to understand God's symbolic language. God speaks to us in pictures all the time, but we often don't know how to grasp what He's saying. This series aims to solve all that.
The series includes:
the purpose of dreams;
meanings of colors and objects;
Biblical numerology;
how to ask God for the interpretations of dreams/visions/tattoos/strange events;
and MUCH more.
I have recordings of each week, and I will put them together later as I am able to edit the audio.
But for today, if you're interested in how God speaks through dreams, visions, and other symbolic language, download this teaching! It's totally free.
After you've heard it, I'd love to hear your thoughts! Please comment on this post or go over here to my Facebook page and let me know what you think! And enjoy!
Note: Since the teaching is free, the Gumroad system will NOT ask for your credit card.
Also… drum roll please…
I have a HUGE announcement coming up THIS FRIDAY. It has to do with dreams and tattoos. I've been working very hard on it, and it's almost ready to unveil! So be sure to check back this Friday to see what my huge announcement is!
You'll get an email when new content is posted. You'll also receive my free, printable blessing cards and my ebook–The Presence Seeker's Creed–for free when you confirm!