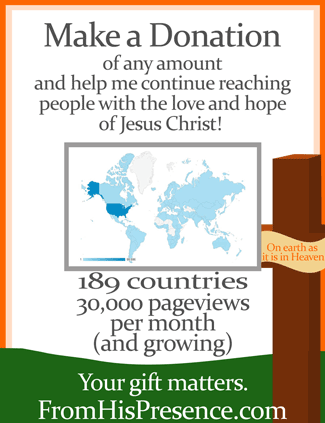 Dear reader,
Someone recently said to me, "I read your blog and I felt like God loved me for the first time."
I was floored. And grateful. So very, very grateful to God for giving me this outlet–this voice–to reach people all over the world with the love and hope of Jesus Christ. In only the last year+, this blog has touched people in 189 countries. We are at 30,000 pageviews per month, and growing every month.
That's huge. That's a lot of people that are being touched for Jesus.
But it's not a solitary effort. God and you and I are all doing this together. Laboring in the harvest field–whether that means going on mission trips or using technology to broadcast God's Word, like I do–is a group effort. And you have been helping:
You have been sharing your own stories through your comments.
You have been sharing posts on social media.
And you have been supporting this blog financially through your generous giving and product purchases.
Thank you. From the bottom of my heart. Thank you. Our Papa has been blessing this work. And He's using YOU to help reach more people with the Good News of Jesus.
Today I wanted to let you know that I've finally found a tech-savvy way that, if you would like to partner with me financially to keep reaching people for Jesus through this blog, you can. I have always used Gumroad.com as my shopping cart for product sales, and today I was able to add a feature where you can make a donation of any amount. I'll be placing a button over on the sidebar so this option is easy to find all the time. But today, if you want to help, just click the button below!

Your gift helps me pay the ongoing costs of hosting, anti-spam guards, technical tools, and many other things. You are making it possible for this blog to run.
Thank you for your ongoing support, prayers, encouragement, feedback, social media shares, and yes, for your gifts too. Together, we are making a difference.
Love in Christ,
Jamie
You'll get an email when new content is posted. You'll also receive my free, printable blessing cards and my ebook–The Presence Seeker's Creed–for free when you confirm!