I'm excited to announce that I've just received one additional track from our most recent spontaneous worship session!
I've named this track "Drenched." It is similar to "Rain," but it has vocals and is again spontaneous, so it's also completely different!
My fellow musicians and I are exploring what it means to be musicians according to the biblical model.
Musicians in the Bible weren't performers, and they weren't accessories to worship. They were worshipping prophets who interpreted the Word of the Lord on their instruments. They played what they heard God saying, and when they played, the atmosphere of heaven was released so powerfully that evil had to flee. That is the biblical ministry of a musician.
In order to worship and play like the biblical musicians played, we have to learn how to interpret ideas musically.
So for our last session, to start practicing this, I felt like the Lord wanted us to interpret a happy rainstorm of His presence. In order to communicate what I had in mind, I drew a "chart." Haha… at least that's what I called it. A piece of orchestral sheet music is called a "chart," and what I drew doesn't qualify in the least, but one of my friends loves her charts, so I obliged. 🙂
Here was our "chart": 🙂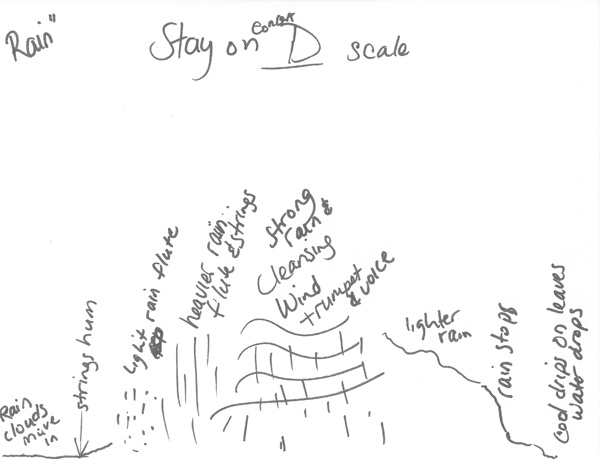 I know. I'm sick and twisted. 🙂 And the "chart" is more like a diagram or timeline, really.
There was a brief moment of freak-out when I introduced it to some, but of course I thought it was hilarious. And we played it.
The first time we played it resulted in the song "Rain," which we already released. It's been one of the most-played tracks on Soundcloud so far. The second time we played it is the new song I'm releasing today, called "Drenched." It's a free download, as are the other 6 songs in this set. And I love it. The flute is amazing. I get a huge grin on my face when the trumpet comes in. It's just fun, and beautiful, and I can sense the presence of God in it. What do you think?
On this track, the prayer is by Amanda West.
Vocals  are by Heather Moorman.
Piano is by yours truly.
Flute is by Kim Cilley.
Trumpet is by Jesse West.
Viola is by Rachelle Steele.
You should see music players above to play each track. If you don't, your browser might be blocking the player, so you can 

click here to play this set on my SoundCloud account.
We get a huge kick out of our worship jams, and we'd love to hear about it if our music blesses you. Please leave a comment below. You can also click here to see other people's comments.