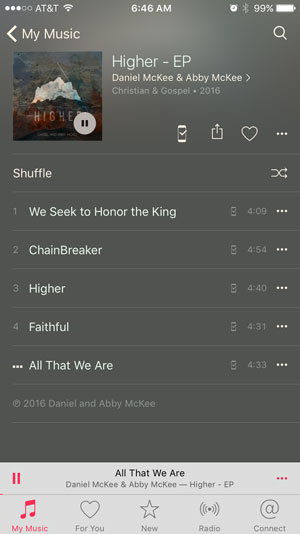 Have you ever heard the joke about how you can really freak out your boss at work if you start ending all your sentences with the words "according to the prophecy"? 🙂 It's a funny thought, and it tickles me because SO many things are happening in the Body of Christ right now that truly are "according to the prophecy." The emergence of the sons of thunder and daughters of thunder is one of them.
What are the sons and daughters of thunder?
Around 1990, a prophetic word was released by James Ryle that "sons of thunder" (collectively referring to both sons and daughters of thunder) would rise up and bring massive revival. The sons of thunder are prophetic singers and musicians who will begin releasing their music with the purposeful intention of releasing God's glory in the place they are singing/playing.
When the sons of thunder release their sound on purpose, the anointing that they carry sits down on the people where they are, releasing glory and impartation. When these people sing and play, people get saved; spontaneous healings break out; and miracles happen–simply under the prophetic sound that they release.
The songs of the sons of thunder literally change the atmosphere where they are.
Because they know what they're doing and are anointed to do it, their songs lift oppression, deposit anointing, and release glory into the hearts of the hearers AND into the geographic place where they are.
The prophecy is that the sons of thunder will release revival and change on the earth. (The most powerful sermon I know of about the sons of thunder is by Lou Engle, and I placed it below on YouTube if you want to watch it.)
Well, today, I want to introduce you to a son and daughter of thunder: Daniel and Abby McKee.
Daniel and Abby are friends of mine who are amazing, anointed songwriters and worship leaders. Daniel and Abby just released their first EP together, called Higher.
It's good. And when I say it's good, I mean: IT'S GOOD. I've been playing it over and over. Why is it so good? Because:
They DWELL in the secret place of the Most High (Psalm 91:1), and the songs they write come out of that intimacy with God.
They have given themselves to extensive musical training for many years. They have studied to show themselves approved unto God, as workers who need not be ashamed. (Seriously: they write songs, direct choirs and bands, lead worship, and Abby is a skillful piano player. They are faithful servants of the Most High.)
AND, they know what they're doing; they're purposefully releasing glory with their music. They know how to set the atmosphere, and they know how to release their testimony in song–so that's what their songs do.
SO MUCH of impartation is about knowing what you're doing! 🙂
Presence seekers, I am telling you about Higher because YOU NEED THESE SONGS. They will release something into your life.
What will they release? These songs are songs of intimate, sold-out, desperate, pour-out-perfume-on-Jesus worship. They will bring you right into the throne room so you can be captivated by the nearness and beauty of Christ.
Higher contains 5 songs, and it's only $4.95. And if we want Daniel and Abby to keep producing music–which we do, because the music of the sons of thunder is changing a generation–we need to support them so they can. 🙂 Like I said, I've been playing this EP over and over. My favorite song is #5, but I've been listening to them all again and again. I believe you will too. 🙂
Here's the link, directly to their EP page, but you can check out their website and story too: http://www.danielandabbymckee.com/#!our-music/ck0q
So. Don't wait. Would you please go get Higher today? And then sit down and worship Jesus awhile, because He deserves for you to pour out your love on His feet. And Daniel and Abby's music will help you do just that.
By the way, you can actually see God's glory sitting on these two just by looking at them. I asked their permission to grab one of their impromptu videos they recorded, just so you can see what I mean. Here it is:

And if you want to get even more fired up, watch Lou Engle talking about the Sons of Thunder prophecy:

That's it, folks! Go get Daniel and Abby's EP, Higher, TODAY! You'll be glad you did!
You'll get an email when new content is posted. I'll also send you exclusive prophetic words, teaching material, and more. You'll even receive my free, printable blessing cards and my ebook–The Presence Seeker's Creed–for free when you confirm!