Speaking info:
I am called to write and speak to help Christians mature through the power of God's Word. My speaking style is much like my writing style:
My messages are transparent and encouraging.
I always do my best to present the right-now, on-time Word of God.
Most importantly, I always ask the Holy Spirit to speak through me and minister His Word directly into the hearts of the hearers.
I preach the Word, but the Holy Spirit gives power to the message. I trust and depend on Him for everything.
If you are looking for a keynote speaker for your church, revival, workshop, retreat, or other event, please contact me using the contact form below.
To hear me preach:
I'd love to have you listen to my free sermons online! Check out one of my sermons here: "Finding a Haven in the Midst of Difficulty" (preached at Abba's House in March 2016) or another one here: "Prophecy and Words of Knowledge: Bringing Heaven to Earth" (July 2016 at Abba's House).
I am always happy to customize a message specifically for your needs, or to ask the Lord for an on-time word for your congregation. I also have a number of my most popular messages pre-prepared.
Recent topics and sermon series include:
Honoring the Holy Spirit: The Manifest Presence of God (Life Message #1)
If you've ever been to a dead church service versus a live one, you know that honoring the Holy Spirit's presence and will are essential to having an on-fire encounter with God. The same goes for every believer's daily life.
When we learn to honor the Holy Spirit as we move throughout our day, we find ourselves entering into intimate communion with Him. That place is sometimes called the "secret place of the Most High" (Psalm 91)–a place in which we may remain all the days of our lives, carrying the manifestation of God's glory with us every moment of every day.
In Honoring the Holy Spirit, I teach Christ-followers how to enter into the secret place of communion with the Holy Spirit; how to stay there and never leave; and how to increase the amount of glory and anointing that they carry.
If you desire for your church members to experience both personal and corporate revival, this message is for you. It will teach them how to sense God's manifest presence, respond to it, and become more and more Christ-honoring in everything they do.
Honoring the Holy Spirit: The Manifest Presence of God is the first of my three life messages.
_________________
Healed by Father's Love (Life Message #2)
Even though our Abba Father loves us dearly, many people still suffer from the sting of rejection.
Why? Because they have only an intellectual understanding of the Father's love, rather than a joyous, heart-changing, life-transforming experience with that love. Thus, even though they "know" they are loved, they still "feel" abandoned and rejected–and their lives and actions are controlled by those orphan feelings.
In Healed by Father's Love, I teach from my personal testimony that you have a Father who loves you; that Father God has known you all the days of your life; and that He is wildly, outrageously crazy about you; and that He has an amazing plan for your life.
I have seen this message touch hundreds of sons and daughters, as the Holy Spirit of adoption brings healing to their orphan hearts through a deep encounter with our good, good Father.
Healed by Father's Love is the second of my three primary life messages. If your people are suffering from feelings of rejection, father/mother wounds, or abandonment, the Holy Spirit will use this message to minister to them.
_________________
Moving Heaven, Shaking Earth: The Supernatural Power of Prayer and Fasting (Life Message #3)
I am called to awaken and mobilize God's people to fasting and prayer. This is one of my core passions, and my third life message.
In Moving Heaven, Shaking Earth, I teach how every believer can align his or her heart with God–moving angels,  thwarting demons, and shaping history in the process–through prayer with fasting. Using Biblical examples, as well as inspiring stories from revivals throughout history, I show how God's promised blessings are unlocked through fasting and prayer.
If you desire to begin or enrich the prayer and fasting movement in your church, I would be extremely honored to teach on this subject.
_________________
21 Kisses: The Sure Mercies of David for Your Life
In 21 Kisses, I teach 21 ways Father God demonstrated His lovingkindness to King David, and how Isaiah 55 promises that you and I can receive those same sure mercies.
If you're ready for David-sized favor and anointing, be aware that sometimes God's favor and promotion come packaged differently than you may expect! However, God is still working in YOUR life right now, even if you think that nothing looks like it should.
The message of 21 Kisses is a healing rain for people who are tired, discouraged, disillusioned, hopeless, or near to giving up. If you're sensing weariness or despair in your congregation, this series is for you.
21 Kisses is THE most powerful message the Lord has ever given me. It focuses heavily on the extravagant love of Abba Father, and it's full of hope for dark times.
It usually will take 5 sessions to get through all 21 Kisses. I can also select individual Kisses, customized for your congregation and event, if you would like this message in a shorter format.
_________________
The Ministry of the Intercessor
Intercession is not reserved for some type of super-Christian; it's for every believer, simply because it's part of becoming Christlike!
The Ministry of the Intercessor is a 3-part series in which I teach how every believer can gain victory over the enemy through intercessory prayer.
In this series, I give inspiring reasons we are all called to the ministry of intercession. I teach exactly what intercession is, including 7 ways we can begin seeing radical results from our prayers!
I then conclude the series with inspiring stories of intercessors past and present–stories that will challenge your flock to become the intercessors God needs to do His work in your church, and around the world, today.
The message titles are:
Session 1: The Call of Intercession: How Every Believer Can Become Like Jesus, the Ultimate Intercessor
Session 2: The Challenge of Intercession: What You Can Gain Through Intercession, and 7 Ways to Gain It (With Dramatic Results)
Session 3: The Cost and Crown of Intercession: Stories of Revivals and the Reward You Will Gain
If you desire to see your congregation go to a new level of prayer, this series will inspire them to intensify their prayer lives–and to move from weak and doubt-filled praying into powerful intercession that gets results.
_________________
Kingdom Authority 101
Kingdom Authority 101 is a four-part workshop or sermon series. In this series, I teach how every believer–young and old, baby Christians to mature saints–can begin walking in miracle-working, supernatural authority like Jesus did. The workshop contains four sessions:
Session 1: The Power and Authority of Belief
Session 2: The Power and Authority of Blessing and the Word of God
Session 3: The Power and Authority of Impartation and Protocol
Session 4: The Power and Authority of Practice and Risk
This series contains foundational teaching for how to begin walking in the supernatural, and how to begin to govern in the spirit realm through prayer and God's spoken Word.
Kingdom Authority 101 also contains powerful teaching that will help budding believers learn how to operate in power within the framework of proper, Biblical authority–and how to recognize and avoid lawlessness.
_________________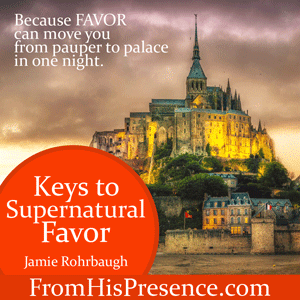 Keys to Supernatural Favor
Keys to Supernatural Favor is a four-part series in which I teach the keys to seeing miraculous blessing and opportunity flow in your life. The sessions are entitled:
Session 1: Understanding the Force of Favor
Session 2: Harnessing the Flow of Favor
Session 3: Becoming a Funnel of Favor
Session 4: The Favor of Intimacy with God
Blessing and favor aren't mysterious forces that some people receive (and others don't) for no reason. The keys to getting blessed–the keys to having favor and opportunity–are plainly laid out in Scripture, and the biggest key is HONOR.
Keys to Supernatural Favor is for you if you desire to see your flock reach a new level of divine blessing in their spiritual walk, relationships, finances, and more. This series would also be especially helpful if you are trying to build a culture of honor in your church or ministry.
_________________
Speaking fees:
Fees will vary depending on travel distance from my home, number of speaking sessions requested, etc. Please contact me with specifics of your event for more information about fees. I will try to work with any budget as much as is feasible.
_________________
Worship/ministry team:
Sometimes, the "home crowd" worship/ministry team can get tired and may need rest and refreshing. If you are looking for a worship or ministry team to help with your event so that your home team can rest, talk to me about bringing ministers with me.
I work with many anointed ministers from my home church day in and day out–dear pastor-, intercessor-, and worship leader-friends of mine who are experienced, trustworthy, reliable, have godly character, and are filled with the Holy Spirit and His power. They love to go out and serve other people, just like I do. Availability will vary depending on distance and scheduling, but I'm happy to see if I can make it work if you would like a guest team to help lead worship or facilitate ministry or impartation.
_________________
Let's talk about your event!