Successful Stewardship: Decorating Our House with Free Money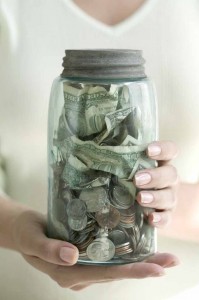 Last summer, my husband and I decorated our house for the first time. We used free money.
Before we did this, everything except the living room looked like we were just camping out. No beds in the guest bedrooms (air mattress anybody?), no art on the walls, no rugs on the floors. I was officially "over" it. I was nesting and wanted to make a beautiful nest for our family.
The only problem was, we didn't want to take any money out of our regular budget to do it.
So we had to be wise and creative.
Background facts you need to know:
We don't believe in carrying debt, so we had to decorate with actual money we had or could find.
We also don't believe in legalism. We love the work and writings of Dave Ramsey, Ron Blue, Crown Financial, and others. We listen to Dave Ramsey's show a lot.
But we have found that one person's wise stewardship may look different than another person's.
Our only absolute is that our stewardship must line up with the Word of God, which says to be wise, and invest, and never cosign, and not to carry debt.
Before I tell you more, you should also know:
My husband and I do not have any credit card debt.
We do use a credit card for most purchases to get the 2% cash back, but we pay it off IN FULL every month.
We handle our finances together. We both know about it, every time money is spent.
My husband keeps an incredibly detailed budget spreadsheet, and we track every penny in every budget account.
My husband updates the budget tracker about 5 times each week.
We both have excellent credit. And,
We aren't planning to use our credit anytime soon.
If those things are not also true for you, then PLEASE HEAR ME: my method for "finding money" would not be a good idea for you. Please, please, please, don't read any farther if those things are not also true for you.
But if those things are true, then I'll leave it up to your best judgment about whether this tip would work for your family or not.
So here's what we did:
We googled up "Credit card signup bonus 2012." The best one we found was for the Chase Sapphire card. It had no annual fee the first year, and it awarded 500,000 points (which we redeemed for $500 cash) after you spent a certain amount of money on it within a period of months.
So I signed up for one card in my name, and we got a $500 signup bonus after the minimum spend.
After that was done, we signed my husband up for one in his name. By that time, the signup bonus had decreased to $400 (maybe Chase was losing too much money at $500?). But we did the minimum spend for his too, so we got $400 from that.
Total of $900 for zero work.
How did we spend the minimum? (Which wasn't very high anyway.) Here's how:
We always pay our tithe online at our church's website. You have to use a credit/debit card for that, so that racked up a lot of the required spending amount.
We pay as many other bills online with the card as we can.
We used the credit card to pay for our deposit on our (paid-for) cruise that's coming up this spring.
We used the card to pay for the decorating items themselves (beds, etc).
This free $900 was a huge blessing to us. We probably would never have spent the money for nice things for the house if not for this $900.
So here are some of our results: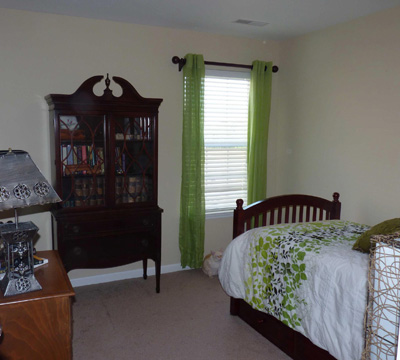 We bought a new twin bed with a trundle bed and drawers underneath it for Guest Room #1. We used the china cabinet I already had, and put books in it. (It looks great with books!) We used a lamp and yardsale-find dresser we already had. We bought a curtain rod and finials, and found the curtains on sale at Bed, Bath, & Beyond for $10 each. We bought a painting for the wall (50% off at Hobby Lobby) and a gorgeous lamp for the floor ($60 at HomeGoods). My big splurge for this room was the amazing duvet cover and pillows from Bed, Bath, & Beyond. I used a coupon for every item I bought at that store, which racked up serious savings.
The photos above and below show how Guest Room #1 turned out (and the cat just couldn't stay out of the picture):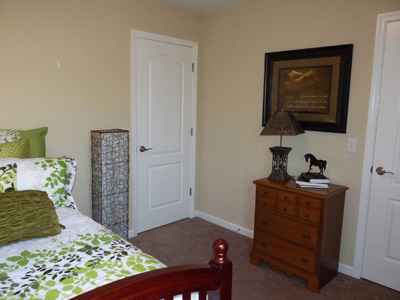 We also bought a new kitchen faucet, since Bruce had repaired ours already but it kept falling apart (builder-grade 🙁 ):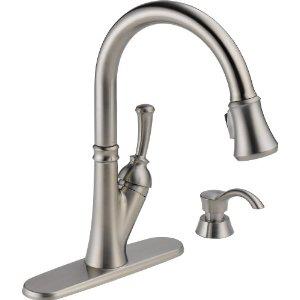 I also found a twin bed (headboard, footboard, rails, and slats) for Guest Room #2 at a thrift store for $4. I sanded it down, painted it, cut out the spindles on the headboard, and upholstered the headboard for cheap. The most expensive part was the yard of upholstery fabric from Jo-Ann. (And I did use a coupon for that.) Our splurge on this room was, again, the nice bedding set and pillows. Here's how that looks: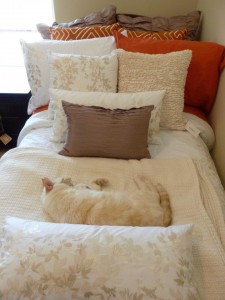 That cat just can't stay out of the picture, can he??? 🙂
And for the master suite, we again splurged on the most beautiful bedding set I have ever seen, also from Bed, Bath, and Beyond (stock photo):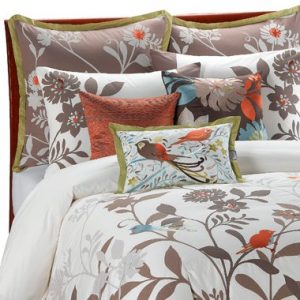 In the master bedroom, I used nightstands I already had (which were actually living room end-tables, but now they're nightstands). We bought orange lamps to sit on them for cheap from HomeGoods. I used two armchairs we already had (antique store finds for $50). We bought art on sale from Hobby Lobby and HomeGoods. I don't have more photos, but may try to post more later.
We also bought a nice shower curtain, new framed mirror,  and rug for the guest bath, all with coupons. We bought new towels and rugs for the master bath on sale from Kohl's. And lamps for the living room from HomeGoods also.
We bought art frames on sale from Michael's for 40-50% off, and framed and hung a bunch of photos and art that we've been wanting to frame for a long time.
All in all, we ended up decorating the master suite, both guest rooms, my office (which is guest room #3), fixing stuff in the kitchen, and polishing up the living room. We did end up finding a little more money in other places, but most of it was from the Chase Sapphire free bonus.
That's my exciting decorating story! It really was a blessing from the Lord, and I'm so grateful that He made a way for us to do this. I am loving this house more than ever and am more motivated than ever to pay off the mortgage!
Do you have a neat "successful stewardship" story? Email it to me at: Jamie at fromhispresence dot com and I may publish it!