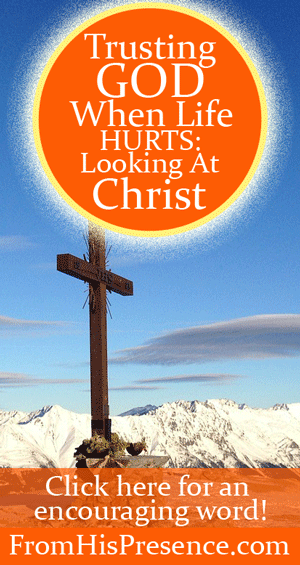 Guest post: Meadow Rue Merrill is a journalist and award-winning author who has enjoyed great blessing and also endured great tragedy, including the death of a child. Her thoughts on Christ's mercy in the midst of suffering move me. I'm so thankful she allowed me to share her words with you today. 
"We are all under the Mercy, and Christ knows the precise weight and proportion of our sufferings—he bore them. He carried our sorrows. He suffered, not that we might not suffer, but that our sufferings might be like his," wrote the 19th-century Scottish author George MacDonald.
I came across this quote in an article on loss by the late missionary and author Elisabeth Elliot. If anyone had reason to doubt God when life hurt, it was Elisabeth, whose 29-year-old husband Jim Eliot was murdered along with four other missionaries by the Huaorani people of Ecuador. Instead of turning her back on God, Elizabeth – with her 10-month-old daughter – famously chose to live among her husband's killers and show them God's love, a story told in the movie The End of the Spear.
Related: Read the late Elisabeth Eliot's thoughts on losing a loved one in her article on Christianity Today, here.
In Jim Eliot's life, I find the life of Christ – the one who came to teach and heal and serve and who was killed by those he came to save. And in Elizabeth's story I find the story of God – who forgives and shows mercy.
When life hurts, I am tempted to compare my injuries and griefs to others. Like a child pulling up shirt sleeves and pant legs, I want to judge whose scraped heart and broken identity is more wounded. Or, when life seemingly leaves someone unscathed, I wonder why has she had it so easy? Why is his life so good? Such comparisons can never get beneath the skin to reveal the aches and sorrows beneath.
More helpful, I have discovered, is to look closely at the life of Christ, whom scripture says was without sin. If anyone deserved an easy and good life, it was Him. Instead, He was:
rejected;
impoverished;
without a home;
mocked;
misunderstood;
chased by an angry crowd;
abandoned by his closest companions;
betrayed;
put on trial;
stripped of his clothing;
whipped; and
crucified between two thieves.
Yet in that darkest, loneliest, moment of piercing pain, we are told that "Jesus knew that His mission was now finished," John 19:28. In other words, because Christ knew His purpose – to offer mercy to those who would one day follow Him – He was able to trust God in unimaginable suffering.
To trust God in the midst of suffering, we must take our eyes off the easy. We must seek our purpose in reaching out to sacrificially love and serve others. We must look to Christ as our example.
In times of sorrow, I have found great comfort in the words of Peter. "In all this you greatly rejoice, though now for a little while you may have had to suffer grief in all kinds of trials," First Peter 1:6 says. "These have come so that the proven genuineness of your faith—of greater worth than gold, which perishes even though refined by fire—may result in praise, glory and honor when Jesus Christ is revealed."
Our suffering, our hurts, and our pain are not without purpose when we choose to trust. If we look not to others, but to Christ, they are gold. And you and me and Elisabeth Eliot? We are under the Mercy.
Do you need Christ's mercy today? He is right beside you, pouring out mercy on you right now. If these thoughts encourage you, please leave a comment below. Thank you!
Meadow Rue Merrill is an editor, speaker and Christian columnist who writes books for children and adults from her home in Mid-coast Maine. This is the sixth essay in the Faith Notes 2015 Summer Blog Tour on trusting God when life hurts. Follow along or read the rest of the series at meadowrue.com.
You'll get an email when new content is posted. You'll also receive my free, printable blessing cards and my ebook–The Presence Seeker's Creed–for free when you confirm!