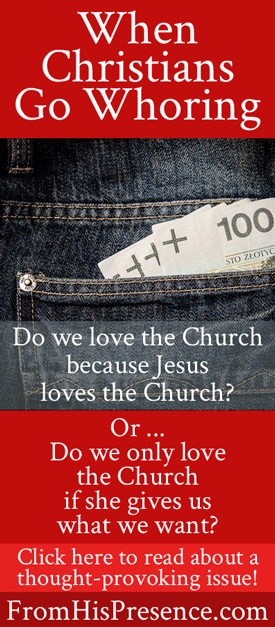 My heart is breaking as I write this. I love God's people. I love the Body of Christ. Nevertheless, I see something happening in Christian circles that makes me weep:
In some situations, we the people of God have not decided if we want to be prostitutes or if we want to be the Bride.
What's the difference?
A prostitute gives you what you want if you give her what she wants. A bride operates only in covenant.
So many of us in our local churches–we that claim to be the Bride of Christ–are operating the first way, not the second. God, have mercy on us.
In order to talk about this subject thoroughly, we have to look at the following things:
What it means to be in covenant with your local church body (like a bride);
How we sometimes operate outside of covenant (acting like prostitutes); and
How we can stop acting like prostitutes and start acting like the Bride.
(Before I continue, let me make it clear that my use of the words "go whoring," and "prostitute" and its derivatives are NOT slanderous references toward women, toward specific people, or toward victims of sex trafficking. They are references to a heart attitude and a pattern of behavior. I am using these types of references because God uses them throughout Scripture. These words are not merely practical, but truly the only way I can think of to describe the severity of the problem of keeping covenant versus breaking covenant.)
What it means to be in covenant with your local church body (like a bride):
When you join a local church, you are becoming a part of a body. It's the Body of Christ, and you are entering into a covenant with the church. You're also entering into covenant with the men  and women of God who pastor that church, and you're entering into covenant with your brothers and sisters in Christ at that church.
Making that covenant means several things:
1. Covenant means you should acknowledge your pastors as your spiritual fathers.
Even before your pastors know your name, you are benefiting from their fatherhood if you receive instruction in the Word from them and you worship under their roof.
You need your pastors' fatherhood and leadership. Don't EVEN go to a church and say that the pastors need to learn something from you; the Word of God says that their authority over you comes from God. That means you need to learn from your fathers and emulate them.
Romans 13:1 says:
Let every soul be subject to the governing authorities. For there is no authority except from God, and the authorities that exist are appointed by God."
God sent you to your church because you need the authority and leadership that exist there:
You need what your pastors have dedicated their whole lives to build.
You need the revelation and wisdom they possess.
You need their spiritual fathering.
You need the atmosphere of worship they have labored to build.
You need the anointing they have paid a price to gain.
If you will submit to your pastors' authority, listen to and value them, and honor them as your fathers, you will receive all those things over time. Why? Because it is your covenant right to inherit from your fathers. It's all about covenant.
Related: Read my series about how to find a spiritual father here.
2. Covenant means you should be faithful to your church.
When you marry a spouse, your covenant means you'll be faithful to your spouse. When you make a covenant with a local church, it means you'll be faithful to that church. That means:
You attend services every week–on time, preferably. Your pastors and teachers have worked hard to have spiritual food ready for you. Don't be rude or disrespectful of their labor on your behalf.
You support your church financially because the Word of God commands you to. That means you give the Lord the first 10% of your income, which is called the "tithe," and that money goes to your local church (which is where you're fed). Are you helping provide for its needs and the needs of others?
You find a place at your church to serve. Just like a marriage, it's not all about you. Yes, you'll get your needs met. However, you also need to serve others at the same time.
Your local church is not a cult. You don't worship your pastors, and your pastors shouldn't want to be worshipped.
However, you do need to acknowledge your pastors' leadership and honor them. If you will, you will reap the reward of your honor. Matthew 10:41 says:
He who receives a prophet in the name of a prophet shall receive a prophet's reward. And he who receives a righteous man in the name of a righteous man shall receive a righteous man's reward."
3. Covenant means you stay in place at your local church, even when things get hard.
Problems can happen. Sometimes times get tough. But you know what? If you value covenant with your spouse, you take your commitment to them seriously and you don't walk away. The same thing applies to your local church. When you are in covenant with your church, you don't leave.
That means the pastors can be human and might mess up sometimes, but you don't leave.
The pastor might preach a point you didn't like, but you still don't leave.
The choir might sing music that you don't like, but you still don't leave.
You might not get your way all the time, but you still don't leave.
Covenant means you stay put. It means you love and serve, no matter what happens, and you keep on loving and serving. Keeping covenant means you refuse to get offended or take up other people's offenses. It means you pray and support and expect perfection only from God, not from men.
Covenant stays. Covenant remains. Covenant means you're there because God called you there and put you where you are. Covenant means you stay, with a right heart, because you promised you would.
Yet so often, we Christians go whoring. We operate outside of covenant like a bunch of prostitutes, not within covenant like the Bride.
Our attitudes, words, and actions reveal the true state of our heart. Whether through spoken or unspoken methods, we say things like this:
"I want a leader who is older than me, so that my flesh doesn't mind respecting him. If you give me a younger leader, I'm leaving because I don't want to humble myself."
"I will grumble if you make me sing music I don't like. If you persist, I will leave and go to another church where they do sing music I like. After all, we're singing to me, not to God; my opinion is more important than His Presence on a song."
"I want to be comfortable. Don't make me get out of my comfort zone. If you persist in trying to change my mindset so I will go out and reach the community, I will leave."
"I am hungrier for Joe's Buffet than I am for the Word of God. I will give you what you want and sit through your sermon, but only if you preach for no more than 30 minutes. Come 12:00 sharp, I'm outta here, brother."
We love our comfort zones. We love our favorite songs. We want respect. We want men to applaud us and the TV camera to focus on our smiling faces. We want authority and control. And if we get these things, we will stay.
We trade our attendance and labor for the comfort we love, for our own preferred worship style, and for the promotions that flatter our ego. As soon as we stop getting what we want, though, we leave.
Was it meant to be like this? Did God intend for His people to be for sale?
No, no, a thousand times no. We were never meant to sell ourselves for a feeling, for a comfort zone, or for the adoration of crowds. We were bought with a much greater price–the blood of Jesus–who redeemed us to be His Bride.
As the Bride of Christ, God created us for covenant, and He takes it personally when we break that covenant. Hosea 9:1 contains just one of God's many heartbroken laments over His people who broke covenant in Scripture:
Do not rejoice, O Israel, with joy like other peoples,
For you have played the harlot against your God.
You have made love for hire on every threshing floor."
The Bible is full of God's cries over His people. He made us to be covenant keepers, but far too often we have chosen to be covenant breakers.
So how do we stop acting like prostitutes and start acting like the Bride?
1. We must repent and change.
The "It's all about me and what I want" attitude glorifies self, not God. It is idolatry, and it is sin. We must confess our sin to God, call it what it is, repent of it, and ask God to forgive us and change us.
After we repent, we must never go back to the old ways.
2. We must humble ourselves.
If we have wronged our church family or our pastors by grumbling, whining, getting offended, leaving the church or even threatening to do so, we should humble ourselves and make things right with those we have wronged.
Is it easy to humble oneself? Not necessarily. However, would you rather maintain your pride or get right with God?
3. We must each recommit to keep covenant with our local church.
God's glory is found in the local church, according to Ephesians 3:20-21:
Now to Him who is able to do exceedingly abundantly above all that we ask or think, according to the power that works in us, to Him be glory in the church by Christ Jesus to all generations, forever and ever. Amen."
Every member of the Bride of Christ was meant to live in covenant with the local church. If we have been unfaithful, we must become faithful again.
That means if you've stopped attending, you need to go back; and if you're tempted to leave, you don't get to.
Collectively, keeping covenant with our local church means we shut our mouths, work together, pray, believe the best of one another, and love each other. Come hell or high water, keeping covenant means you stay. You love. You serve. You support the leadership GOD has placed over you, and you put your trust in God, not men.
God, have mercy on us.
Brothers and sisters, we are the Bride of Christ. We were created to keep covenant with His Body in its local church expression.
Will we stop whoring and start keeping covenant today? 
You'll get an email when new content is posted. You'll also receive my free, printable blessing cards and my ebook–The Presence Seeker's Creed–for free when you confirm!
Image courtesy of adamr / freedigitalphotos.net