Change In Spiritual Seasons Leading Up To Jewish Year 5777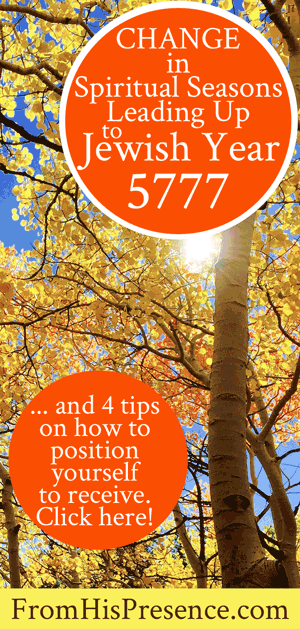 On August 1, 2016, I woke up and could feel that the spiritual season had shifted overnight (between July 31 and August 1). I asked the Lord about this, and He told me we had entered into a season of peace and comfort.
This morning, He gave me more about what He wants to do in this new season, and how we, His children, should respond.
Here's what He told me:
This season is a season of rest and regeneration. It is a recharging that will lead up to the Jewish year 5777, which begins on Rosh Hashanah (October 3-4, 2016). (Rosh Hashanah is the first day of the Jewish New Year–the new year on God's calendar.)
This season of peace and comfort will prepare you for what God will do after the Jewish New Year (after 5777 starts).
Here's how we should position ourselves to receive all that He has for us in this current season:
(And this is from now through October 3…)
Related: Read more about discerning times and seasons in this post about The Anointing of the Sons of Issachar.
1. Protect your quiet.
I heard Song of Solomon 2:10-17:
My beloved spoke, and said to me: 'Rise up, my love, my fair one, and come away.

For lo, the winter is past, the rain is over and gone. The flowers appear on the earth; the time of singing has come, and the voice of the turtledove is heard in our land. The fig tree puts forth her green figs, and the vines with the tender grapes give a good smell.

Rise up, my love, my fair one, and come away!

O my dove, in the clefts of the rock, in the secret places of the cliff, let me see your face, let me hear your voice; for your voice is sweet, and your face is lovely.'

Catch us the foxes, the little foxes that spoil the vines, for our vines have tender grapes.

My beloved is mine, and I am his. He feeds his flock among the lilies. Until the day breaks and the shadows flee away, turn, my beloved, and be like a gazelle or a young stag upon the mountains of Bether."
In this season, God wants to be alone in intimacy with you even more than usual.
Many things may attempt to rob you of your time alone with Him, but don't let them. Be purposeful about neglecting the distractions and focusing on alone time with Him. Protect your quiet and protect your peace.
He wants to dance with you in the secret place, and He will meet you there.
He assured me that whatever you give up for the sake of meeting with Him, He will restore many times over.
So protect your peace. Protect your quiet. Protect those sacred moments alone with Him in your car, in your closet, in your secret place, anywhere. "Rise up, beloved, O fair one, and come away." Come away with Him so He can protect you and minister to you in this season. Let your goal be just to be together with Him.
2. Guard your heart.
Guard your heart from offenses, from anger, from unforgiveness, and from disillusionment.
Papa is gearing you up from something that He wants to do in Jewish New Year 5777, and if you allow your heart to be pulled into sin over the next two months, you won't be ready when 5777 arrives. (You'll have to waste precious time getting free from offenses and forgiving people instead of being able to step into the flow of what He releases in the New Year.)
He gave me Proverbs 4:23 for this point:
Keep your heart with all diligence, for out of it spring the issues of life."
3. Papa said: "Wait on My Presence to get refilled and recharged."
This doesn't mean "wait" as in, "until the delay is over." It means to wait on as a cupbearer would wait on a king; as a butler would wait on his beloved employer. It means attend to; gaze at; minister to.
Attend to His Presence. Serve Him. Gaze at His face. Minister to His Presence.
Doing this will recharge, refresh, renew, and restore you so that you will be filled up and ready to go when He releases the new thing that's coming.
He gave me Psalm 46:4 to go along with this point:
There is a river whose streams shall make glad the city of God, the holy place of the tabernacle of the Most High."
Drink deeply of the River of His Presence in this season, for it shall make you glad.
4. REST.
Psalm 46:10 says:
Be still, and know that I am God; I will be exalted among the nations, I will be exalted in the earth!"
I feel that this is a season of stillness. That doesn't mean we don't hustle and make progress; but it does mean it's a season of inward stillness, spiritual stillness. If you will pay attention, you will feel a Holy Spirit-led time warp in this season that almost stops time. Time will pass, but you won't feel it as you abide in the stillness of His Presence.
And in that place of peace, your soul and spirit will be rejuvenated–which literally means to be made young again. The age and wrinkles will fall off your spirit as you rest.
Pay attention to the needs of your body, too. Allow yourself the freedom to sleep more and take care of yourself better than you ever have before. As you do, I believe you will feel better than you have felt in many years.
I believe the over-arching Scripture for this new season is Psalm 46.
So, I would encourage you to get alone with the Lord and read Psalm 46 sloooowly, asking Him what He wants to say to you out of it for this new season.
I'd also encourage you to ask Him for any other things He wants to say to you regarding what He wants to do for you and in you during this season–and to prepare you for what's coming.
Does this message resonate with you? Does it confirm something the Holy Spirit has already been quickening into your heart? If so, please leave a comment below. I'd love to hear what He's saying to you about your life!