Radical Prayer #4: The Anointing of the Sons of Issachar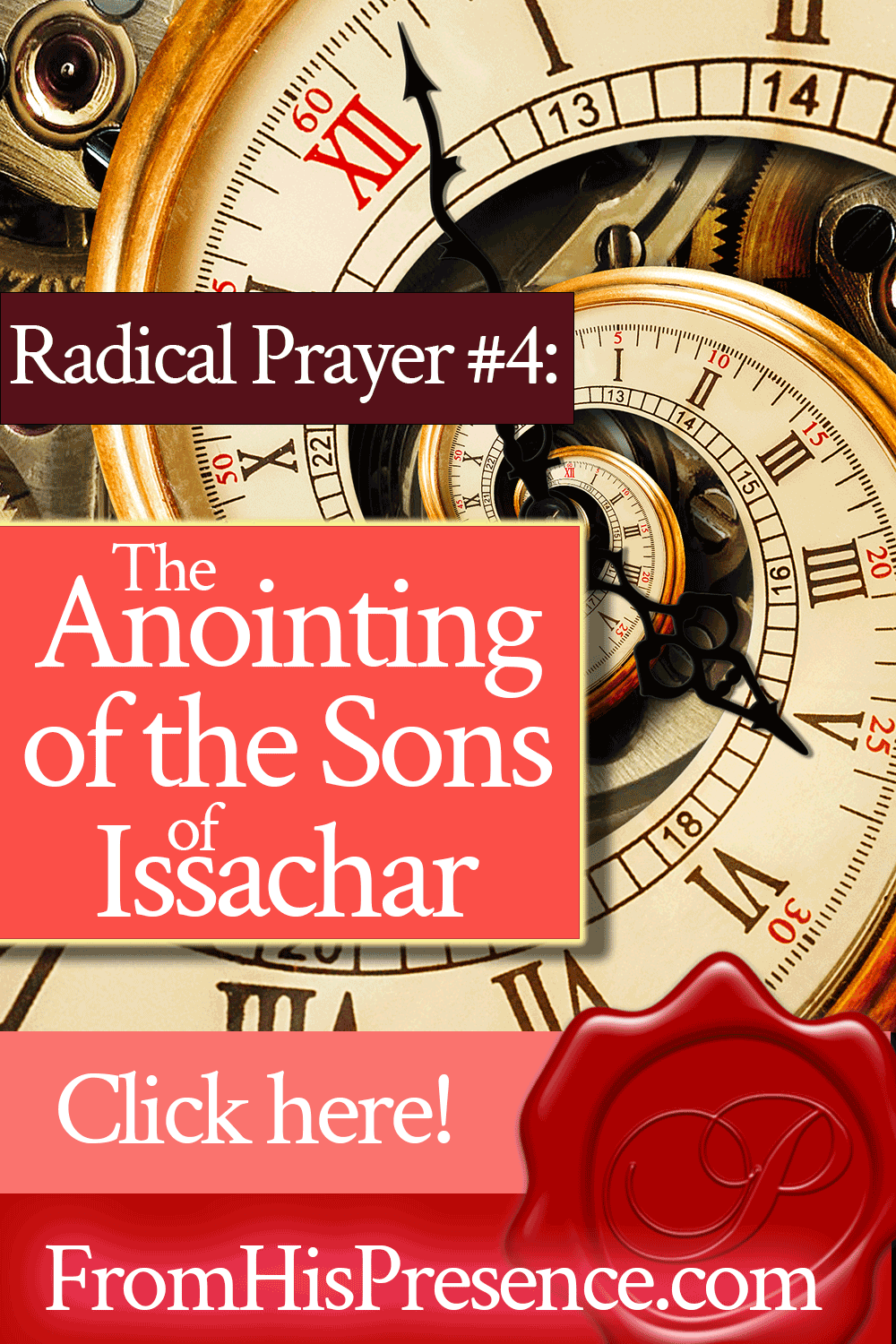 Have you ever asked God for the anointing of the sons of Issachar? If not, you should–and this anointing is not reserved for just men; it was given to ALL the children, both sons and daughters and descendants, of the tribe of Issachar–and it is now yours in Christ Jesus.
The anointing of the sons of Issachar is crucial if you want to walk in supernatural power and divine alignment with everything God has for you. EVERY believer needs the Issachar anointing in order to not miss out on what God is doing.
So what is the Issachar anointing? Let's take a look.
Did you know that, in the Bible, there was a unique group of people that always knew what to do and when to do it? A group of folks that had such perception and wisdom that a whole nation followed them and waited for their example?
It's true. They were called the sons of Issachar, and they were one of the twelve tribes of Israel.
success tools
Wondering how to seek first the Kingdom of God?
Jesus said, "But seek first the kingdom of God and His righteousness, and all these things shall be added to you." But how does one do that?
Check out what these bad boys (and girls) had going for them:
They studied the movements of the stars and planets and understood chronological time.
They were responsible for calling the whole nation together when the stars aligned, literally. (The Jewish feast days are approximately based upon the lunar calendar, with consideration also given to the movement of the sun. The nation had to gather to worship God on specific days on this heavenly calendar.)
When signs and wonders happened in the heavens (with the sun, moon, stars, etc), the sons of Issachar knew how to interpret the meaning of those events.
The sons of Issachar understood chronological time, but they also understood spiritual and political time.
The sons of Issachar could discern what God was doing and when He was doing it.
They knew when one move of God was ending and another one was beginning.
They could discern when a leader was falling and another leader was rising.
They could even tell you who the next leader should be. They knew who to follow and when to follow him or her.
Not only that, but the sons of Issachar also excelled in knowledge of God's law.
The Entrepreneurship Mandate
Did you know the Bible says you SHOULD own your own business? Yup! Entrepreneurship IS 100% God's will for you. Owning your own business is the only way you can be the head, and not the tail!
Learn more in our video class, The Entrepreneurship Mandate, where Jamie teaches from Scripture how you can move forward into business with CONFIDENCE!
They were full of wisdom. In fact, God chose the sons of Issachar as one of the three tribes to go out in front of Israel whenever the nation moved. Judah (the praising people) went first; then Issachar (the wise and discerning ones) and Zebulun (the financiers). That's quite a combination!*
The sons of Issachar were so sharp, and so spiritually astute, that the whole nation depended on them to know what they ought to do and when they ought to do it.
"of the sons of Issachar who had understanding of the times, to know what Israel ought to do, their chiefs were two hundred; and all their brethren were at their command" (1 Chronicles 12:32).
(If you're a geek like me, you can read some fascinating descriptions of the sons of Issachar from Matthew Henry's Commentary (1708-1710) and Adam Clark's Commentary (1831) at the bottom of this article.)
Look at these examples of how astute the sons of Issachar were:
1. They supported a female ruler when it may not have been popular.
In the times when Israel was governed by judges, before it had kings (around 1100 BC or earlier according to some scholars), a woman rose up to judge the land. Her name was Deborah. Although women did have rights in Israel, it would still have been unusual for a woman to sit in authority over the nation.
Nevertheless, God was with Deborah. He placed her in authority, and the sons of Issachar knew it. Therefore, they sided with Deborah and went out to battle under her leadership. Pretty gutsy move!
Why did they do it? Because they could discern the times and seasons, and they knew God's hand was on her and it was her time to rule. They gained a great victory and freed the land from foreign rule as a result. (Read Judges chapter 5 for more.)
2. They supported King David before he became king–when he was NOT popular with King Saul, who was in power at the time.
Before King David–the 2nd king of Israel–began to reign, warriors from the 12 tribes started gathering to him. All the tribes were split in their support of David except for one tribe. The tribe of Issachar was united in their support of David, according to the passage quoted above from 1 Chronicles 12:32.
Why did all Issachar support David? Because they knew that God had called him to become king, and they knew that his time had come. They could discern the changing of the times. It worked out well, too. David became the next king, and remains the most famous king of Israel in all history to this day.
Want to learn more about what Jesus purchased for you with His precious blood?
In Crimson Flood: How to Plead the Crucifixion of Jesus in Legal Prayer, Jamie teaches you how to present the blood of Jesus to God as your evidence for why you should receive ALL of His manifest promises.
God answers some prayers faster, and more miraculously, than others. Learn how to pray through all aspects of Christ's passion in legal prayer, and watch God do great and mighty things on your behalf!
The sons of Issachar had something special.
Their ability to discern the times and seasons was an incredible advantage:
That ability gave them inside knowledge and understanding of God's activities.
They were not taken by surprise when things happened.
They had influence as a result of their unique ability to understand times and seasons.
They knew what Israel should do and when it should be done.
The nation followed their example.
The good news is:
You and I can have the anointing of the sons of Issachar! We can have the same ability to discern the times and seasons!
I first heard about the sons of Issachar about ten years ago, and I began praying for their ability (a.k.a. their "anointing" or gifting) right away. I can't tell you how many times since then God has allowed me to discern times and seasons. There have been a number of times when I've felt the spiritual season shift–and I don't mean slowly over time, either.
For example:
It was years ago, but I remember the sharpness of the feeling to this day:

On May 25, 2014, I walked back into my house after the tattoo convention, and standing in my kitchen I felt the seasons change. I heard God say to me, "You have entered into a new season," and I literally felt one door of time close, and another door of time open. It was that quick, and that literal… and it was confirmed later by this word from Doug Addison.

The events that followed proved that, sure enough, it was a new season. It contained a dramatic move of God in ways I never expected.

That new season was shorter than I expected it to be. After a few weeks, I started seeing the numbers 11:11 everywhere. The number 11 means prophetic or a transition, and doubled numbers mean God's established event.

When I started seeing 11:11, God told me the season had changed again… and again, the events that have occurred in the last week have heralded the start of a new season.
God has answered my prayer over and over by allowing me to discern times and seasons. Have I reached perfection in this area? <insert laughing here> No, I definitely haven't! Nevertheless, discerning any time or season is a blessing that makes me more effective in my personal life, more effective in leadership, and  more effective in the Kingdom.
Here's how you can obtain the anointing of the sons of Issachar:
1. Recognize that God is no respecter of persons.
Romans 2:11 says, "For there is no partiality with God."
Acts 10:34 tells us, "Then Peter opened his mouth and said: "In truth I perceive that God shows no partiality."
If God gave the sons of Issachar a special spiritual ability, He's willing to give you and me the same ability.
2. Know that, in Christ Jesus, all the blessings God gave Abraham (and his descendants, the Jews) also belong to you.
Galatians 3:9 tells us: "So then those who are of faith are blessed with believing Abraham."
Galatians 3:13-14 says, "Christ has redeemed us from the curse of the law, having become a curse for us (for it is written, "Cursed is everyone who hangs on a tree"), that the blessing of Abraham might come upon the Gentiles in Christ Jesus, that we might receive the promise of the Spirit through faith."
Because we are adopted into God's family through Christ, we are entitled to all the blessings of Abraham. So now that you know you can have whatever God gave the Jews, you have only to…
3. Go ahead and just ask God for the anointing of the tribe of Issachar.
Ask God for the anointing of the sons of Issachar. Ask Him to give you the ability to discern the times and seasons and always know what to do.
All of God's promises are available to us. All we have to do is ask!
4. After you ask, start paying attention.
Everything you see was created by the spoken word.
So if you have nothing except the ability to speak, you can still create anything you want. You can be like God and speak those things that are not as if they already were (Romans 4:17)!
To help you, Jamie wrote a book of hundreds of Biblical confessions for you—especially in the area of your finances. It called Speak Life Volume 1: Chart Your Course With Your Words, and it's our most popular book ever! Get your copy today and begin speaking LIFE over those things that concern you!
When you "feel" like something new is about to happen…
When you feel reluctant to make a certain decision just yet because you feel like it isn't quite time…
When you feel like you shouldn't take on anything new right now, because you feel like a new door is about to open…
When God leads you to stand for something or someone that is Biblically supported, but isn't popular…
When God starts to give you influence, and people follow your example…
That is the anointing of the sons of Issachar at work in you!
Are you ready to see the anointing of the sons of Issachar at work in your life? Go ahead and ask God for it now! Then leave a comment and tell me your thoughts on this. If you've already been praying for this, and have experienced it in your life, please tell me about that too!
Related: Read these posts to build your faith and help you pray for the radical blessings God promises in His Word!
_____________________________________
*Numbers 2:1-17
Adam Clarke's Commentary (1831) contains this awesome passage about the sons of Issachar:
"Children of Issachar – According to the Targum they were all astronomers and astrologers: "and the sons of Issachar, who had understanding to know the times, and were skilled in fixing the beginnings of years, the commencement of months, and the intercalation of months and years; skillful in the changes of the moon, and in fixing the lunar solemnities to their proper times; skillful also in the doctrine of the solar periods; astrologers in signs and stars, that they might show Israel what to do; and their teachers were two hundred chiefs of the Sanhedrin: and all their brethren excelled in the words of the law, and were endued with wisdom, and were obedient to their command." – T. It appears that in their wisdom, experience, and skill, their brethren had the fullest confidence; and nothing was done but by their direction and advice."
Matthew Henry's Commentary (1708-1710) says this about the sons of Issachar:
"They were men of great skill above any of their neighbours, men that had understanding of the times, to know what Israel ought to do. They understood the natural times, could discern the face of the sky, were weather-wise, could advise their neighbours in the proper times for ploughing, sowing reaping, etc. Or the ceremonial times, the times appointed for the solemn feasts; therefore they are said to call the people to the mountain (Deuteronomy 33:19 ), for almanacs were not then so common as now. Or, rather, the political times; they understood public affairs, the temper of the nation, and the tendencies of the present events. It is the periphrasis of statesmen that they know the times, Esther 1,. Those of that tribe were greatly intent on public affairs, had good intelligence from abroad and made a good use of it. They knew what Israel ought to do: from their observation and experience they learned both their own and others' duty and interest. In this critical juncture they knew Israel ought to make David king. It was not only expedient, but necessary; the present posture of affairs called for it. The men of Issachar dealt mostly in country business, and did not much intermeddle in public affairs, which gave them an opportunity of observing others and conversing with themselves. A stander-by sees sometimes more than a gamester. 2. They were men of great interests; for all their brethren were at their commandment. The commonality of that tribe having bowed their shoulder to bear (Genesis 49:15 ), the great men had them at their beck. Hence we read of the princes of Issachar, Judges. 5:15 . They knew how to rule, and the rest knew how to obey."