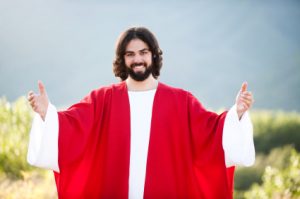 You're reading this site because you're interested in living in the manifest presence of God. So since we're on this topic, do you want to know the biggest, most important thing you can do to walk in the presence of God? The thing that is actually a requirement?
Nothing else will work without this thing. Want to know what it is?
Here it is:
Walking in the manifest presence of God requires, first and foremost, a personal relationship with Jesus Christ.
Jesus Christ is the Son of God Himself. Jesus is actually God.
God the Father sent Jesus to earth over 2,000 years ago to become a man. He lived a perfect life, died on the cross, and rose again–all so that He could bring us back into relationship with God, our Heavenly Father.
We can only access God through Jesus. Jesus said in John 14:6, "I am the way, the truth, and the life. No one comes to the Father except through Me."
God is a loving, perfect, and holy Father. He is also a just Father. He made us for the sole purpose of being with Him and being His kids. However, His first human children, Adam and Eve, messed up. They disobeyed Daddy God. That disobedience—that willful rebellion toward God—is called sin. Mankind has been sinning ever since.
The Bible says, in Romans 6;23, "For the wages of sin is death, but the gift of God is eternal life in Christ Jesus our Lord." Every sinner deserves to die. Only perfection deserves to live, but there are no more perfect people.
Romans 3:10-12 tells us, "As it is written: "There is none righteous, no, not one; there is none who understands; there is none who seeks after God. They have all turned aside; they have together become unprofitable; there is none who does good, no, not one."
But God.
As a loving and merciful Heavenly Father, God had mercy on us. In John 3:16, Jesus tells us, "For God so loved the world that He gave His only begotten Son, that whoever believes in Him should not perish but have everlasting life."
God knew that mankind had missed the mark of God's own perfection, and would never be able to measure up. But God had a perfect Son: Jesus Christ. So He sent His Son Jesus to earth 2,000 years ago. Jesus' mission was to take the wages of sin—death—upon Himself, so that "whoever believes in Him would not perish, but have everlasting life."
Jesus accomplished His mission. We know this because He died on a gruesome Roman cross outside Jerusalem, but three days later, He came back to life. Neither the Roman guard, nor the Roman seal, nor the grave wrappings, nor the stone across the tomb could hold Him, because death itself could not hold Him. Jesus had never sinned, so He did not deserve to die. Even though He chose to die and take our punishment for us, it was not possible for Him to stay dead.
The apostle Peter preached about this Jesus, "whom God raised up, having loosed the pains of death, because it was not possible that He should be held by it" (Acts 2:24).
Many people saw Jesus alive after His resurrection. He appeared to His followers and to perfect strangers. He worked miracles again.
Jesus' finished work was again confirmed a few weeks later, when He stood on a mountaintop with His followers, said goodbye, gave them their final charges, and then was physically carried up into Heaven. Mark 16:19-20 describes the scene this way: "So then, after the Lord had spoken to them, He was received up into heaven, and sat down at the right hand of God. And they went out and preached everywhere, the Lord working with them and confirming the word through the accompanying signs. Amen."
Click here to go to the next post in this series: "Jesus Died for You."