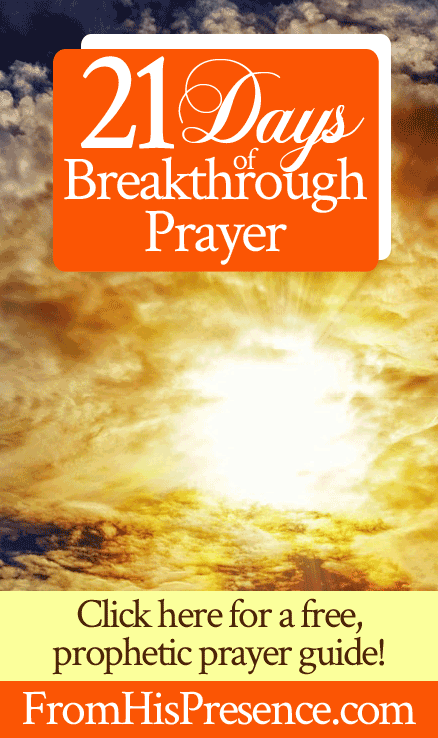 Welcome to 21 Days of Breakthrough Prayer! This simple series will provide you with Scriptures to pray into for 21 days, asking the Lord for your breakthrough.
This is a very simple series; I am not expounding on each Scripture very much, except through a bullet-point list to share some prayer pointers. I also am not writing out sample prayers, as I believe the Lord wants you to exercise your prayer muscles and make these Scriptures your own vocabulary for prayer.
But, even though it's a simple series, I believe it's a POWERFUL one … and I want to hear your testimonies as the Lord answers your prayers, okay?
Here's the list of all 21 Days of Breakthrough Prayer:
(I will add each post as they are published throughout the series.)
21 Days of Breakthrough Prayer, Day 1: Gates and Treasures
Day 2: You Shall Not Be Put to Shame
Day 3: No Weapons or Accusations
Day 6: Triple the Angelic Assistance
Day 9: The Lord Will Fight For You
Day 12: Establish the Work of Our Hands
Day 14: The Wealth of the Roar Shall Be Turned to You
Day 15: Do Not Be Weary In Well Doing
Day 16: The Former Rain and the Latter Rain
Day 17: Ask, and You Shall Receive
Day 19: Father's Dreams for Your Life
Day 20: Lord, Increase My Greatness!