21 Days of Breakthrough Prayer: The Lord Will Fight For You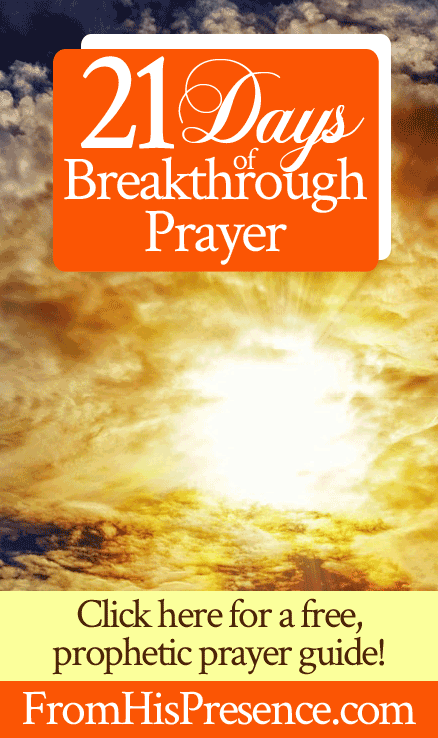 Welcome back to 21 Days of Breakthrough Prayer! This simple series will provide you with Scriptures to pray into for 21 days, asking the Lord for your breakthrough. Today, we are claiming the Bible promise that the Lord will fight for you in whatever situation you are facing.
A couple of notes before we begin:
This is a very simple series; I am not expounding on each Scripture very much, except through a bullet-point list to share some prayer pointers. I also am not writing out sample prayers, as I believe the Lord wants you to exercise your prayer muscles and make these Scriptures your own vocabulary for prayer.
But, even though it's a simple series, I believe it's a POWERFUL one … and I want to hear your testimonies as the Lord answers your prayers, okay?
See the 21 Days of Breakthrough Prayer series table of contents here.
Without further ado, here's Day 9 of 21 Days of Breakthrough Prayer:
The Scripture verse of the day is Exodus 14:13-14, which says:
And Moses said to the people, 'Do not be afraid. Stand still, and see the salvation of the Lord, which He will accomplish for you today. For the Egyptians whom you see today, you shall see again no more forever. The Lord will fight for you, and you shall hold your peace'" (Exodus 14:13-14).
Pray along these points:
Thank Father God for being your Rock, your Shield, your Defense, and your Strong Tower.
Remind Him that you are hidden in the secret place of the Most High, where you are safe from all harm and danger.
Ask Father God to fill you with His perfect love, and make you perfect in love, so you will not be afraid. (Perfect love casts out the spirit of fear and delivers you from fear.)
Tell Father God that you choose to rest in Him today. Ask Him to help you rest as well, since you can do nothing without Him–but you can do all things, including rest, through Christ who strengthens you!
Ask Him to do ALL the fighting for you in your situation(s).
Ask Him to help you stand still.
Ask Him to help you put and keep your spiritual armor on (Ephesians 6:10-18).
Ask Father God to work His salvation for you in your situations.
Ask Papa to bring you total and complete victory, while you stand still and hold your peace.
Ask Him to bring you such radical victory that you never see your enemies or this battle again after THIS DAY.
Ask Him to help you see Him and His angel armies at work on your behalf!
Then thank Him for all these things in Jesus' name!
Related: Rest In God, Reach Your Destiny (series table of contents)
That's our breakthrough prayer for day 9!
Beloved, the Lord will fight for you every time you ask! Pray into these Scriptures with boldness!
Also, remember to use the verse itself as your vocabulary for prayer. Doing so will not only help you pray the most effective prayers it's possible to pray, but it will also help you hide God's Word in your heart, that you might not sin against Him (Psalm 119:11).
Did you pray this Scripture with me today? Or, do you have a testimony to share about how God has answered this prayer? If so, please leave a comment below! I'd love to hear what Papa is saying to you!