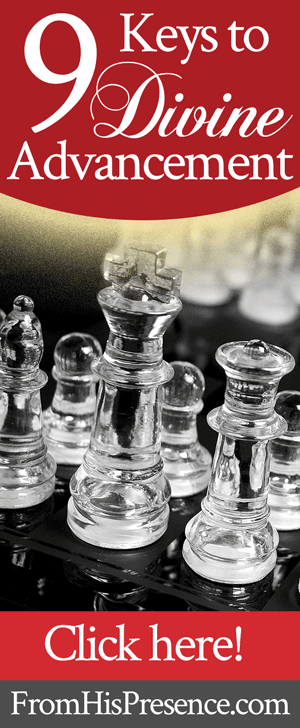 Have you ever struggled to believe a prophetic word that someone gave you? Do you generally feel a bit of skepticism–or even a lot of skepticism–about what the prophets in the Body of Christ are saying? If so, this is for you!
Today's post is the first in a series of nine posts about areas of your life that need proper alignment in order for you to move forward with God. The series is called "9 Keys to Divine Advancement," and I will discuss the 9 keys in no particular order.
The first key to divine advancement is the prophetic word.
Second Chronicles 20:20 says:
So they rose early in the morning and went out into the Wilderness of Tekoa; and as they went out, Jehoshaphat stood and said, 'Hear me, O Judah and you inhabitants of Jerusalem: Believe in the Lord your God, and you shall be established; believe His prophets, and you shall prosper'" (2 Chronicles 20:20).
The Word of God says it simply:
Believe in the Lord your God, and you shall be established;
Believe His prophets, and you shall prosper.
This is pretty simple, but you might be surprised at how people resist it sometimes.
Personally, I function in prophetic ministry. I'm called to it, and I love everything prophetic. So I often assume that everybody else does too! After all, who wouldn't love to hear from God?????
But some people don't want to hear from God. You may be one of them–or you may know someone who is.
Usually, people that don't want to hear from God don't admit it outright. They simply say that they don't believe the person speaking is hearing from the Lord.
Of course, it is entirely possible that someone prophesying can "miss it."
We are all fallible, and we're all learning; so every prophetic word needs to be evaluated in light of Scripture. Isaiah 8:20 says:
To the law and to the testimony! If they do not speak according to this word, it is because there is no light in them" (Isaiah 8:20).
There is no truth outside of Scripture, so if someone's word doesn't match what God's Word says, then throw the "prophetic" word out. It's not from the Lord; the Lord never, never, never speaks contrary to His Word.
In addition, Jesus said that you'll know true prophets versus false prophets by their fruit.
In Matthew 7:15-20, Jesus said:
Beware of false prophets, who come to you in sheep's clothing, but inwardly they are ravenous wolves. You will know them by their fruits.

Do men gather grapes from thornbushes or figs from thistles? Even so, every good tree bears good fruit, but a bad tree bears bad fruit. A good tree cannot bear bad fruit, nor can a bad tree bear good fruit.

Every tree that does not bear good fruit is cut down and thrown into the fire. Therefore by their fruits you will know them" (Matthew 7:15-20).
So when someone says they are speaking for the Lord, but they're bearing bad fruit, like:
lying;
slandering;
walking in pride;
stealing, etc …
… then you should know them by their fruit. It's the fruit that exposes who they really are, not the fact that they claim to be prophetic. If they're bearing bad fruit, then reject the word from them. They are not true prophets.
But there are many people who reject the prophetic word when it's actually from reliable, proven, good-fruit-bearing, godly prophets.
And THAT is the crux of the issue I want to discuss with you today … because you will not prosper unless you believe the Lord's prophets.
Yes, you should be discerning. You should evaluate every word and judge it based on Scripture. But, having done that, it is essential that you believe the words of the prophets.
I can't tell you how often I've seen people totally reject prophetic words.
I'm not talking about weird, fruit-flake-nut kind of words, either. I'm talking about prophetic words that were given appropriately; that were upbuilding in nature; that were Biblical; and that could have changed their lives.
And they reject those words for any number of reasons. For example:
Pride. Pride tells you that you have all the answers–or, at the very least, that you don't need to listen to anyone else (even if you don't think you have all the answers).
A poverty mindset. Poverty will tell you that God will come through for everyone else, but He will not come through for you–therefore it keeps you in doubt and unbelief.
Doubt and unbelief. You don't have to think poor in order to operate in doubt and unbelief. Some people just don't believe God.
A rebellious spirit (often a Jezebel spirit). When people operate in rebellion, they won't submit to anything even if it's good.
This list could go on and on.
But if you're going to prosper, God's Word says you need to believe the prophets.
God sends words of hope to the earth through His prophets. He sends words about what He is doing on the earth and in individual lives. He sends words about what He is doing, at large, across the entire Body of Christ from one season to another.
And knowing these things can change your life forever–if you believe them. Because believing the prophetic word releases you to:
… and much more.
And if you have not been believing the prophets …
You have been missing out. You have been missing out on encouragement, wisdom, knowledge, affirmation, guidance, direction, and even secrets from the Lord.
After all, Amos 3:7 says:
Surely the Lord God does nothing, unless He reveals His secret to His servants the prophets" (Amos 3:7).
God tells His prophets everything that He does before He does it. That's a huge gold mine of information for you and for me … if we just believe the prophets!
So have you been operating in doubt and unbelief?
If so, I can't convict you, but I'm writing this article because the Lord told  me to. Therefore, I believe that Holy Spirit wants to convict you so He can help you get this fixed in your life.
Why?
Because He has blessing after blessing, encouragement after encouragement, secret after secret to share with you–and He wants to prosper you. But all of these things require you to believe the prophets.
So if you find yourself in the minefield of doubt and unbelief, what do you do?
I would suggest:
Repent–change your mind and do a U-turn. Get off the road of doubt and criticism and turn the other way.
Make things right with God for doubting, criticizing, maligning, etc His prophetic word.
Ask Holy Spirit to change your heart–to take away your old heart of stone and to give you a soft heart of flesh.
Determine to begin believing from now on. Belief is a choice; you can believe when you decide to–even if your flesh doesn't want to.
Begin praying into the Biblical prophetic words you see from godly, proven, good-fruit-bearing prophets. Pray the prophetic word into your own life!
And if you will do these things, you will be able to move on with God a whole lot easier.
Is Holy Spirit speaking to you about believing the words of the prophets? If so, please leave a comment below! I'd love to hear from you!