The Solution to Fear (Part 1): How God Delivered Me from Fear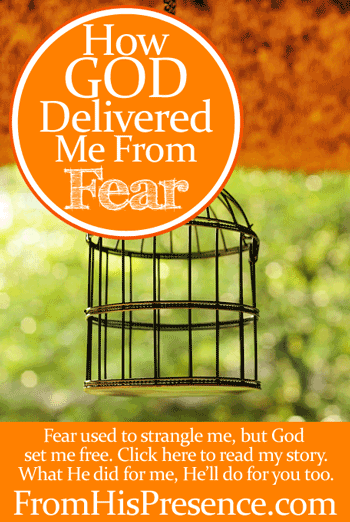 Too often, in Christian circles, we look at a person who is struggling with fear, and we tell them, "Have faith!" However, faith is not the solution to their problem. The solution to fear is love, not faith.
I used to struggle with fear a lot.
It began my freshman year in high school, when I was bullied a lot, and it continued until I was 27 or 28 years old. I was so fearful. I would have panic attacks and gasp for breath. I literally could not breathe, and this happened often. Fear was strangling me.
I prayed for healing, but it didn't seem to get better. I commanded the spirit of fear to leave me, but that didn't seem to do much good either. The panic attacks continued. I was at wits' end.
Then one day, out of His mercy, the Lord showed me how to be healed from the fear that was destroying me.
I remember the experience clearly. I was sitting in my spare bedroom, on the floor, again gasping for breath. I prayed and asked God to help me. Somehow, the Holy Spirit got through to me enough to have me open my Bible to 1 John 4:18, which says:
There is no fear in love; but perfect love casts out fear, because fear involves torment. But he who fears has not been made perfect in love."
I already knew this verse, but just "knowing it" hadn't made a difference. I needed more, so the Holy Spirit, the Great Physician, showed me how this verse contained the healing I needed:
Fear was definitely tormenting me; so I knew the verse applied to me.
This promise says that perfect love casts out fear.
It also says that if I'm afraid, it's because I haven't been made perfect in love.
Both the problem and the solution were exposed in this one verse. The problem was fear. The solution was being made perfect in love.
So I asked God immediately to fill me up with His perfect love that casts out fear.
I didn't know how to receive that love, but I was desperate, so the Holy Spirit gave me this mental picture to help me:
I saw myself being slowly filled up with liquid, as if I were a human-shaped bottle. The liquid was blue. It was the perfect love of the Father.

I saw this liquid first fill up just the tips of my toes. But it kept on filling me: up my foot toward my ankle, then up my shins, and continuing all the way up my body.

This vision of being filled with Father's love continued. There were a few places that it seemed to slow down. When this blue liquid got to my lungs, it paused awhile there. I meditated some more on Papa's love, and on His words: "Perfect love casts out fear." Then I saw the blue liquid start to fill up my lungs and chest, and suddenly it was like my lungs ripped free. I breathed deeply–for the first time in a long time.

A similar thing happened when I saw the blue getting up to my heart. I kept meditating on the Father's perfect love for me; and after a few moments, the blue continued up toward my shoulders, filling my heart. When it did, I literally felt the healing of the Father in my heart and emotions.

This vision continued until I saw my entire body filled up and sloshing with Father God's perfect love.
God healed me from fear that day. I was immediately able to breathe again.
The spirit of fear left me–because God's perfect love cast it out.
Too often, we try to get rid of one bad thing without replacing it with the good and holy thing. But Jesus taught that we have to be filled with the good thing in order to keep the bad thing out (Matthew 12:43-45).
So whenever fear has tried to grab on to me since then, I have cut it off by meditating on Jesus' perfect love for me. I continue to rehearse that vision of being filled with God's love, like a Jamie-shaped bottle. 🙂
Do you struggle with fear? You can be healed too.
There is absolutely a 100%-cure-all solution to fear, and you can be healed from fear right now, today.
The solution to fear is love; perfect love casts out fear. If you will let God make you perfect in His love, you will be free from fear.
It will be a journey, as it has been for me, but He WILL make you perfect in love, and He can free you from fear right now.
If you can identify with this story, and want to be free from fear, would you meditate on the vision above in your mind? Imagine yourself being filled with Papa God's love, like a you-shaped bottle. Ask Him to make you perfect in love. Papa's perfect love will cast out fear, and you will be free.
(And I'd love to hear about it when He does. Please leave a comment below.) 🙂
Related posts: How to Feel Like God Loves You (series) and The Solution To Fear, Part 2: How To Overcome Shyness
Image courtesy of ajari on Flickr via Creative Commons license.