The Solution to Fear (Part 2): How to Overcome Shyness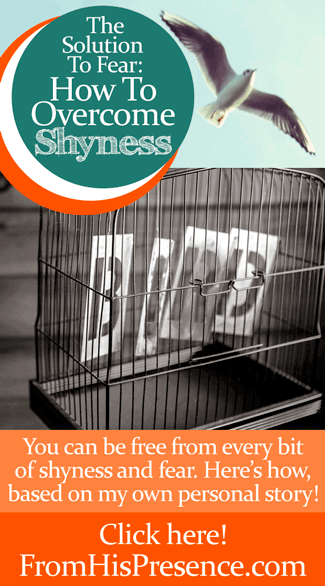 As I shared in The Solution to Fear (Part 1): How God Delivered Me From Fear, I used to be very afraid. I was especially fearful of people; I was shy and didn't know how to reach out.
However, God has changed my heart, and I'm no longer shy. I truly love people now. In this post, I'm going to share my story about how to overcome shyness so you can have true, covenant friendships and love people the way God calls us to.
Fear of people impacts many Christians in different ways:
Maybe you desire to have more friends, but you don't know who to talk to or how to start a conversation. So you sit alone at lunch, at work, and everywhere you go, lonely.
Maybe your church has an inner-city evangelism team, and you really feel called to that ministry; but you're shy and can't imagine yourself talking with people. So you feel like you're missing out on your call in life.
Maybe you know someone is hurting, but you feel too intimidated by the size of their problem to try to help them. You want to help, but you feel like you have nothing to offer.
Sound familiar? I thought so. I have dealt with all of these manifestations of fear also. And every one of these, precious reader, are tricks from the enemy. You can be totally free from all of these things.
That's right:
You can completely overcome fear in EVERY ONE of its manifestations. That means you can overcome shyness too. There IS a solution.
Would you like to know how to overcome shyness, so you can be a voice of light and hope everywhere you go? Here's how:
First John 4:18 says:
There is no fear in love; but perfect love casts out fear, because fear involves torment. But he who fears has not been made perfect in love."
Shyness is just fear. It's fear of people; fear of rejection; fear of people's opinions. And God's perfect love is the antidote to fear. Getting filled with God's perfect love for yourself and for others is how you overcome your shyness.
Here's how God helped me overcome shyness, and how He will help you too:
1. Make sure you know how to receive God's love for yourself first.
When I was really, really shy, I couldn't reach out to people because I was afraid they would reject me. And their rejection mattered to me. What other people thought mattered.
But after I received God's love for myself–I mean really received it, so I felt loved in my heart–I didn't care anymore if people might reject me. The key was receiving God's love, so that my sense of self-worth didn't depend on whether other people received me or not.
(Read my post series on How to Feel Like God Loves You for my personal story and all the sordid details about my experience with this.)
You can't minister love to other people if you don't have it solidly in your own heart. You can't minister anything, ever to others that you don't have yourself!
So if you need to receive God's love, make receiving His love your pet project until you've got it and got it good:
God's love is the key to everything. But you have to have it rock-solid in your own heart before you will find it easy to overcome shyness and focus on other people.
2. Ask God to help you love people the way He does, and see them the way He sees them.
Before I got saved, I hated people. I was bullied a lot as a teenager, and as a result of that, I became cynical, hateful, and mean.
After I got saved, I didn't want to be mean anymore, but I couldn't change myself. So I asked God to change me:
I asked Him to help me see people the way He sees them.
I asked Him to help me love people the way He loves them.
It took time, but He answered those prayers. Now I see the treasure in people. I'm able to speak to and minister to others out of God's perfect love for them.
If you don't see people with God's eyes yet, ask Him to help you do so. Until you look at someone with His eyes, you won't feel His compassion for them. And it's compassion that moves you to prefer others' needs above your own:
It's compassion that moves you to lift the chin of the weeping ones.
It's compassion that moves you to dry the tears of the heavy-hearted.
And it's compassion that suddenly makes the sorrows of others more important than your shyness.
Over and over in the Gospels, the writers describe Jesus' miracles as beginning with: "And Jesus was moved with compassion, and He…" (healed the sick, raised the dead, cast out demons, etc). Jesus' compassion for people moved Him, and that compassion came from God's own heart of love for others.
Loving people the way God loves them is every Christian's job, and God will give you His love for people if you will ask.
3. Realize that people are hurting and need God's love, and you can be the hands and feet of Jesus.
All people want is to be loved. You never know where they have been, what is going on in their lives, or when they are hurting.
As one of my church's intercessory prayer leaders, I have the privilege of praying for many people in person–people that I don't know and have never seen before. And do you know what the greatest need I have seen so far is? The one need I see over and over, in almost every person that comes to me for prayer?
Simply this:
People are hurting and they feel unloved. They need to know that they have a Father in Heaven Whose heart beats for them, and that they are not alone.
Think about that for a minute. Let God break your heart for people with those two sentences.
People need love. Every person around you needs love.
And unless you know they're already rock-solid in God and receiving their love from God directly, then their need is desperate… because the world cannot satisfy.
But we can be the hands and feet of Jesus. You and I can minister love to people on behalf of our Lord, and the Holy Spirit will minister to people's hearts profoundly when we do.
So what can you do today to love someone?
Showing love doesn't have to be difficult or embarrassing. Here are some practical ways to love on people if you're just getting started:
Give someone a compliment on their outfit or their shoes.
Smile, even if you're just smiling to yourself. Your smile can brighten your world.
Hug somebody that needs a hug.
Ask someone how they are doing–and listen to the answer.
Cut a flower from your garden and take it to someone at work.
Take doughnuts or brownies in to your office today.
If you know someone is dealing with a tough situation, ask them how that situation is going.
Everybody's favorite subject is themselves, and most folks enjoy attention from someone who genuinely cares. It's not because they're egocentric or selfish; it's just that everybody needs love and affection.
So ask questions! Give compliments! Reach out! Make an effort! Make your interactions with others about THEM, not you.
And if you will, YOU can be the one that shows the love of Jesus to someone who needs it.
So here's how to overcome shyness, in a nutshell:
If you will learn to love people, and focus all of your actions on encouraging and loving the people around you, you will no longer be shy.
It's that simple. You can't possibly stay shy or afraid of people when all you can think about is how much God loves someone else. You can't possibly stay shy if all you want is to brighten someone else's day.
When you clothe yourself in God's perfect love–first for yourself, then for others–all fear leaves.
Does this message resonate with you? If so, please leave a comment below. I'd love to hear from you!