What You Bless Will Increase In Your Life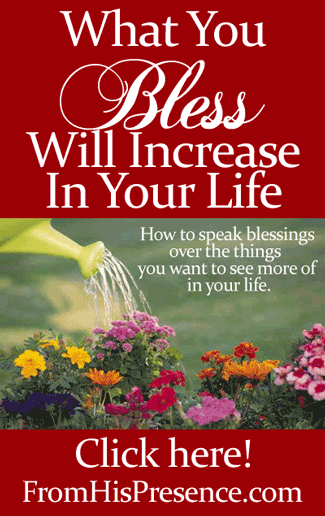 One of the governing principles I live by is that what you bless will increase in your life.
I first heard about this principle when I listened to a sermon by Chris Gore from Bethel Church in Redding, CA. It intrigued me because it made perfect spiritual sense. So I thought I'd try it out.
I started looking for things that I wanted to see increase in my life. I found lots of things that fit this category:
Friendships;
Finances;
Joy;
Peace;
Great feedback in the workplace, etc.
So wherever I've noticed things in my life that I want more of, I've been blessing them.
I don't try to sound really spiritual when I bless something. I just say out loud (but with no one listening, so they won't think I've lost it): 😉
"I bless that gift that my husband just gave me, and gifts increase in my life."
"I bless that great conversation I just had with my friend, and I bless myself with more conversations just like that."
"I bless that compliment I just got from my coworker, and I declare that I get more compliments all the time." (Hey, you can never have too much encouragement!)
I also make sure to thank God for each of the things I want to see more of in my life, because thanksgiving brings increase as well.
And sure enough, it works! Whenever I thank God for something and speak a blessing over it, I see more of that thing–sometimes immediately!
Here's why what you bless will increase in your life:
Blessing something is just like watering a flower. If you water a flower, it will bloom. When you speak blessings over the things you want to increase in your life, you are watering those things, and you will actually see them bloom!
The things I bless increase continually. This stuff really works.
Are you skeptical? Why don't you try it and let the results speak for themselves? You have nothing to lose.
Here's how to get started:
Identify several things you experienced during the last few days that you want to see increase in your life.
Bless them right now, out loud, just like I did above.
While you're at it, thank God for them (because thanksgiving honors God and will also bring multiplication in your life).
Keep doing this as you notice more good things happening.
And you will see increase. It works every time, because blessing God's work in your life honors Him and opens the conduit for Him to bless you more.
Have you ever noticed this principle working in your life? If so, please leave a comment and tell me your thoughts!