Prayer to Raise the Spiritually Dead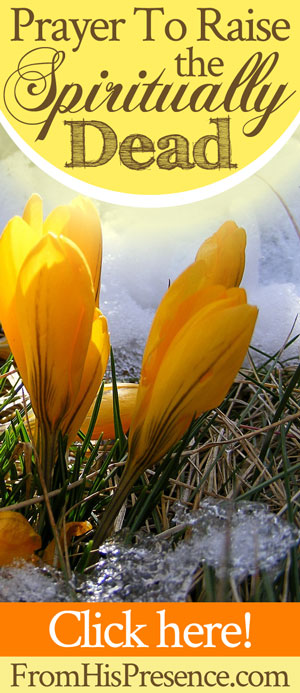 Does someone you love seem spiritually dead–or almost spiritually dead?
If so, today's sample prayer will help you intercede for them with power. It will help you ask God to raise your loved one from the dead into the fullness of intimacy with Him, and also into their destiny!
I had a reader tell me recently about a situation she was facing with a recently-returned prodigal child. The child had returned to Jesus, but was dealing with an extreme battle with the enemy. Our sister wasn't sure how to pray about this situation.
The Lord led me to write the prayer below for her to use–a prayer to raise the spiritually dead. I wanted to share it with you today.
This prayer comes from verse after verse in God's Word. If you are wondering where each Scripture is, just do an internet search on pretty much any phrase, and you will find Scripture to support it. (I did not annotate this prayer with the Scriptures I used since there would be so many of them.)
If you are praying for someone who is spiritually dead–or who is just barely alive and needs a lot of help–then pray this prayer:
(And actually, this prayer is wonderful for any person who's hurting or who wants/needs to be closer to Jesus for any reason.)
"Father God, in Jesus' name, I lift up ____ to You. Father God, I thank You that YOU are Light, and in You is no darkness at all. Father, I thank You that You love all Your children, and no man can snatch them out of Jesus' hands, for He is the Good Shepherd.
Father God, in Jesus' name, right now I ask that You would cloak _____ in the sweet fragrance and glory cloud of Your Holy Spirit.
Comfort them. Apply Your healing balm of Gilead to their heart. Cover them, and let Your wings settle down over them right now. Keep them as the apple of Your eye, and hide them under the shadow of Your wings from the wicked who oppress them and from their enemies who surround them.
Father God, if _____ is not saved, then I ask in Jesus' name that You would convict them of sin; show them the righteousness and beauty of Jesus; and show them that there's no hope in their sin. Show them their need for You, and that Jesus is the one and only Way, Truth, and Life. Help them give their life totally to Jesus Christ and make Him their Lord and Savior.
And Father God, if _____ is saved, then please fill them with Your Holy Spirit anew and afresh. Baptize them in Your Spirit and fire, Lord Jesus, and renew and restore their life.
Holy Spirit, I pray that You would minister to ___ right now and defend them from the attacks of the enemy.
In the name of Jesus, I pluck out every arrow the enemy has shot into _____ in Jesus' name. I break those arrows in the name of Jesus, and I throw them to the ground, useless and of no effect.
Father God, I plead the blood of Jesus over every wound in _____'s heart, body, soul, and spirit. Let healing come right now, so quickly and thoroughly that there will not even be a scar.
Holy Spirit, come from the four winds and breathe on _____, that s/he may live, in Jesus' name.
Fill him/her with joy. Restore the joy of their salvation. Put the laughter back in their heart, the smile back on their face, and the dance back in their step. I speak to every dead dream in _____, and I say: "Live, in Jesus' name!"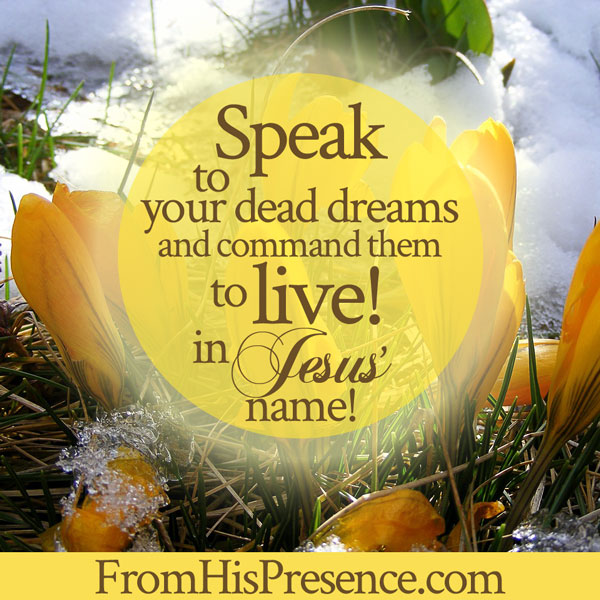 Father God, I pray that the precious Holy Spirit would hover and brood over _____ right now. Cover them with the blood of Jesus.
I plead the blood of Jesus over _____'s mind. I bind their mind to You. Your Word says that they have the mind of Christ, so let Your thoughts proceed out of their mind and Your Word proceed forth from their mouth right now.
Father God, I plead the blood of Jesus over _____'s emotions. Teach them. Help them to dwell in the secret place of Your presence, Lord. Keep them stable and fixed under Your shadow, for no one can withstand Your power and they are perfectly safe if they abide in You.
Father God, I plead the blood of Jesus over _____'s body. Let him/her present his/her body to You as a living sacrifice right now, holy, which is their reasonable service. I pray that they would not be conformed to this world, but that they would be transformed by the renewing of their mind, that they would prove Your good and acceptable and perfect will for his/her life.
Father God, I ask in Jesus' name that _____ would sense Your love and affection right now.
Shower them with Your goodness and blessing. Let the Holy Spirit minister Your adoption to them right now. Make them perfect in Your perfect love, and cast out all fear from his/her heart, mind, and life in Jesus' name.
Father, I ask that You would help _____ to be moldable and pliable in Your hands. Help them to be humble, Lord. Give him/her eyes to see You, ears to hear You, and a nose to smell Your fragrance.
Heavenly Father, tune _____ in to the voice of Your Spirit, and help them to recognize Your voice above all others. And every time they hear Your voice, Lord, I pray that they would obey it immediately and without hesitation, in Jesus' name.
Father God, I ask that You would heal _____'s wounded heart.
Take away their old, wounded, broken heart of stone. Give them a brand-new heart of flesh, and let it be Your heart. Take away their old, rebellious spirit, and give them Your Spirit. Write Your commandments and Your covenants on their heart, and let _____ keep company with You in intimate relationship day and night.
Father God, I plead the blood of Jesus over ____'s decisions. Give them wisdom, Lord. Help him/her to hear Your voice behind them saying "This is the way; walk in it;" and help him/her never turn to the right or to the left. Teach them which way to go in all things. Instruct him/her and teach them in the way they should go, and guide them with Your eye upon them.
Related: Download my 3-part audio series "The Ministry of the Intercessor" to learn how to intercede with power, even if you've never been an intercessor before! Yes, YOU can gain victory in intercession when you pray God's way … and EVERY Christian is called not just to prayer, but also to intercession (a special form of prayer). Grab this set today to learn more about the call of intercession; 7 ways to intercede; and the rewards you will receive if you intercede for someone else.
Father God, I pray that You would give ____ clean hands and a pure heart.
Help him/her to love what You love and hate what You hate. Let him/her love righteousness and hate wickedness. Teach them the truth of Your Word. Make him/her a man/woman of Your Word and of prayer. Help them to live holy before You, walking before You in white.
And Father God, I ask in Jesus' name that You would raise up _____ to live out the fullness of the destiny for which You created them.
I speak to the finished works You prepared for _____ before the foundation of the world, and I command them to manifest right now in his/her life in Jesus' name. I speak to the hidden things You desire to reveal, and I command them to be revealed in his/her life right now in Jesus' name.
I speak to every door that You desire to close for _____, Lord; and I say: "Doors, close! In Jesus' name!" And I speak to every door You desire to open for _____, and I say, "Doors, open! In Jesus' name!"
Father God, I thank You for the testimony You are giving _____, and for how You're working it all out for good. Thank You that You are going to get all the glory in _____'s life.
Help them to humble themselves under Your mighty hand, and in due time You will lift them up. Help them to cast all their cares upon You, for You care for them.
I pray that _____ would be anxious for nothing; but in everything, with prayer and supplication, with thanksgiving, he/she would make his/her requests known to God. And may Your peace, which passes all understanding, guard his/her heart and mind in Christ Jesus.
Thank You, Father God. Thank You, Lord Jesus. Thank You, Holy Spirit. Thank You for hearing and answering my prayer. Thank You that I have received everything I have asked You for today, because I have asked according to Your Word. I give You all the glory, all the honor, and all the praise.
In Jesus' name, amen."
Did you pray this prayer for someone you love? If so, please leave a comment below! Feel free to encourage a brother or sister in the comments who's also praying in faith for their loved one!
Would you help me with my work of reaching people for Jesus as a domestic missionary? I need you; we are in this together! This blog, and all of the Kingdom work we do in this community together, are made possible through your partnerships, donations, and product purchases.

If you'd like to help, please check out the partnership details and products available for sale here. And, thank you in advance for helping make this blog and everything we do together for the Kingdom possible!
Related: Read these posts to build your faith and help you pray for the radical blessings God promises in His Word!