Radical Prayers Get Radical Answers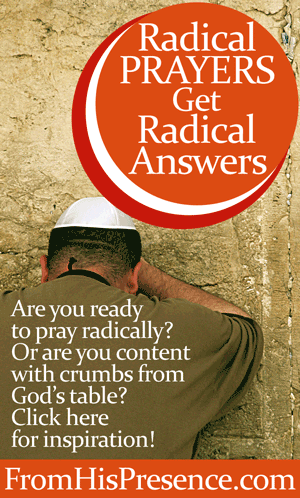 Do you need God to do something radical in your life?
I know I do. I've been holding out for so long in some areas that I feel like I just HAVE to have breakthrough. I need God to do radical things for me. Therefore, I've started praying some radical prayers, and I'm learning that radical prayers get radical answers.
Why do radical prayers get radical answers?
God didn't waste His time when He wrote the Bible. He meant, and still means, every single word of it.
All Scripture is God-breathed; it proceeded out of Him and is somehow a manifestation of His Person to us. John 1:1 tells us this:
In the beginning was the Word, and the Word was with God, and the Word was God."
God IS His Word. God can be depended on, so that means His Word can be depended upon.
And THAT, my friend, means that when God says radical things like:
HE MEANS IT. Jesus Himself said, in Matthew 24:35:
Heaven and earth will pass away, but My words will by no means pass away."
So I've started claiming God's radical promises. I've begun praying them back to Him. I'm only beginning. Yes, I've been praying the Word for a long time. But somehow I've not been praying radically. I've not been believing for the big things. I've been content with the crumbs.
But I'm not content with the crumbs anymore.
I want everything God has for me. I believe what He says, and I believe it's for me (2 Timothy 3:16).
And you know what? I've only been at this for a few weeks, but I'm already seeing radical answers. I claimed the promise from Psalm 91:15, and God has been honoring me. It feels weird and strange and undeserved, but God said He wanted to do it, and He is…
…and I like it. Thank You, Papa.
I've claimed His promise to answer me and show me great and mighty things that I don't know (Jeremiah 33:3), and boy, has He ever. Things I could never have imagined to pray for have been popping out of the woodwork. Thank You, Father.
So what have you been waiting for God to do in your life?
What are you believing God for? What do you need to start praying radical prayers about? Could it be:
Your finances?
Your job?
Opportunity or promotion?
Favor with specific people?
Honor?
Vindication from false accusations?
Healing of relationships?
Whatever you need, our Father has your answer. More importantly, He IS your Answer. He is ready and willing to dump on you. He is sitting ready to answer your radical prayers with radical answers.
Can you feel something stirring in your spirit? Are you ready to start believing some radical promises and praying radical prayers? If so, leave a comment below! I want to hear from you!
Related: Read these posts to build your faith and help you pray for the radical blessings God promises in His Word!
Image courtesy of Dainis Matisons on Flickr via Creative Commons license. Image has been cropped and graphics added.