Radical Prayer #1: God Wants to Honor You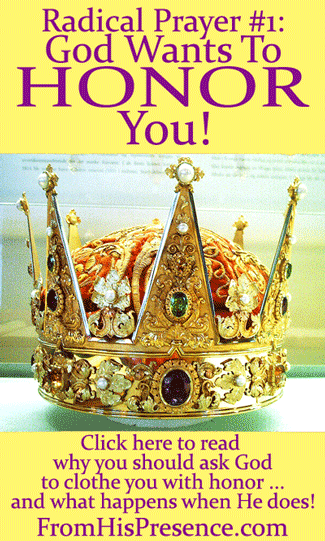 Did you know that God wants to honor you?
It's radical news, but it's true! His Word says so. All we have to do is love Him, abide in Him, and ask Him to help and honor us!
Here's my personal story about how I learned that God wants to honor you:
Psalm 91:14-15 tells us:
"Because he has set his love upon Me, therefore I will deliver him; I will set him on high, because he has known My name. He shall call upon Me, and I will answer him; I will be with him in trouble; I will deliver him and honor him."
I noticed this promise just a few weeks ago. I've been familiar with Psalm 91 for years, and could have even quoted most of it to you. But somehow, this thing about honor never clicked.
However, a few weeks ago, I was dealing with some tough stuff emotionally. I was feeling very under-appreciated and under-recognized for a few specific things. I felt like I was not being treated fairly, and I didn't like it. (Yes, I know we aren't supposed to do things for the appreciation and recognition, and I don't. I ask the Holy Spirit to search my heart about that all the time, and to keep my motives pure. But sometimes, a little "thank you" goes a long way… you know what I mean?) 😉
So there I was, pretty discouraged about a few very specific things. I went to the Lord in my quiet time, and He led me to Psalm 91. That day, the words of verse  15 jumped off the page to me. I had NEVER noticed this thing about honor! And honestly, as soon as I read it, I got a little religious and said:
"How can that be right? Blessing and honor and glory and power belong to God the Father and to Jesus, according to Revelation 5:13."
However, the promise is in the Bible, and the Bible is ALWAYS true, and I was definitely ready to finally be honored! (Being the underdog is for the birds, by the way. If you're a child of God, your life is supposed to be marked with favor. God's Word says we're to be the head and not the tail; above only, and not beneath.) Therefore, I had to dig deeper! I asked the Lord to help me understand this promise so I could really lay hold of it in faith.
Here's what He showed me:
It's true that all honor belongs to Him.
It's true that I didn't deserve to share in any part of His honor… before I met Christ.
However, when I gave my life to Jesus Christ, I became God's beloved daughter.
At that point, God my Father gave me a whole lot of things I didn't deserve: forgiveness of sins, eternal life, the Holy Spirit, spiritual gifts, protection, inheritance, a spiritual family, material provision… the list goes on and on. He gave me those things not because I deserved them, but because I am His child. Because I'm in Christ, what belongs to my Father God belongs to me.
Related: Do You Have an Inheritance Word? and Radical Prayer #2: Jesus Became Poor That You Might Become Rich
Then He showed me this mental picture:
I saw a mental picture of a little boy, about five years old.
He was wearing his Dad's sport coat.
The sport coat was WAYYYYY too big. His arms got lost in it, and it hung down below his knees.
However, despite the fact that it didn't fit, the boy was running around the house with a huge grin on his face.
He was so excited because Dad had honored him by letting him wear His own coat!
Nobody would ever say that coat fit him–but it pleased Dad to share it, and it made the boy so happy!
Then I saw that this is what it is like when God honors us. 🙂
As God's kids, we are like that child wearing his dad's sport coat.
In His goodness, our Father God wants to honor us. God's honor is like that sport coat. His honor belongs to Him and Him alone. However, when we meet the conditions He lays out for us, it pleases our Daddy God to drape His mantle of honor on us. He honors us because He loves us, and because we're His kids.
Do I deserve to have Him honor me? No.
But since He clearly says He wants to honor me, do I want Him to do so? OH, YES.
So I began praying this promise. I know I meet the conditions laid out in this chapter, which are:
abiding in Him;
confessing out loud that He is my God, my Refuge and Fortress, and that I will trust Him; and
setting my love upon Him.
The only remaining condition was that I call upon Him. So I started calling! I prayed verse 15 verbatim, and guess what happened?
Weird, freaky things started happening to me THE SAME DAY.
God started honoring me.
Oh, yes. It's true. Favor and recognition and "thank-yous" started coming from the most unexpected places. It was good stuff, too. Each time something happened, it was like a huge hug from Papa God.
It didn't stop that day, either.
I've continued praying this prayer, and I started writing down each thing God does in response to it. I now have a HUGE list. He has continued to pour out. It's unreal.
The good news is that this promise is for you too. 
God wants to honor you too. You are His child, and He wants to drape His mantle of honor all over you. All you have to do is meet His conditions and ask Him.
Will you press into God and ask Him to honor you today? (And please let me know what happens when you do!)
Related: Read these posts to build your faith and help you pray for the radical blessings God promises in His Word!
Image courtesy of xjy on Flickr.com