21 Days to the Manifest Presence of God: Day 10 (Jumping Words)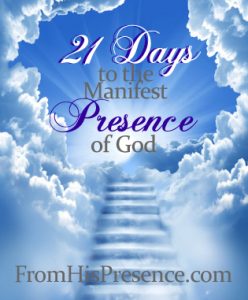 Welcome to Day 10 of my series about developing an awareness of God's presence! You can refer back to Day 1 if you'd like to know my backstory for the series.
I encourage you to read all the posts in the series if you are just joining us. Each day's assignment builds on the previous assignments, and they are all vitally important! (Be sure to subscribe to receive my daily posts so you won't miss anything.)
Today, we are going to start learning how to hear God.
Like anything new you learn, learning to hear God is a process. It takes time.
People who are far older and wiser than I have said that it takes 10 years to really hear God 100% accurately. And I believe it. I certainly wouldn't presume to lump myself in that 100% category, but I have been learning to hear God for about 10 years now, and I'm getting much better at it. But there's still a lot more that I want, and need, to learn.
The cool thing, though, is that you don't have to wait 10 years.
You can start to hear God right now, today.
That's right. God Himself will speak to you today.
You can learn to hear Him starting today. Then you can spend the rest of your life just sharpening your ability to hear.
But you don't have to wait for 10 years for God to speak directly into your heart. To speak to you about YOUR situation.
How do I know that you can hear God today? Because Jesus said, in John 10:27:
"My sheep hear My voice, and I know them, and they follow Me."
You on board? Great. Here's how we're going to get started:
It's very important that you understand that God will never, ever say anything to you or anyone else that goes against His Word, the Bible. Isaiah 8:20 says, "To the law and to the testimony! If they do not speak according to this word, it is because there is no light in them."
So anything we hear that is truly from God will always, ALWAYS match the Bible.
So we might as well just start with the Bible!
Here is your assignment for Day 10:
Go into your secret place with God. Take your Bible.
Before you start reading, ask the Holy Spirit to help you understand His Word properly, and to speak to you out of it.
Then open it up and start reading. The Psalms or the book of John are great places to start.
Start reading at a logical place (e.g. the beginning of a chapter). Read slowly. We're looking for quality here, not quantity. (It's better to read 2-3 verses and hear God out of them, than to read 2-3 chapters and get nothing.)
Think about the words as you're reading them.
When you get to a verse that just seems to jump off the page–a verse that touches you and shines into your heart like a beam of light–stop.
The Holy Spirit is illuminating that verse to you for a reason. It's because God is speaking that verse to you.
This morning, the verse God illuminated in my heart was Luke 1:45: "Blessed is she who believed, for there will be a fulfillment of those things which were told her from the Lord."
When a verse shines out to you like that, you are literally hearing God speak to you out of that verse.
So grab hold of that verse in faith. Thank God for it, and believe God for whatever He's saying.
That's your assignment for today.
What verse did the Holy Spirit shine into your heart today? I'd love to hear about it. Please leave a comment below.