21 Days to the Manifest Presence of God: Day 11 (True North)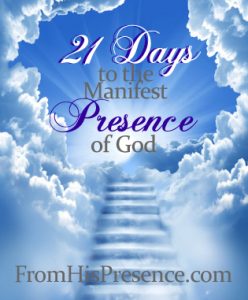 Welcome to Day 11 of my series about developing an awareness of God's presence! You can refer back to Day 1 if you'd like to know my backstory for the series.
I encourage you to read all the posts in the series if you are just joining us. Each day's assignment builds on the previous assignments, and they are all vitally important! (Be sure to subscribe to receive my daily posts so you won't miss anything.) Find the table of contents here.
Today, we are going to learn a check-and-balance that you need to know to be sure you've heard from God.
This is very important. It's one of the most important things you'll learn about hearing God.
And it's a key to the heart of God.
Here is the principle:
When God speaks, He does not condemn you. Instead, He always gives hope, direction, guidance, and encouragement.
He does convict you when He needs to, just like a good parent would.
But when the Holy Spirit convicts you of sin, He will first show you your sin, then He'll show you how to say you're sorry. He'll show you how to change.
You'll feel a sweet relief, knowing that it's time to get rid of this sin and that you can be forgiven. You'll feel His joy and anticipation of a new beginning. Then when you cooperate with Him and repent, you will have HUGE LEVELS OF HOPE and joy.
You'll feel brand-new. This is so important.
You'll know you've been forgiven, and you'll sense His presence with you. You'll feel His love and His joy in you. Your Daddy God is so proud of you when you are sincerely sorry, and you turn back to Him!
What God DOES NOT do:
God does not condemn you, making you feel like you've failed and there's no hope. EVER.
He never says things that will make you afraid.
John 3:17 says:
For God did not send His Son into the world to condemn the world, but that the world through Him might be saved."
So if you are feeling or hearing something that purports to be God, or that you think is God–something that makes you feel condemned or without hope–IT IS NOT GOD. It's the devil, and it's a lie.
Galatians 6:22 proves this:
But the fruit of the Spirit is love, joy, peace, longsuffering, kindness, goodness, faithfulness, gentleness, self-control. Against such there is no law."
This means that, whenever the Holy Spirit is doing something, or saying something, or producing something in you, it will result in love, joy, peace, kindness, etc.
Let the fruit of the Spirit be the "true north" on your compass. If something isn't full of the fruit of the Holy Spirit, then the Holy Spirit ain't in it. Period.
God is your Heavenly Father.
He's a  perfect Father who is both just AND LOVING. So He always will correct you when you need correcting, because He's just. But He'll help you and love you throughout the process, because God is love.
Child of God, even when you do something wrong, your picture is still on God's refrigerator.
So here is your assignment for Day 11:
Think about the things you believe God might be saying to you right now.
Open your Bible like you did yesterday, ask Him to speak to you, and see what He says.
Then double-check. Is this verse speaking joy, faith, encouragement, direction, or hopeful conviction to you?
If so, then you can know for sure it's God. God's manifest presence always produces the fruit of the Spirit. Wherever God is, He produces love, joy, peace, patience, gentleness, and every other good thing.
If it's not, then what you are sensing is not God.
Start today to make this check-and-balance a habit in your life. By comparing what you think is God to what you KNOW is God (as shown in His Word), you can learn to discern what IS from God and what's NOT from God.
What is God speaking hope and faith into you about today?