What Your New Life In Jesus Will Look Like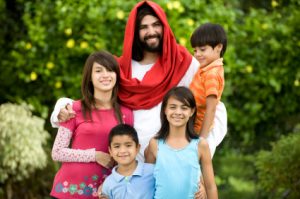 When you receive Jesus Christ as your Savior and Lord, God will make you a new person. He will give you a new start.
He promises to send His Holy Spirit to actually live inside of you and be with you always.
Faith in Jesus Christ is where your new life begins, because God, who will live in your heart through His Spirit, is the Source of all life.
It gets even better, though.
When you accept God's salvation through faith in Christ, God actually adopts you into His family. He becomes your Father, and He makes you one of His own kids. First John 3:1 says, "Behold what manner of love the Father has bestowed on us, that we should be called children of God!"
When you become the Father's kid, you get all the rights and privileges that come with sonship.
You get the relationship.
You get the companionship.
Everything that you need is made available to you, and it's all because God becomes your Father. He will never let you down.
Are you ready to receive salvation through Jesus today? If so, pray this prayer with me:
Dear Heavenly Father, I know for sure that I have sinned. I could never be perfect like you are. But I want a relationship with You.
I believe that Jesus came to earth and died on a cross for me. I believe He took my punishment for all my sins. I believe You can forgive me because of what Jesus did for me.
So Father, please forgive me of all of my sins. I receive Jesus into my heart right now to be my Savior and Lord. I turn my life over to You, God. You've promised that I will be Your child from now on. Thank You for being my Daddy. I need You. Please change my heart completely and make me like You. I thank You that I will never be the same again, Father. Please let the life of Jesus flow right through me from now on.
And Father, finally, I know I can't live for You without Your help and Your power. Please fill me with Your Holy Spirit. Help me to receive Your love and get to know You so we can have the relationship with each other that You and I both long for. Everybody will see the change in me, and it will all be because of You. Thank You. In Jesus' Name. Amen.
Click here to read the next post in this series, "Next Steps for the New Believer."