How To Break Unholy Soul Ties (with FREE Printable Guide)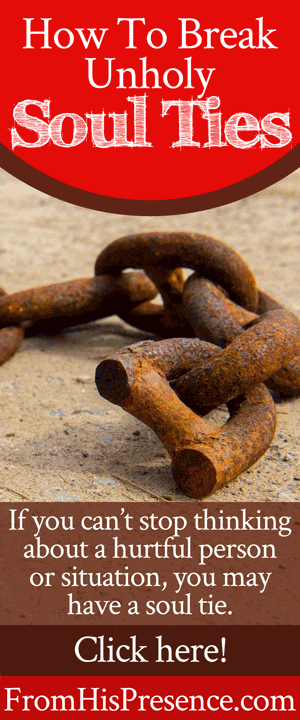 Have you ever tried to stop thinking about someone or something, but you just haven't been able to? Have you tried and tried to forget about that ex-boyfriend, ex-girlfriend, ex-husband, ex-wife, or the friend who did you wrong … to no avail?
Have you ever gotten frustrated with yourself because you haven't been able to just move on … even though you've tried so hard?
If you answered yes to any of those questions, you may have a soul tie.
What is a soul tie?
A soul tie is a spiritual phenomena that happens when your soul (your mind, will, and emotions) become linked to another person. Some soul ties are good. For example:
The loving bond between a godly parent and a child is a holy soul tie. God designed the family so that mothers and fathers and children would be connected to each other in love.
Another holy soul tie is the relationship between a husband and his wife–one man and one woman, bound together in holy matrimony. When a man and a woman get married, the Bible says that God has joined them together. The two become one flesh, and they are simply two halves of one whole. Husband and wife become one.
Another example of a godly soul tie could be a godly relationship between a parishioner and his or her pastor. The parishioner can love, honor, and serve the pastor as his/her spiritual leader (always making sure that everything lines up with God's Word first, of course).
In that situation, with the pastor and his/her sheep, the parishioner can have a real fondness or even brotherly love for the pastor, and the pastor appreciates the parishioner and has a fatherly love for that person. That kind of relationship is a good thing. God's Word tells us to love and honor our pastors.
Related: When we talk about inner healing, you'll hear a lot about "strongholds." Want to know what a "stronghold" is? Watch this short video for my illustration:
In all these situations, the bond that forms between the people in these holy relationships is a godly thing. It edifies, encourages, and lifts up both people who have the connection with one another.
But some soul ties are unholy. Instead of being based on a holy relationship, they are based on unholy relationships–or based on situations that keep you in chains.
And what started off badly–the relationship–doesn't get any better just because a bond forms.
For example, let's say you dated someone who abused you. You really loved them, but they weren't willing to change, so you found the courage to end the relationship. You try to move on, but you just can't get that person out of your mind.
Or maybe …
You used to be married, but your spouse cheated on you and left years ago. You've forgiven them, and you really meant it when you did. You don't harbor any animosity toward your ex. However, you still can't stop thinking about them. You haven't been able to get free from the memories of what they did, even though you've tried.
Or maybe …
You used to be bullied a lot when you were growing up. In the adult world, people no longer bully you; but you still catch yourself shying away from people, thinking that they will. You feel like the bullying happened just yesterday, even though it was years ago. And like the situation above, you may have even forgiven them–but you still suffer from the damage inflicted on you.
In all these situations, chances are that you have a soul tie.
Keep reading below for more about how to break these soul ties. But, if you'd like to also download my FREE, printable guide for how to break unholy soul ties, you can do that here. It's free when you sign up for email updates from my blog!
Related: Read the rest of the posts in this series:
A soul tie simply is a soul-based attachment to another person.
You see this in the Bible in 1 Samuel 18:1, which says:
"Now when he had finished speaking to Saul, the soul of Jonathan was knit to the soul of David, and Jonathan loved him as his own soul."
Soul ties can be formed with people you like, as happened with Jonathan and David; BUT, they can also be formed with people you don't like–or people who have abused you, done you wrong, or left you. The circumstances of your current relationship don't matter. What matters is that the soul tie exists, and it will remain unless you break it.
And soul ties keep you attached, whether you want to be attached or not.
A soul tie keeps you thinking about that person all the time, and it keeps them thinking about you. It keeps you from moving on, even if you want really badly to be free.
But you can break soul ties. You don't need to break the holy ones–like the ones with your husband or wife, or any other godly (repeat: godly!) relationship in the Body of Christ. But you definitely want to break the unholy soul ties.
So how do you break soul ties?
You break soul ties with the blood of Jesus.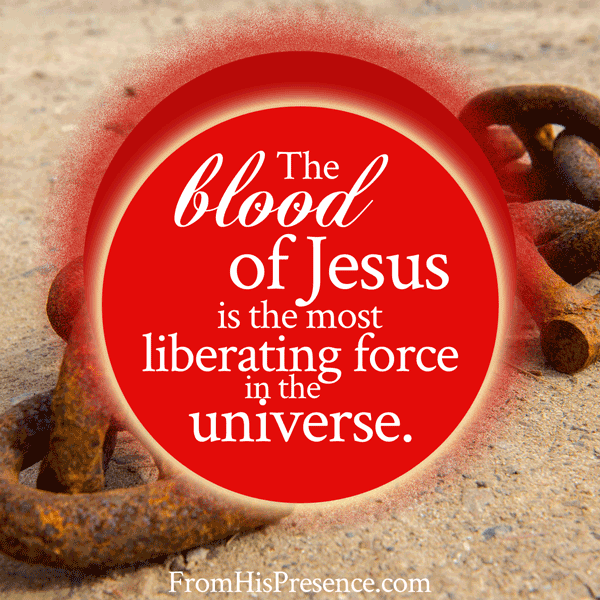 The blood of Jesus cleanses us and washes us from all evil things. Jesus' blood is the most powerful force in the universe, and NOTHING can stand up to it.
Not even an ungodly soul tie. 🙂
So what do you do? You pray. I've placed a sample prayer below. If you'd like to break ungodly soul ties off your life, pray this prayer OUT LOUD.
Important: In the place where the prayer below says "I break every unholy soul tie right now," and when you say the word "BREAK," I want you to clap once when you say that word, okay? The physical sound of the clap actually startles your brain out of its old thought pattern and into a new thought pattern. It's a very cool thing based in simple, high-school-level neuroscience, and you can actually feel the old pattern breaking.
So pray this prayer to break soul ties that you don't want off of your life:
"Dear Heavenly Father, I come before You in Jesus' name. Thank You for buying me back from sin with the blood of Jesus. Jesus, thank You for dying on the cross for me–and thank You for being resurrected to life again so that I could live a victorious, powerful life in You.

Dear Jesus, You paid the price with Your own blood for me to be free in every way. So, I receive Your gift of freedom. I choose to be completely free today.

Jesus, it is Your name and Your blood that make me free, and I thank You for that. You said that he/she whom the Son sets free shall be free indeed. So thank You that You're doing the work as I agree with Your Word and obey You.

So Father God, in the name of Jesus, I plead the blood of Jesus over every unholy soul tie that is attached to or from me to any other person. And in the name of Jesus, with His blood, I (CLAP=>)BREAK every unholy soul tie right now.

In the name of Jesus, let every part of me that has been attached to someone else return to me, washed clean with the blood of Jesus, right now. And let every part of anyone else that has been attached to me be broken off and return to them, right now, in the name of Jesus.

Jesus, thank You for setting me free. I plead Your blood over my body, spirit, soul, mind, will, and emotions. Fill me with Your Holy Spirit afresh and anew. Please help me not to be conformed to this world, but to be transformed by the renewing of my mind in Your Word. Help me to wash my mind in Your Word every day, Jesus, and help me receive Your truth in all things.

Thank You, Father God. Thank You, Lord Jesus. Thank You, Holy Spirit. I love You, and I give You all the praise. In Jesus' name, amen."
If you prayed that prayer, then Jesus just broke the unholy soul ties off of your life.
You are very likely to feel different after praying that prayer. I often have had people tell me they can sense their freedom–that they suddenly feel disassociated (in a good way) from the people who have hurt them.
If you feel suddenly disassociated from those people, that is a VERY good thing! That is what freedom feels like, beloved. It feels whole and healthy just between you and Jesus–no other people needed. That is as it should be; you should feel whole and complete in Jesus alone. You want to be able to leave those people behind.
And you will find that, without the soul tie, you will be able to move on and stop thinking about that person.
However, here's a spiritual warfare tip you'll need to know:
If you prayed this prayer to break soul ties, be forewarned that the person with whom you had the ungodly soul tie will also feel the difference. They will suddenly sense that you are free from them; that you have broken free from their control or influence.
And they may not like it.
If the person abused or hurt you on purpose, they might not like it that you are suddenly free. It is very possible that they will (even out of nowhere) try to strike up a connection with you again.
True story. Beloved, BE WARNED that they may try to connect with you again. And if that happens, and they do try to connect with you again, be very careful. That connection wasn't godly before, and it's not going to be godly now. It is a trick of the enemy to try to pull you back into bondage.
So run.
In other words, if I were in your shoes, I would run not walk to say a polite "no thanks" to their efforts; and I would stay far, far away from them. Just a word to the wise on that. 🙂
Soul ties can be good, and they can be bad. It just depends on the type of relationship and the fruit that relationship produces.
But if you have unholy soul ties, you can break them easily and quickly with the blood of Jesus. Pray the prayer above. Apply the blood of Jesus and sever those unholy soul ties.
Then do what it takes to maintain your freedom. Wash your mind in God's Word. Stay away from ungodly relationships, even if they try to take root in your life again. Seek after God with all your heart … and you will stay free.
Does this message resonate with you today? Did you pray the prayer to break soul ties–and did you notice the difference when you did? If so, please leave a comment below, and share your thoughts with our community!
Would you help me with my work of reaching people for Jesus as a domestic missionary? This blog, and all of my mission work in person, are made possible through your partnerships, donations, and product purchases.

If you'd like to help me, please check out the partnership details and products available for sale here. And, thank you in advance for helping make this blog and everything we do together for the Kingdom possible!