If You Have A Broken Spirit
Dear Presence seekers,
The Lord told me today that some of you have a broken spirit. If that's you, I have an encouraging word for you right now.
First, I felt like the Lord wants you to know that, in the long run, it is going to be okay. YOU are going to be okay.
It's just a matter of getting you from here to there.
And to get you from here to there, Papa gave me three words to encourage you:
1. Hide.
The battle is too strong for you, but that doesn't matter because the battle is the Lord's anyway. Take this time to hide from the battle under the shadow of Papa's wings. The Lord shall fight for you, and you shall hold your peace.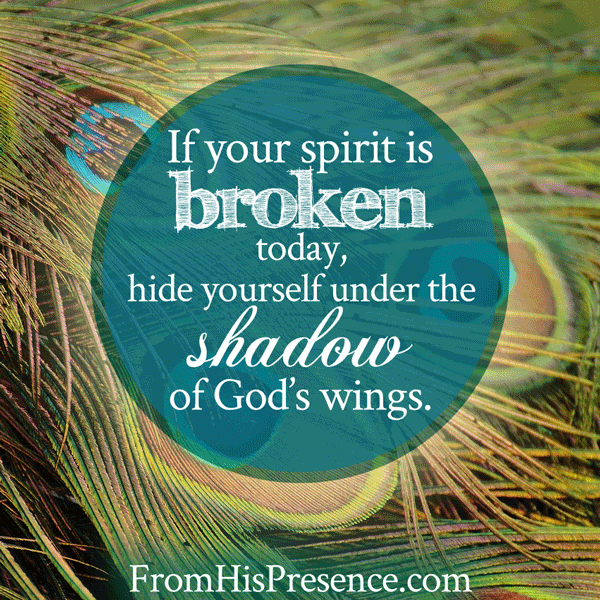 2. Rest.
Physical and spiritual fatigue can only work against you. Get lots of sleep, and make a point to refuel in God's Word.
Remember that the words that Jesus speaks are spirit, and they are life. Fill yourself up with Jesus' words so that His words can repair, heal, and give life to your spirit.
3. Energy–His energy.
The Lord told me to tell you to rely upon His divine energy, not your own.
There may be times when you feel like you are aupposed to be doing something productive, but you just don't have it in you to do it. That's okay. If that's you, revert to step 2 and rest.
But when Father is ready for you to do something, know that He will give you the divine energy to do it. Rely on Him, and follow His voice. Reduce your expectations of yourself to simply following His voice. Then, you will not wear yourself out and you will have peace.
I am praying for all of you who have a broken spirit today. May our Father and Comforter demonstrate His own love to you in many ways today, in Jesus' name.
Much love in Christ,
Jamie