Here is my schedule of events. Check back often as I will update this page as new events are added.
Webinars, in particular, are added frequently. And if you're interested in booking me to speak, find my speaking information and short video here.
December 13, 2019: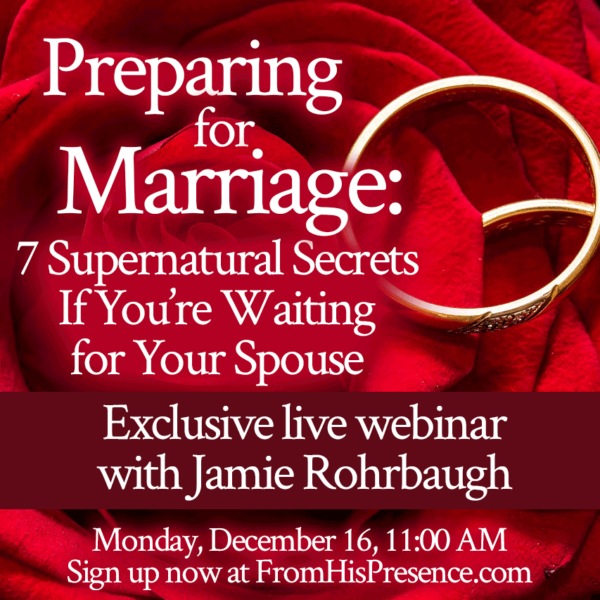 Are you single and waiting for your divinely-appointed spouse to show up–or, do you know someone who is?
Preparing for Marriage: 7 Supernatural Secrets if You're Waiting for Your Spouse is a mentoring, equipping, upbuilding, encouraging, and how-to-manifest-your-miracle teaching word (incorporating many of the same things the Lord taught me to do when I was praying in my own amazing husband).
I'm going to teach this word via webinar so I can talk with and encourage our single folks personally. If you're single and wanting to meet and marry your divinely-appointed spouse, please join us!
Date: Monday, December 16, 2019
Time: 11:00 AM – 12 noon, Eastern time (1 hour)
Cost: $10
**The webinar WILL be recorded, and all registrants will receive a video replay after class is over.**
Webinars work best when viewed using a desktop or laptop computer, and using Chrome browser. Your results may vary using mobile devices or other browsers. (However, replay videos work fine on mobile devices.)
Seating for this class is limited. So, sign up now if you want to attend! Or, if you don't need this class but you know someone who does, please tell them about it and even sign them up as a gift, to encourage them in their journey!
Past events:
November 8-10, 2019:
December 6-9, 2019:
Forerunner Weekend Women's Retreat
2.5 days of encountering God, rest, and teaching and mentoring from Jamie and team about the FORERUNNER CALL.
Where: Navarre Beach, Florida
Time: Check-in at 5 PM December 6. Check-out at 11:00 AM on December 9, Eastern time.
Lodging: We have booked a beautiful private house near the beach. This house sleeps 15 (5 spots are left) in a combination of bunk beds and regular beds. Queen and king beds will need to be shared, so bring a friend, your fun PJs, and a great attitude! 🙂 Some of the beds are in bedrooms, and some are in a special bunk-bed hallway, ship-style. 🙂
Sleeping quarters: Your registration will not correspond to a particular bed; we will let people pick their bed at check-in, on a first-come, first-served basis. So, get there as close to 5 PM as possible on December 6!
Meals: Our team will be cooking to serve you. Meals will be provided beginning with dinner on Friday night. We will serve breakfast, lunch, and dinner on Saturday and Sunday, with a light breakfast also on Monday morning. If you have any special dietary needs or food allergies, please let Jamie know with your registration.
Our first session will be Friday evening after we eat dinner. We will have teaching sessions plus time for you to relax and enjoy the house and beach on Saturday and Sunday!
This will be a small group session on purpose, so we can bond, rest, relax, eat together, and get to know one another. Bring your Bible, your journal, your comfy clothes, your sense of fun, and most of all, your HUNGER FOR GOD.
Pricing:

You can pay in a lump sum OR with a payment plan.
Lump-sum price: $599 USD
Payment plan: 4 payments of $175 each.
Payments are due by May 1, June 1, July 1, and August 1.
Send payment here: https://www.paypal.me/jamierohrbaugh and include a note stating it's for the December Forerunner Weekend.
Registration fees are non-refundable unless the event is cancelled. But, they are transferable. If you can't go, you can sell your ticket to someone else.

You must agree to sign a hold-harmless form with waiver of liability to attend the retreat.
Also, no alcohol, cigarettes, or recreational drugs of any kind are allowed.
(Note: Jamie will have her 2-year-old son with her, and a babysitter will take care of him during study sessions.)
Any questions? Ask Jamie! But don't take too long, because the 5 spots we have left will be gone. I hope to see you there!