Here is my schedule of events. Check back often as I will update this page as new events are added. Webinar schedules and updates are sent out by email, not posted on this page.
If you're looking for booking information, find my speaking information and short video here.
Denver Spiritual Ninja Warrior Training and Inner Healing Retreat: June 12-14, 2020:
Click here for all the information about our prophetic training and inner healing conference in Denver this June.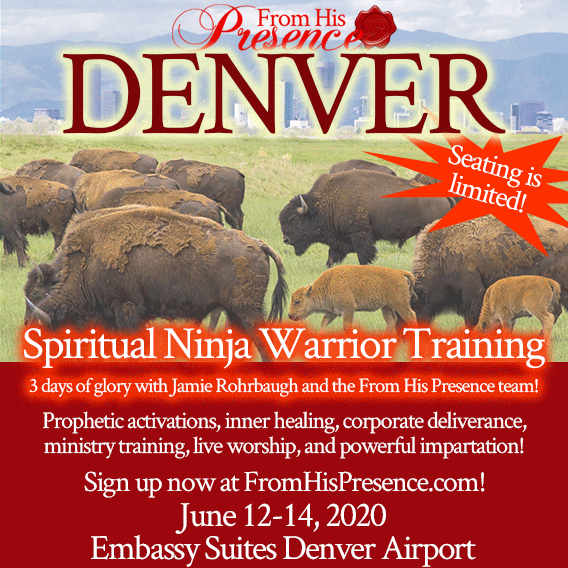 Past events:
March 5-7, 2020:
Appalachian Worship Burn, Hilton Garden Inn, Pigeon Forge, Tennessee
February 28, 2020:
Teaching Kingdom Finance at Judy Jacobs' Glory Weekend, Pigeon Forge, Tennessee
February and March 2020:
Teaching Leaders In Training University Kingdom Entrepreneurship class on Sunday nights at Dwelling Place Church International, Cleveland, Tennessee.
December 13, 2019: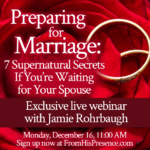 Are you single and waiting for your divinely-appointed spouse to show up–or, do you know someone who is?
Preparing for Marriage: 7 Supernatural Secrets if You're Waiting for Your Spouse is a mentoring, equipping, upbuilding, encouraging, and how-to-manifest-your-miracle teaching word (incorporating many of the same things the Lord taught me to do when I was praying in my own amazing husband).
Replay is still available here: https://jamierohrbaugh.webinarninja.com/live-webinars/172457/register
November 8-10, 2019:
December 6-9, 2019:
Forerunner Weekend Women's Retreat in Navarre Beach, Florida