Here is our schedule of events. Check back often, as we update this page as new events are added. Webinar schedules and updates are sent out by email, not posted on this page.
If you're looking for booking information, find Jamie's speaking information and short speaking reel here.
"Possess Your LAND" Women's Retreat at the Hub, January 26-27, 2023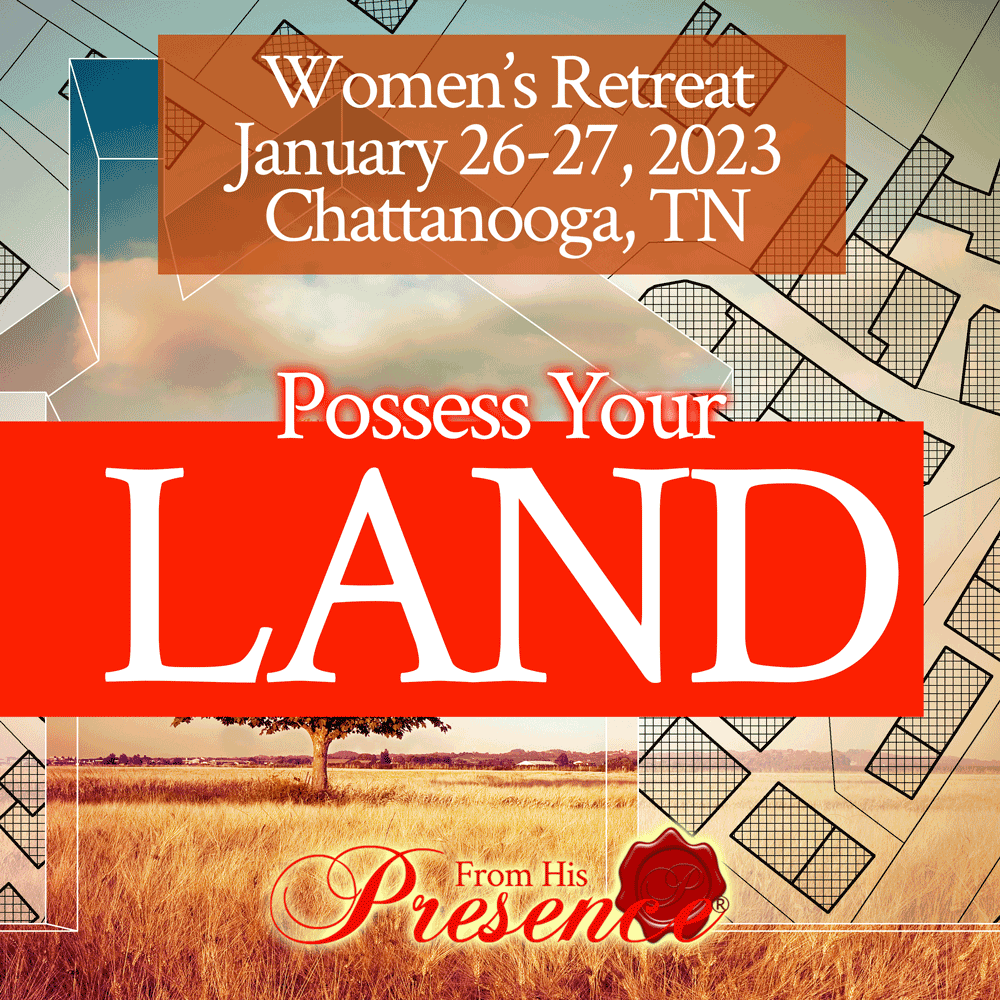 Our next women's retreat is a small-group mentoring retreat (maximum 15 attendees!) at our Hub in Chattanooga, Tennessee! Our theme is "Possess Your LAND," and at this retreat we will be talking about:
Does the Lord desire you to own land?
What kind of land does He want you to own?
How to identify, access, and take possession of your land!
We'll also have Spirit-led worship and MUCH MORE!
This retreat will be held from 10:00 AM – 5:00 PM each day on Thursday and Friday, January 26-27, 2023. We will meet in person at our prophetic hub: 200 W Martin Luther King Blvd, Chattanooga, TN 37402.
Lunch will be provided each day, but breakfast, dinner, and lodging are on your own. We encourage you to take advantage of the many affordable lodging options in downtown Chattanooga, so you can spend your evening hours with a new sister-friend!
Cost for this retreat is $99 per person. Click here to register!
Tickets are not refundable for any reason unless the event is cancelled entirely.
********************************
The Kingdom Is Yours Worship & Mentoring Conference, June 1-3, 2023, London, UK:
Scroll down for more details and click here to register for the 197 GBP EarlyBird rate! Or, click here to sign up for the 197 GBP payment plan early bird rate, where you may pay for your registration fee in 5 automated installments of 39.40 GBP each.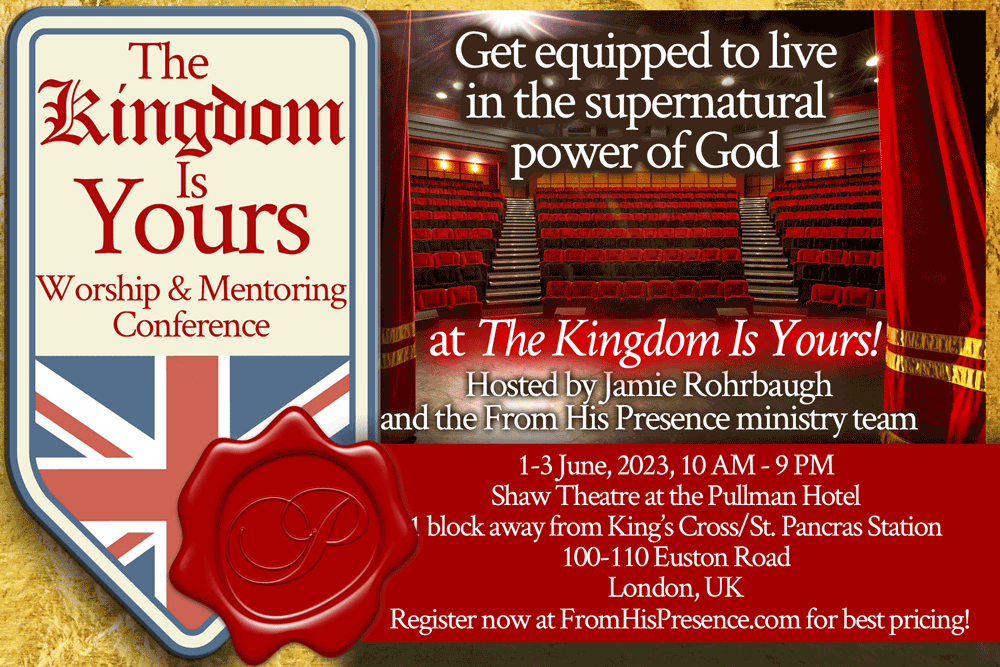 Where: Shaw Theatre at the Pullman Hotel, 100-110 Euston Road, 1 block away from King's Cross/St. Pancras Station! This is a luxury theatre that seats 446 people and will allow plenty of space for worship and ministry!
When: 1-3 June, 2023, 10 AM – 9 PM each day
What: Jamie and her team will be equipping you and ministering to you with a focus on the supernatural life and the gifts of the Spirit! If you desire to live and walk every day in the supernatural power of God, this event is for you!
LIVE, extended periods of powerful worship will be led by special guest Jay Garcia and his band!
The first 30 people to register will receive a free, 10-minute personal prophetic ministry appointment at the event!
Cost to register:
Your registration fee is for the conference only and does not include transportation, lodging, or meals.
Tickets are not refundable for any reason unless the entire event is cancelled. Each registration is for one ticket to attend the event in person. The event will not be streamed. You will be able to mingle, network, make friends, and receive ministry without social distancing requirements unless such requirements are mandated by the British government at the time of the event.
We can't wait to see you there!
**************************************************