Understanding How the Demonic Spirits of Abandonment and Rejection Work Together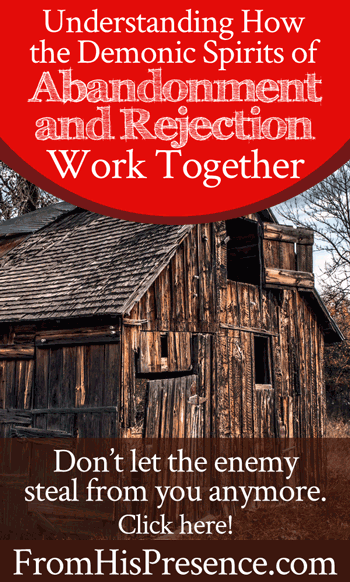 Do you want to heal from abandonment and rejection? If so, the first step is understanding the enemy's tactics work, so you can back yourself out of them like freeing yourself from a spider's web.
In this week's blog series, I'm going to be teaching on how to heal from abandonment and rejection.
Before I get started, though, let me say: the enemy's strategies are insidious.
They're despicable. I hate them. And I THANK GOD for Jesus Christ, whose shed blood on Calvary made the way for you and I to be COMPLETELY free from ALL the enemy's attacks, plans, schemes, devices, and thievery.
Jesus is so much stronger.
His blood bought complete freedom for you and for me. Not partial freedom, or no freedom. Complete freedom.
Do we have to appropriate it? Yes.
Do we have to believe for it? Yes; God moves in response to faith. But the truth is what Jesus said in John 10:10:
The thief does not come except to steal, and to kill, and to destroy. I have come that they may have life, and that they may have it more abundantly."
Do we have to work for it?
No; but we do have to bring our lives into submission to God's Word in every area in order to be free. Why? Because the truth makes us free. Obeying the truth makes us free. As John 8:32 says:
And you shall know the truth, and the truth shall make you free."
Bringing our lives into submission to God's Word in every area may feel like work. It may. But in reality, it's not work.
Work is the process of making something happen on your own. Obeying is the process of bringing ourselves into total alignment with our God, who is a good Father and loves us so very much, so HE can make things happen for us.
Obeying is the process of bringing the creation–ourselves–into alignment and agreement with the Creator's Manufacturer's specs.
So is getting free going to take effort on your part, the effort to obey? Yes, absolutely–but it will be worth it.
I've had to walk through this myself.
I've dealt with a ton of abandonment and rejection in my life. A ton. I've been through a lot of inner healing to get free from it, and the Lord still periodically shows me people or situations that I need to work through in this area. We're like onions–layer after layer.
But Jesus is the ultimate Shepherd, and Holy Spirit is the ultimate Teacher. He's walked me through the steps to so much freedom, and I know He will do the same for you.
Related: Read all the posts in this series:
If you're bound up in chains of rejection and imprisonment, you can be totally free when you obey God's commands. And obeying starts with understanding.
The understanding is the key part that is a problem. I believe there is a tragic lack of teaching across the Body about this. It's all the Word of God; but so many churches and people have abandoned God's full and complete Word–taking out the parts about the power and grace of the Holy Spirit–and so we have lost our power to find freedom.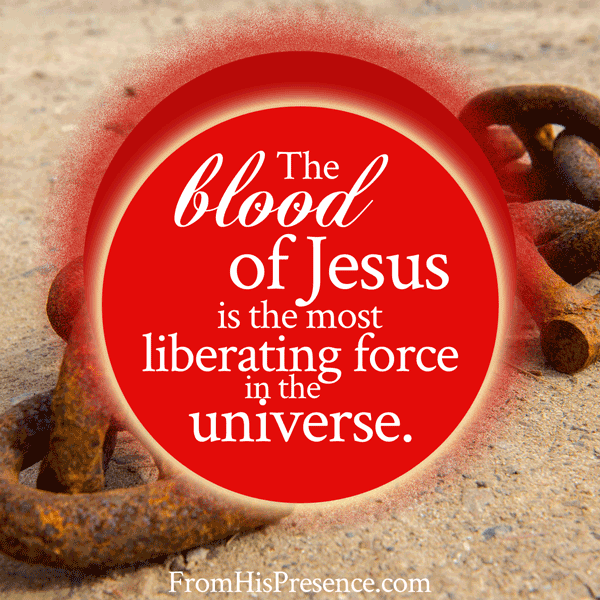 All because people simply don't know or understand how to get free. They have never been taught.
God's people perish for lack of knowledge.
And if you find yourself in that group who has simply never been taught this–who has never understood–then this is your day. 🙂
There's no condemnation for you in Christ Jesus. There's only grace. So my prayer for you as you read these articles this week is:
That you would fight through any warfare, hindrances, or blockages the enemy tries to throw at you to keep you bound;
That you would be willing to do the work and put in the effort to be free;
That you would believe on the name of the Lord Jesus Christ, and believe in ALL His Word.
Jesus will set you free as you believe and obey. And when Jesus sets you free, you will be free indeed.
Therefore if the Son makes you free, you shall be free indeed" (John 8:36).
Freedom is guaranteed if you will obey His instructions for how to free yourself from the wiles of the enemy.
Additional resources that have helped me tremendously along this journey:
The first step in finding freedom from abandonment and rejection is to understand how the enemy's tricks to ensnare you work.
And for that, I made a flowchart. 🙂

There are five steps in the enemy's process to bind you in chains of abandonment and rejection. They are:
1. Someone abandons you, and it hurts.
This insidious process doesn't start just from a random thought one day. No; the enemy is a horrible trickster, and he kicks at God's people when they are at their weakest. He takes unholy advantage of a hurting, bleeding, wounded child of God and uses their pain to kill them.
So what happens is, somebody actually abandons you first. Examples of this could include:
Having your father abandon your family, whether he walked out or whether you simply never knew him.
A friend who walks away from you.
A spouse who leaves you, cheats on you, or is such a workaholic that you never see them, so you feel alone even though you're married.
The examples of abandonment could continue to infinity. You get the picture. Suffice it to say: the enemy steps in to attack even more when you are hurting. Yuck.
2. As I taught about in Finding Deep Soul Healing 101, unhealed wounds open a door to the enemy.
It's not because there's anything wrong with hurting. Hurting is a natural response to having been wounded, betrayed, etc. I don't believe we can stop ourselves from hurting.
The problem is simply because we take our eyes of Jesus to lick our wounds. When that happens–when our wound is not submitted to Jesus and healed quickly by the Holy Spirit–the enemy comes in and presents lies to us, trying to get us to believe them.
Let me pause here and anticipate a possible question you may be asking: What about the people who have never heard about Jesus? Are they subject to the same attacks?
Answer: Yes.
The enemy comes to steal, kill, and destroy anyone he can, and that's the only reason he comes. So people who are without Jesus are in a terrible state. Utterly defenseless, without faith in God or protection from Him (because they have not submitted to Him), they are completely vulnerable to the enemy's attack.
That's why Jesus stood up in the synagogue at the beginning of His ministry and quoted from Isaiah 61:1-3:
The Spirit of the Lord God is upon Me, because the Lord has anointed Me to preach good tidings to the poor; He has sent Me to heal the brokenhearted, to proclaim liberty to the captives, and the opening of the prison to those who are bound;

to proclaim the acceptable year of the Lord, and the day of vengeance of our God; to comfort all who mourn, to console those who mourn in Zion, to give them beauty for ashes, the oil of joy for mourning, the garment of praise for the spirit of heaviness;

that they may be called trees of righteousness, the planting of the Lord, that He may be glorified."
Jesus came to set the captives free.
That's why Father sent Him: Father desires to rescue all people who have been enslaved by the enemy. Without Christ, all people are lost in sin. Jesus came to save them.
So yes, the attack of the enemy works the same way against people who don't know Jesus–and they are simply defenseless.
As blood-bought children of God, you and I can appropriate the victory and freedom Jesus died to give us. People who have not given their lives to Jesus cannot, until they do give their lives to Jesus.
However, at the moment they give their lives to Jesus, they can become 100%, absolutely and totally free as well.
Related: If you'd like to read how to give your life to Jesus, read about my best Friend, Jesus Christ, here.
So. Unhealed wounds open a door to the enemy.
Why? Because they hurt so much that we focus on them, instead of keeping our eyes on Jesus. For example:
We dwell on them.
We give them power.
We sit and mull over them.
We get angry about them.
We think about them, talk about them, think about them, talk about them, and think about them and talk about them some more.
And when we take our eyes off Jesus, looking at our wounds instead, we become instantly vulnerable to the enemy's attack.
Perhaps that's why the Bible says:
If then you were raised with Christ, seek those things which are above, where Christ is, sitting at the right hand of God. Set your mind on things above, not on things on the earth" (Colossians 3:1-2, emphasis mine).

and

"Therefore we also, since we are surrounded by so great a cloud of witnesses, let us lay aside every weight, and the sin which so easily ensnares us, and let us run with endurance the race that is set before us,

looking unto Jesus, the author and finisher of our faith, who for the joy that was set before Him endured the cross, despising the shame, and has sat down at the right hand of the throne of God" (Hebrews 12:1-2, emphasis mine).

and

"Therefore, holy brethren, partakers of the heavenly calling, consider the Apostle and High Priest of our confession, Christ Jesus, who was faithful to Him who appointed Him, as Moses also was faithful in all His house" (Hebrews 3:1-2, emphasis mine).

and then there's that story about how Peter walked on water until he took his eyes off Jesus:

"And Peter answered Him and said, 'Lord, if it is You, command me to come to You on the water.' So He said, 'Come.' And when Peter had come down out of the boat, he walked on the water to go to Jesus.

But when he saw that the wind was boisterous, he was afraid; and beginning to sink he cried out, saying, 'Lord, save me!' And immediately Jesus stretched out His hand and caught him, and said to him, 'O you of little faith, why did you doubt?'" (Matthew 14:28-31, emphasis mine).
Oh, how we must keep our eyes on Jesus!
I'm not speaking from an ivory tower here. I've failed at this so, so, sooooo many times. Oh, how I've failed. 🙁
But thank God: His mercies are new every day! He is mindful that we are but dust! And He is ever ready to pick us up, brush us off, put the ring on our finger, and place His best robe on our back …
… if only we will come back to Him.
So taking our eyes off Jesus opens a door for the enemy to attack us. And then …
3. A spirit of abandonment torments you as you grieve and nurse your hurt.
Yes; an actual, literal, demonic spirit comes in and starts whispering to you. And what does he whisper? Not truth; for Jesus told us:
You are of your father the devil, and the desires of your father you want to do. He was a murderer from the beginning, and does not stand in the truth, because there is no truth in him. When he speaks a lie, he speaks from his own resources, for he is a liar and the father of it" (John 8:44).
Nothing from the devil ever, ever carries any truth. There is no truth in him. He is only a liar; so if he's talking–or if his minions are talking–they are only lying. That's their only option, for falsehood is the only thing in them.
That's what Jesus told us, and so we can take that to the bank.
Therefore … what does the enemy do? He sends that spirit of abandonment and it whispers to you. It tells you that you'll always be abandoned. It tells you that you deserve to be abandoned. It tells you that you're abandoned because you're rejected.
And as soon as you agree with that lie, then the spirit of rejection comes in.
Ugh! I hope you see how insidious this is! Can you see it? Does it make you mad? It should, for the enemy has been jerking you about with his puppet strings long enough! Let holy wrath and indignation rise up in you and DECIDE TODAY that you ARE going to be free, like Jesus died for you to be! In Jesus name!
4. The demonic spirit of rejection nests with the spirit of abandonment and also lies to you.
I'm getting madder and madder at the devil as I write this. IT'S TIME FOR THE ENSLAVEMENT OF GOD'S PEOPLE TO STOP!
Beloved, it's time to be free!
Step 4 in the enemy's horrible work of enslaving you is that, as soon as he's worn you down enough so that you come into agreement with the lies the spirit of abandonment has told you (the spirit that he uses to pave the way for the spirit of rejection), the spirit of rejection comes right on in.
Oh beloved! Can't you see? THIS is why we have to strengthen ourselves in the Lord!
This is why we have to know God's Word and confess it out of our mouths! This is why we have to build ourselves up in our most holy faith–to render ourselves IMMUNE to the enemy's lies!
This is why we must know God's Word, eating it for breakfast, lunch, and dinner–because it renders us immune to the enemy!
As it says in Isaiah 8:20:
To the law and to the testimony! If they do not speak according to this word, it is because there is no light in them."
Beloved, KNOW GOD'S WORD! It will keep you safe!
So anyway, if we begin agreeing with the enemy's lies, the evil spirit of rejection comes in. And it adds its foul whispers to the things the spirit of abandonment is already telling you.
For example, it tells you:
that you are rejected;
that you're not good enough;
that no one wants you;
that you don't fit in;
that you don't have friends;
that you're worthless;
that no one will ever want you;
that you will never be accepted;
that nothing you do can be good enough; and more.
Yuck.
Oh yeah, I'm preaching to the choir here. We've all been there. I know I have, and ten to nothing I'll bet you have too. 🙁 But don't worry; you can be free.
And step 5 is:
5. If you accept or agree with the enemy's lies, you develop a stronghold of abandonment and rejection.
I'll talk more later about what a stronghold is and how to destroy it. However, for now, just know this:
A stronghold is an evil paradigm.
It's a house of wrong thinking that the enemy has tricked you into building for yourself through constant agreement with his lies. And it colors the way you see everything–the world, life, people, your family, your marriage, your brothers and sisters in Christ, etc.
And from there on, things tend to go downhill.
This is what the enemy wants. Remember that he only comes to steal, kill, and destroy. And what does the enemy hate the most? Jesus.
And what did Jesus come to do? To buy us back from the slave market of sin, so we could return to Father.
Jesus came to purchase a road with His own blood for us to be ACCEPTED again.
The enemy hates Jesus, and he wants to counteract what Jesus did. Not only that, he wants us to feel rejected because he hates us too. By getting us to agree with his lies of rejection, he robs us of the blessing and abundant life Jesus purchased for us.
It's not that it changes our DNA. If you are in Christ, your DNA–your "who"–is accepted in the Beloved (Ephesians 1:1-6). But if the enemy can rob us of enjoying what Jesus purchased for us, he wants to.
And he uses the demonic spirits of abandonment and rejection to rob us of experiencing, enjoying, and walking in intimacy with the Father and with our brothers and sisters in Christ.
Are you ready to get free?
On Wednesday, I'll write more about discerning this stronghold and how you can know if you're being influenced by spirits of rejection or not. And later in the week, we'll talk about how to tear down this stronghold and reverse yourself out of this web of destruction and deceit the enemy has cunningly crafted to ensnare you.
But for now, I have a homework assignment for you:
If this teaching about abandonment and rejection resonates with you, and you know already that these two evil forces are tormenting your life, the first step to getting free is this:
Make a list of every person who has ever abandoned you or rejected you.
Every person. Seriously. Don't leave even one person off your list that you think of. Pray and ask Holy Spirit to show you all the people you need to write down–dead or alive.
You might have only one person on your list, or your list could be pages long. When I made my own list years ago, my list was pages long. We've all lived different lives and had different experiences.
But no matter how many people are on your list, make a list.
Then check back Wednesday for the next post in this series!
Is Holy Spirit speaking to you through this post today? If so, please leave a comment below, and also encourage your fellow Presence seekers in the comments!
Would you help me with my work of reaching people for Jesus as a domestic missionary? This blog, and all of my mission work in person, are made possible through your partnerships, donations, and product purchases.
If you'd like to help me, please check out the partnership details and products available for sale here. And, thank you in advance for helping make this blog and everything we do together for the Kingdom possible!