When You Fall, God Is Mindful That You Are But Dust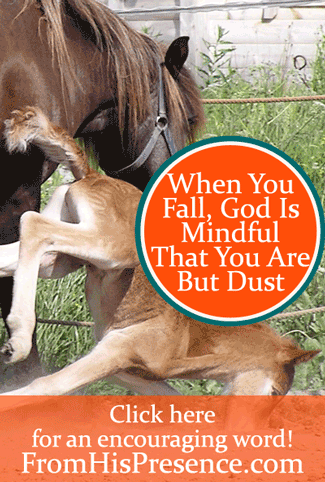 Precious friend, have you fallen lately?
Have you said something or done something that you regret–something that you know is beneath your privilege as a child of God?
If so, you are not alone. We all fall sometimes. I sure do, and I wish I didn't. You probably wish you didn't too! But you know what?
We have a precious, merciful, loving Papa in Heaven who loves us so much that He helps us get back up again.
Psalm 103:11-14 says:
For as high as the heavens are above the earth,
So great is His lovingkindness toward those who fear Him.
As far as the east is from the west,
So far has He removed our transgressions from us.
Just as a father has compassion on his children,
So the Lord has compassion on those who fear Him.
For He Himself knows our frame;
He is mindful that we are but dust" (NASB, emphasis mine).
That is one of the most beautiful Scriptures I know. When we repent, He removes our sins from us as far as the east is from the west. He takes pity on us. And the last verse is such a comfort to me:
He knows your frame. God is mindful that you are but dust.
Does this give us an excuse to sin more because we're only made of dust? No, of course not. But it does give us such a precious glimpse of our Father's heart.
Can't you see Him now? You may have fallen, but the Father is extending His hand to you with pity and compassion. He loves you so much. He knows you far more intimately than you know yourself. You are His baby, and He knows you're not perfect yet–but His heart beats for you anyway. He adores you.
And He is picking you up. He wants you to get right back up and get back in His lap. You are His beloved son or daughter.
When we sin, yes, of course repentance is needed. We have to make things right with those we have wronged. But as soon as we repent and ask Papa to forgive us and wash us clean with the blood of Jesus, He does. He forgives. He cleanses… and He forgets about it.
Why? Because Jesus made a way on the cross for your sin and mine to be forgiven and forgotten. We need that – because we are dust. And God knows it. So when we repent, God forgives. And He looks at us just the same as He did before we sinned–as the righteousness of God in Christ.
Even after you fall, Papa God still sees you as the warrior prince or warrior princess He created you to be. He sees the finished product. And He remembers Jesus hanging on the cross for you, and He hugs you tight to His chest and whispers in your ear:
"You are worth it."
You are worth the sacrifice that Jesus made for you, because our Papa values you that much. He loves you that much. God is mindful that you are but dust, but He loves and forgives and restores you anyway.
So have you fallen? Precious sister or brother, after you have repented and made things right, it's time to get back in the Father's lap. He will forgive, and He won't hold it against you. He is mindful that you are but dust, and His heart beats for you anyway. 
Image courtesy of Smerikal on Flickr via Creative Commons license.