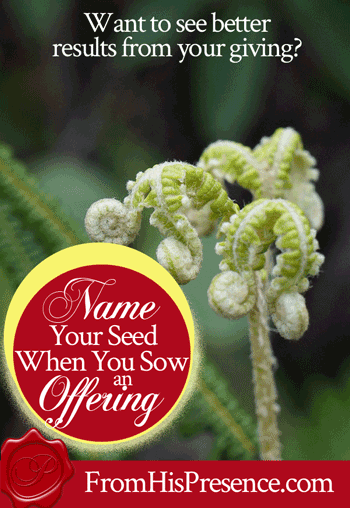 Do you want your offerings to get better results? If so, be sure to name your seed when you sow an offering!
Someone over on our free Facebook mentoring/prayer group asked a fabulous question recently about naming your seed. In case any of you are interested in this subject as well, I wanted to share this principle of Kingdom finance with you today.
Related: Check out 31 Days of Praying for Your Finances on our financial blog, OverNotUnder.com!
Why should you name your seed?
It's all in the nature of the seed. When God created the earth, He invented seeds (Genesis 1:11-12; Genesis 1:29). He commanded everything to reproduce after its own kind, and He created the earth such that the mature thing (e.g. the tree) would be inside the seed in embryonic form. [Read more…] about Name Your Seed When You Sow An Offering