Hang In There, Hang In There, Hang In There!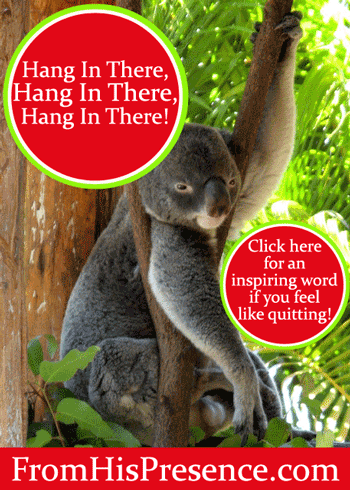 If you're tempted to quit something God has called you to do, I have an encouraging word for you today:
Hang in there!
I've been tempted to quit some things recently. Some of these are things I need to quit, but others are things to which God has called me. The going hasn't always been easy, though. Sometimes, when things are hard, it seems easier to walk away than to stick with it.
Sometimes perseverance seems like more trouble than it's worth. Is anyone else with me on that?
It was during one of those times recently that God spoke to me from Galatians 6:9:
And let us not grow weary while doing good, for in due season we shall reap if we do not lose heart."
 And Papa told me to hang in there.
The thing that struck me most about this passage was that we are not to grow weary "WHILE" doing good:
WHILE we're still in the process.
WHILE we are sowing, but haven't seen a harvest yet.
WHILE we are working and working with nary an end in sight.
It's true that I might be working and not seeing my harvest yet, but God knew when He wrote this verse that I would have to work awhile before the harvest comes. He knew the journey might feel long. But He also knew that something great lies at the end of the road… if I can just hang in there!
What are you working toward? What do you feel like quitting?
In Galatians 6:9, God is promising you also that if you will not lose heart WHILE doing good–while you're still in the process–that in due season YOU will reap. You will reap the harvest God has promised you.
YOU will see the fruit of your labor.
Ecclesiastes 9:11 contains another promise that your time of victory will definitely arrive:
I returned and saw under the sun that—

The race is not to the swift,
Nor the battle to the strong,
Nor bread to the wise,
Nor riches to men of understanding,
Nor favor to men of skill;
But time and chance happen to them all" (emphasis mine).
When God said that time happens to them all, it means "the appointed time" happens to them all. [1] That means you have a date with destiny. God has an appointed time for you. He has an appointed time for your victory, your harvest, your promotion, your end result.
That's why He said in 1 Peter 5:6:
Therefore humble yourselves under the mighty hand of God, that He may exalt you in due time…"
In due time, He is going to exalt you. He is going to lift you up above your current circumstances.
That's why it's so important to hang in there, hang in there, and hang in there some more! I know things might feel dry and stale now. I know that the going can be hard. I know that sometimes you just want to walk away.
I know. I've been there too. 
But you know what God knows? GOD knows when your date with destiny is. He knows that your harvest is coming. He sees the bounty that He's gathering for you, and you are going to reap the reward of your labor.
If you hang in there.
If you don't lose heart.
If you keep on sowing, faithfully, diligently, without fail.
Hang in there, precious friend. Your season will come. Your appointed time will come … and when it does, it will be worth it.
In what situation do you need to hang in there today? Please leave a comment below and share your thoughts!
Related: 
Image courtesy of Marg on Flickr via Creative Commons license.