God Has Not Forgotten You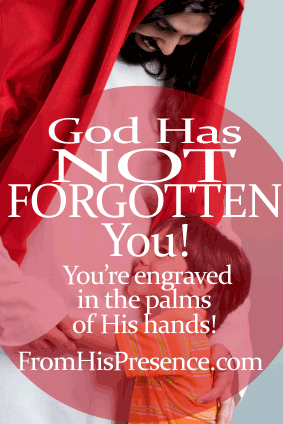 I have a feeling that someone reading this today feels alone, upset, frustrated, and blue. If that describes you, I want you to encourage you with this message: God has not forgotten you.
I know that sometimes it feels like He might have forgotten you:
When your prayers go unanswered, or seem to go unanswered;
When doors of opportunity that you want God to open stay tightly closed instead;
When bad things happen unexpectedly;
When your feeler goes numb and all you can feel is apathy;
When bills pile up, income goes down, and you just aren't seeming to get ahead;
When your dream doesn't happen as quickly as you want it to.
I get it. Sometimes you can feel forgotten in those times.
Nevertheless, you know what? The truth about all of the situations I named above, and all other situations I didn't name, is this:
God has not forgotten you.
He's right beside you. He's sitting at the table with you while you read those bills and bounced-check notices. He's on the phone with you while you talk to that doctor. He's right beside you when you don't feel a thing.
How do I know this? Because the Bible tells us over and over again, in many beautiful passages, that you are God's beloved child. You are precious and priceless. Look at Isaiah 49:14-16:
But Zion said, "The Lord has forsaken me, and my Lord has forgotten me." 

"Can a woman forget her nursing child, and not have compassion on the son of her womb? Surely they may forget, yet I will not forget you. See, I have inscribed you on the palms of My hands; your walls are continually before Me."
You are Papa's child, and it's not possible for Him to forget you. He has actually engraved you on the palms of His hands–not just your name, but YOU. YOU are engraved on the palms of God's hands… and since YOU are actually in the palms of His hands, that means everything that pertains to you is there. 
Oh precious sisters and brothers, no matter what is going on with you today, HE KNOWS. God has not forgotten you, and He is right there with you through it.
Look at these additional, encouraging Scripture passages:
'…and lo, I am with you always, even to the end of the age."Amen (Matthew 28:20b).

"Be strong and of good courage, do not fear nor be afraid of them; for the Lord your God, He is the One who goes with you. He will not leave you nor forsake you" (Deuteronomy 31:6).

"I have been young, and now am old; yet I have not seen the righteous forsaken, nor his descendants begging bread" (Psalm 37:25).

"For the Lord will not cast off His people, nor will He forsake His inheritance" (Psalm 94:14).

"…for He [God]Himself has said, I will not in any way fail you nor give you up nor leave you without support. [I will] not, [I will] not, [I will] not in any degree leave you helpless nor forsake nor let [you] down (relax My hold on you)! [Assuredly not!]" (Hebrews 13:5b AMP).

"The poor and needy seek water, but there is none, their tongues fail for thirst. I, the Lord, will hear them; I, the God of Israel, will not forsake them" (Isaiah 41:17).
So you are not abandoned. I know that sometimes things don't happen when or how we'd like them to happen. Sometimes we don't understand what's going on, and sometimes we feel alone. But if that's you today, I want you to know:
God knows both you and your life intimately.
He sees everything you are going through.
He understands the cry of your heart.
He sees your thirst for more, for greater, for beyond. He sees your hunger.
He knows your pain.
And He has not forgotten you. He has you in the palms of His hands, and He's got it all under control.
He has a future for you. It's a future beyond your wildest expectations. Jeremiah 29:11 says He's thinking about your future right now:
For I know the thoughts that I think toward you, says the Lord, thoughts of peace and not of evil, to give you a future and a hope."
I don't usually hear it taught that way, but this verse literally says that right now God is thinking about the future He's going to give you.
So…
He knows you. He loves you. His heart beats for you. You are engraved in the palms of His hands, and He has it all covered. He will perfect all things that concern you (Psalm 138:8).
God has not forgotten you. Does this message encourage your heart? If so, please leave a comment below! I'd love to hear from you!