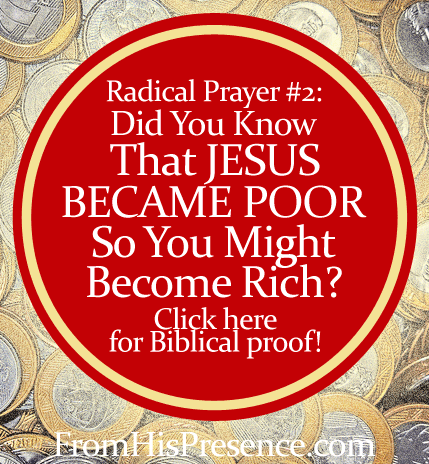 I've been praying radical prayers lately, and I'm seeing God answer in radical ways. The radical prayer I want to talk about with you today is about how Jesus became poor that you might become rich.
Some of the religious people, who prefer to be poor, might have gotten upset when they read that first sentence. If you just got upset by that sentence, I challenge you to read the rest of this post, study into it, and pray about it. You're not having that much fun being poor anyway, so you might as well try something new.
Second Corinthians 8:9 contains this gem:
For you know the grace of our Lord Jesus Christ, that though He was rich, yet for your sakes He became poor, that you through His poverty might become rich."
Let's talk about what this means.
Does this verse talk about spiritual riches?
No, it's talking about material wealth. If you read the entire chapter, Paul is telling the believers in Corinth to gather an offering of money. The entire passage is about money and material provision.
Although it's certainly true that Christ died to give us spiritual riches, like forgiveness of sins, eternal life, wisdom, and communion with God, that's not what this chapter is talking about.
But it seems too far-fetched, you say.
We have to understand that everything about Jesus Christ's life, death, and resurrection bought something back for us that had been stolen by sin.
Jesus Christ lived, died, and rose again to bring us back to God's original intent for our lives. For example:
He hung on a tree to remove all curses from us, because the Bible says that cursed is the man who hangs on a tree.
He took all the sin of mankind on Himself at the cross so that we could be forgiven.
His body was torn apart by a Roman whip to pay the price for our healing, so our bodies could be put back together and made whole.
He was a Man of Sorrows, taking our sorrows upon Himself, so that we could have comfort by the Holy Spirit, our Comforter.
In the same way, Jesus Christ became poor that we might become rich.
Luke 9:58 tells us:
And Jesus said to him, "Foxes have holes and birds of the air have nests, but the Son of Man has nowhere to lay His head."
That doesn't mean He was always poor. I don't believe He was always poor. As the eldest Son of Joseph and Mary, He likely could have worked in and/or inherited the family's carpentry business, and I believe that Jesus was great at whatever He put His hand to. He easily could have been a wealthy craftsman before He left home to get baptized by John in the Jordan River. We don't know.
What we do know is that Jesus became poor during His ministry. Luke 8:3 tells us that many women provided for Him out of their substance. So I'm sure He wasn't starving, but the money and provision were not His own. Second Corinthians 8:9 specifically tells us that Jesus Himself was poor.
So what does this have to do with you?
Well, if everything about Jesus' life was meant to purchase something for you–to bring you back to God's original intent for your life–then Jesus' poverty was meant to purchase something for you too.
And Second Corinthians 8:9 tells us that Jesus' poverty was meant to purchase wealth for you.
That means you don't have to be poor.
I began to grasp this just recently. (I say "began" for a reason; I am still working on wrapping my brain and spirit around this one!) When I started to claim this promise, I began praying for God to bring my husband and I the wealth that Jesus purchased for us with His poverty.
I prayed this very seriously, and with my mind on Christ. I didn't pray it just so I could go buy a BMW, a Rolex, and flaunt my new wealth.
But I did pray it because I want Jesus to see the fruit of the travail of His soul (Isaiah 53:11).
I don't want anything Jesus did for me to be in vain. I don't want to get to Heaven and hear Jesus say, "I purchased so much for you! I gave everything I had! But you never cared–you never received it for yourself!" Wouldn't that be awful? Instead, I want Jesus to look at me and say, "It wasn't in vain! Everything I did for Jamie is bearing fruit! Everything I did was so worth it! Look at the results in Jamie!"
If Jesus is to see the fruit of His poverty in me, then that means I have to receive the wealth/riches/material provision He purchased for me. I have a long way to go. But I can tell you that, when I started praying this prayer, God started giving us radical financial blessings.
I'm receiving those blessings, too. I'm thanking Him for each blessing, and I'm asking Him for more… because poverty is not God's gift to us. Poverty and lack are not from God.
Wealth and plenty, on the other hand, ARE from God. Jesus paid the price for our poverty by becoming poor Himself. Jesus became poor that you and I might become rich.
How about you? Do you want everything Jesus purchased for you? If so, will you start praying for Papa God to bring you the wealth and material provision that Jesus became poor to give you?
Related: Read these posts to build your faith and help you pray for the radical blessings God promises in His Word!
You'll get an email when new content is posted. You'll also receive my free, printable blessing cards and my ebook–The Presence Seeker's Creed–for free when you confirm!
Image courtesy of Adriano Makato Suzuki on Flickr via Creative Commons license.