Radical Prayer #2: Jesus Became Poor That You Might Become Rich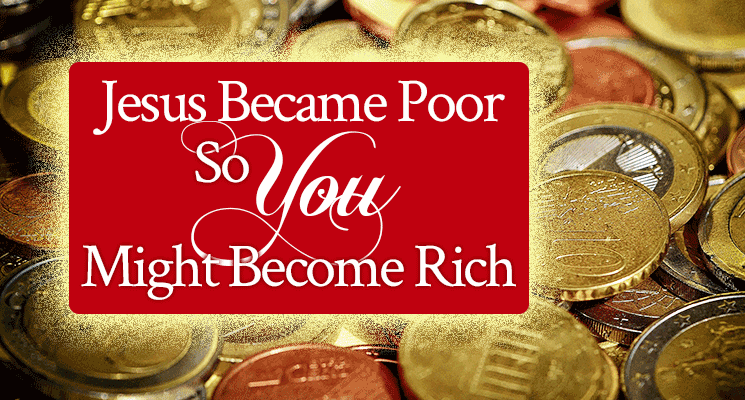 I've been praying radical prayers for awhile now, and I'm seeing God answer in radical ways. The radical prayer I want to talk about with you today is about how Jesus became poor that you might become rich.
Some of the religious people, who prefer to be poor, might have gotten upset when they read that first sentence.
If you just got upset by that sentence, I challenge you to read the rest of this post, study into it, and pray about it. You're not having that much fun being poor anyway, so you might as well try something new.
Second Corinthians 8:9 contains this gem:
For you know the grace of our Lord Jesus Christ, that though He was rich, yet for your sakes He became poor, that you through His poverty might become rich."
Let's talk about what this means.
Does this verse talk about spiritual riches? No, it's talking about material wealth: MONEY.
If you read the entire chapter, Paul is telling the believers in Corinth to gather an offering of money. The entire passage is about money and material provision.
Although it's certainly true that Christ died to give us spiritual riches, like forgiveness of sins, eternal life, wisdom, and communion with God, that's not what this chapter is talking about.
But it seems too far-fetched, you say.
We have to understand that everything about Jesus Christ's life, death, and resurrection bought something back for us that had been stolen by sin.
Jesus Christ lived, died, and rose again to bring us back to God's original intent for our lives. For example:
He hung on a tree to remove all curses from us, because the Bible says that cursed is the man who hangs on a tree.
He took all the sin of mankind on Himself at the cross so that we could be forgiven.
His body was torn apart by a Roman whip to pay the price for our healing, so our bodies could be put back together and made whole.
He was a Man of Sorrows, taking our sorrows upon Himself, so that we could have comfort by the Holy Spirit, our Comforter.
In the same way, Jesus Christ became poor that we might become rich.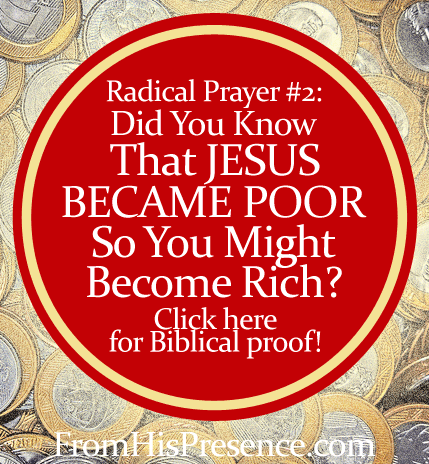 Luke 9:58 tells us:
And Jesus said to him, "Foxes have holes and birds of the air have nests, but the Son of Man has nowhere to lay His head."
That doesn't mean Jesus was always poor.
I don't believe He was always poor. As the eldest Son of Joseph and Mary, He likely could have worked in and/or inherited the family's carpentry business, and I believe that Jesus was great at whatever He put His hand to. He easily could have been a wealthy craftsman before He left home to get baptized by John in the Jordan River. We don't know.
What we do know is that Jesus became poor during His ministry.
Luke 8:3 tells us that many women provided for Him out of their substance. So I'm sure He wasn't starving, but the money and provision were not His own. Second Corinthians 8:9 specifically tells us that Jesus Himself was poor.
So what does this have to do with you?
Well, if everything about Jesus' life was meant to purchase something for you–to bring you back to God's original intent for your life–then Jesus' poverty was meant to purchase something for you too.
And Second Corinthians 8:9 tells us that Jesus' poverty was meant to purchase wealth for you.
That means you don't have to be poor.
Related: Answering 10 FAQs About the Poverty Spirit
I began to grasp this just recently. (I say "began" for a reason; I am still working on wrapping my brain and spirit around this one!) When I started to claim this promise, I began praying for God to bring my husband and I the wealth that Jesus purchased for us with His poverty.
I prayed this very seriously, and with my mind on Christ. I didn't pray it just so I could go buy a BMW, a Rolex, and flaunt my new wealth.
But I did pray it because I want Jesus to see the fruit of the travail of His soul (Isaiah 53:11).
I don't want anything Jesus did for me to be in vain. I don't want to get to Heaven and hear Jesus say, "I purchased so much for you! I gave everything I had! But you never cared–you never received it for yourself!"
Wouldn't it be awful to hear Him say that? So I want Jesus to look at me and say, "It wasn't in vain! Everything I did for Jamie is bearing fruit! Everything I did was so worth it! Look at the results in Jamie!"
If Jesus is to see the fruit of His poverty in me, then that means I have to receive the wealth/riches/material provision He purchased for me. And so do you.
Let me say that again:
If Jesus is going to receive the fruit and reward of His poverty, that means YOU are have to going to let God make you rich …
… Because everything Jesus suffered purchased something for you. And when He suffered through having no place to lay His head, and having to be provided for by others, He did that for a reason:
So YOU wouldn't have to experience it. So you could be wealthy. So you could have plenty, and live in a perfect state of shalom peace–nothing missing and nothing broken.
Related: 7 Signs of a Spirit of Poverty
I'm blessed, and I'll never say otherwise because the Bible says that if you don't think you have much, you lose what you have. So I confess I am blessed–and you should confess the same.
But when it comes to the level of wealth that God promises in the Bible, I have a long way to go. Don't you?
But I can tell you that, when I started praying this prayer, God started giving us radical financial blessings.
I'm receiving those blessings, too. I'm thanking Him for each blessing, and I'm asking Him for more… because poverty is not God's gift to us. Poverty and lack are not from God.
Wealth and plenty, on the other hand, ARE from God. And since Jesus paid the price for our poverty by becoming poor Himself, that means Jesus became poor that you and I might become rich.
So we need to pray for wealth and riches.
Related: You Don't Think You Deserve Enough
Of course, we should never try to gain them in an unholy way. But we SHOULD pray for them, then go out and work the plan that the Lord gives us while we're in His prayer closet. Getting out of poverty always requires action … but we start with prayer.
Are you ready to pray a wild, radical prayer for financial blessing?
Then pray this with me:
"Dear Heavenly Father,
I come to You in Jesus' name.
Father, I don't know how to pray as I ought, or how to offer it worthily as I ought. But, Your Word says that Your Holy Spirit makes intercession for me with moanings and groanings which cannot be uttered–and that You who search the hearts know what Holy Spirit is saying. So Father God, I ask that Your Holy Spirit would pray through me and for me right now.
Father God, I believe that Jesus became poor so that I might be rich.
I believe it with all my heart. I know that You are a good, good Father. You're just as good to Your Son Jesus as You are to me, and You would never have told Jesus to endure poverty without a purpose.
I know that Jesus came to destroy the works of the devil, and that poverty is a work of the devil; so I therefore know that Jesus' poverty destroyed the poverty and all poverty-producing work of the devil in my life. Thank You, Father God, and thank You, Lord Jesus, for doing this for me.
So Father God, I plead the poverty of Jesus right now. I lift up the poverty of Jesus to you.
Father, Your Son Jesus endured poverty, homelessness, and so much more for me. And I know You had Him do that to win the victory and blessing back for me; to purchase me back from sin and from all after-effects of sin. Thank You, Lord.
So Father, because Jesus purchased me OUT of poverty, that means He purchased me INTO wealth.
Your Word says that Jesus became poor that I might become rich. Your Word says over and over, from Genesis through Revelation, that I am to be blessed; that being financially prosperous and outrageously blessed is a byproduct or blessing of being in right relationship with You through Christ Jesus.
So Lord, because Jesus shed His blood for me, and because He took the curse of poverty on my behalf, I ask right now that You would make me outrageously, fabulously rich.
I'll say it again:
Lord, make me outrageously, fabulously rich and wealthy.
Specifically:
I speak to every bit of wealth and financial riches that You desire to give me, Father God, and I command it to come in from the north, south, east, and west.
I speak to every investment You desire me to have, and I command them to come in from the north, south, east, and west.
I speak to every harvest and return that You have for me on my investments–both tangible investments and spiritual investments–and I command them to come in and produce a thousandfold financial blessing, as well as every other kind of blessing, in my life.
Related: The Lion of Judah Is Roaring Over Your Finances
Lord, send the camels that You promised in Isaiah 60–those camels loaded with silver, gold, and every precious thing.
Related: Prayer for Actual, Literal Gold
Additionally, Lord:
Send me the kings who are to be my foster fathers, and the queens who are to be my nursing mothers.
I ask You in Jesus' name to provide unexpected money for me at every turn.
I ask for every good and perfect gift that comes down from You, the Father of lights, in whom there is no shadow of turning.
I ask that every debt, including my mortgage, would be paid in full.
I ask that Your financial blessings would chase me down in the street.
I ask that money would come to me day and night, night and day, according to Your Word in Isaiah 60, which cannot fail.
I ask that You would provide me with the vehicles I need, the funding I need for my business, the right jobs and contacts, the right clients, and that You would prosper me at every turn.
Lord, I ask that You would personally deliver to me radical, sustainable, unusual wealth.
I ask that You would wake up every seed I have ever sown that is good, and let it produce a thousandfold harvest. If I sowed it into poor soil without knowing it, Lord, then I ask You to supernaturally transfer my seed into good soil right now and let it produce fruit.
I ask also that every smallest bit of money I have would become larger. I ask that every large bit of money that I have would become outrageously huge. And I ask that You would do it all for Your glory.
Father, let me remember that it is YOU who give me power to get wealth, and that so You confirm Your covenant, which You swore to my fathers.
Make me oh-so-deeply-aware of the fact that everything in Heaven and earth is YOURS, and that I am only a steward. I am only taking care of what belongs to You, Father, so please help me to do a good job.
Renew in me the heart of a good steward, and help me to live generously and take care of what is Yours as YOU desire me to do–and only do with Your wealth what You would have me do. Search me, O God, and know my heart; try me, and know my thoughts. See if there be any wicked way in me; and if there is, GET IT OUT! And lead me in Your way everlasting.
Father, I choose to submit to Your wealth.
Lord Jesus, thank You for becoming poor for me, so that I might become rich. Thank You, Father God, for loving me that much that You adopted me and made me Your child and representative on the earth. I choose to submit myself to You, and I thank You for blessing me outrageously from this day forward.
It's in Jesus' name and for Jesus' sake I pray. Amen."
How about you? Do you want everything Jesus purchased for you? If so, will you start praying for Papa God to bring you the wealth and material provision that Jesus became poor to give you?
Related: Read these posts to build your faith and help you pray for the radical blessings God promises in His Word!
Image courtesy of Adriano Makato Suzuki on Flickr via Creative Commons license.