Encouraging Word: You Don't Think You Deserve Enough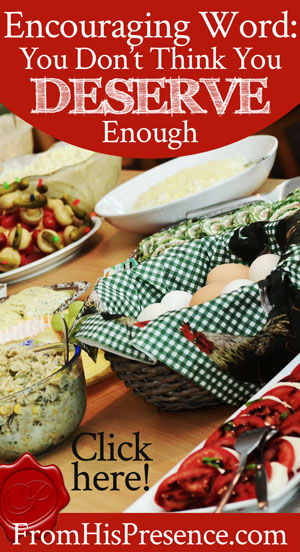 Have you been struggling with financial lack, beloved? If so, I have an encouraging word for you today.
The Lord just woke me up with this word. Here is what He told me to tell you:
"You've been struggling with financial lack because your mindset isn't healed yet. You don't think you deserve enough.
Don't worry, though; I am teaching you. My name is Teacher, and I can renew your mind if you cooperate with me.
Precious son, beloved daughter, it is my will for you to govern on the earth. This must happen in order for the Kingdom of Heaven to be manifest in every sphere of society. And in order for you to govern, I need you to submit to My wealth.
I need you to submit to My wealth.
Yes, darling child: My wealth is a work of grace, just like forgiveness of sins is a work of grace. Receive it, knowing you don't deserve it. Deserving anything was never a part of the equation. Deserving anything has never been a part of the equation.
So submit to my work of grace. Ask, and you shall receive. Seek, and you shall find. Knock, and the door shall be opened unto you. For EVERYONE who asks receives, and EVERY CHILD who seeks finds, and every door that is knocked upon shall be opened for my children of grace and love (Matthew 7:7-8).
So where do you want to go? What do you want to do?
The buffet of My grace and love is open to you. Put a demand on My grace. It is this grace that opens My Kingdom of plenty to you.
Take your worthiness out of the equation, precious child. Allow Me to manifest My own government through you. Let Me use you as a vessel for My plenty, to release My goodness and My praise upon the earth.
You are My chosen vessel. In Me, and in Me alone, you live and move and have your being. Allow Me to manifest the fullness of who I am through you … and Who I Am is Plenty. Who I Am is Abundant. Who I Am is Sovereign.
It matters not what you deserve. All that matters is that you are in Me, and I Am in you."
Does this word resonate with you? Have you been limiting God and thinking that you don't deserve plenty? If so, let's renew our minds today, shall we?
Would you help me with my work of reaching people for Jesus as a domestic missionary? This blog, and all of my mission work in person, are made possible through your partnerships, donations, and product purchases.

If you'd like to help me, please check out the partnership details and products available for sale here. And, thank you in advance for helping make this blog and everything we do together for the Kingdom possible!