Radical Prayer #11: All Your Tears Turned Into Joy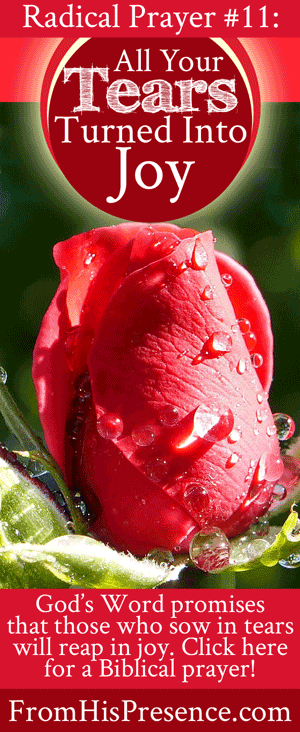 Did you know that God's Word contains a radical prayer for all your tears to be turned into joy?
True story.
I don't know about you, but I know I've cried enough tears to fill buckets. Maybe rivers–and possibly lakes! 🙂 But through it all, God has been good to me. He has been so faithful.
Even in my darkest hour, when I haven't been able to see the light of day, He has never forsaken me … and only He has brought me through.
Nevertheless, I don't like the fact that I had to go through things that hurt so badly. Some of the things I've been through have been due to my own bad choices, but many of those things were the result of living with sinful people in a sinful world.
And you know what? God is into justice. He's into mercy.
He's into restoration, grace, forgiveness, provision, and REPAYMENT with interest of everything the enemy has stolen from you–including your joy.
Psalm 126:1-6 says this:
"When the Lord brought back the captivity of Zion, we were like those who dream. Then our mouth was filled with laughter, and our tongue with singing. Then they said among the nations, "The Lord has done great things for them."

The Lord has done great things for us, and we are glad.

Bring back our captivity, O Lord, as the streams in the South.

Those who sow in tears shall reap in joy. He who continually goes forth weeping, bearing seed for sowing, shall doubtless come again with rejoicing, bringing his sheaves with him."
I have loved this passage for many years.
So many times, when God has done amazing things for me that have been His way of "bringing back my captivity," or releasing me from bondage in something or loosing me into something I've wanted, I've prayed this Psalm and thanked the Lord with tears in my eyes.
But I just recently noticed that this Psalm also contains a radical prayer that we can all pray NOW–even before we have seen the Lord bring back our captivity (release us from captivity) in whatever area.
Here's why we can a radical prayer out of this Psalm:
When the authors wrote this Psalm, they were IN CAPTIVITY. The first part of the Psalm contains their remembrance of what God had done for them before. But you can see from the prayer in the middle–"Bring back our captivity, O Lord, as the streams in the South"–that they were right in the middle of captivity at that moment!
So they basically put the Lord in remembrance of what He had done before. They blessed Him by honoring the memory of what He had done for them in the past.
Then they said, "Lord, do it again! Help us!"
Since all Scripture is inspired by God, we know that the last part of the passage contains God's promise that He would, in fact, rescue them. The Holy Spirit breathed out the words of this amazing promise:
"Those who sow in tears shall reap in joy. He who continually goes forth weeping, bearing seed for sowing, shall doubtless come again with rejoicing, bringing his sheaves with him.
So how does this apply to you? Easy: Have you sown in tears?
I'll bet that you have. That sowing could look like a lot of different things:
Have tears dripped down your cheeks as you have wept before the Lord? Sometimes the tears themselves can be an offering. Psalm 56:8 tells us that God records all our tears in His book.
Have you ever decided to obey God and be faithful to Him, even though you were hurting? In those situations, your obedience–even through pain–is an offering; a seed sown unto God.
Have you been faithful to give tithes and offerings even when you didn't feel like you could afford it? If so, the money you sowed is a seed–even a seed sown in tears.
Have you sown your labor and faithfulness into God's Kingdom in any way, even when it hurt or you didn't feel like it? Your blood and sweat are seeds.
Precious, beloved reader, please know this: Papa God has seen all the seeds you have sown in tears.
He has seen your tears themselves. He has numbered them in His book. He has accepted your seed as the holiest, most precious seed sown into His garden … and He has a harvest for you.
Isaiah 61:2-3 tells us that the Holy Spirit's will is "to comfort all who mourn, to console those who mourn in Zion, to give them beauty for ashes, the oil of joy for mourning, the garment of praise for the spirit of heaviness …" And when He said "all who mourn," HE MEANS YOU.
The Holy Spirit wants to comfort you; give you beauty for ashes; give you praise instead of heaviness; and replace all your tears with joy.
Would you like for Him to turn all your tears into joy? If so, pray this radical prayer with me:
"Dear Heavenly Father,
I come before You in Jesus' name. Father God, thank You for standing by me so many times. Thank You that You have never left me and You've never forsaken me. Thank You for being so faithful to me; that You have comforted me in my afflictions and have seen me through, even when I couldn't take care of myself.
Father God, I believe Your Word that says You desire to give me beauty for the ashes of my life. I believe Your Word that all those who sow in tears–including me–shall doubtless come again rejoicing, bringing the sheaves of harvest with them.
Father, I receive Your promise right now. I lift it back up to You, for I need You to do for me what You have promised. So Papa God, in the name of Jesus:
Please take my tears away and fill me with Your joy.
Fill me with Your Holy Spirit, for I know that He brings joy with Him. Let the fruit of the Spirit–love, joy, peace, holy fierceness, kindness, goodness, faithfulness, gentleness, and self-control–be powerfully and clearly demonstrated in my life.
Lord, help me to rest in You, and let the Holy Spirit do the work as I set my mind and keep it set on things above, where Christ is, with You–and where I also am, with You, in Christ.
Abba Father, I ask that You would turn my mourning into joy.
Help me to remember all the things You've done for me in the past. Help me to give thanks for them to You; to memorialize all the things You've done for me in my prayers to You and even in my daily thoughts. And Father, as I thank You and praise You for what you've done in the past, I join with Your Psalmists and I say:
Abba Father–Daddy God–Papa!: bring back my captivity.
Redeem me, O Lord, from the pit. Take all my tears, seeds, and offerings of obedience that I have sown, and grow them as seeds in Your supernatural harvest field.
I plead the blood of Jesus over everything I have sown. If I have sown any evil or disobedience, Father God, please forgive me. I repent of it. Cover me with the blood of Jesus.
But for every holy seed I have sown, Lord, then I pray: As I have sown in tears, let me come again rejoicing, bringing my sheaves of harvest with me.
Father God, bring me an abundant harvest.
Turn my captivity into freedom. Turn my pain into joy. Turn my tears into rejoicing and abundant provision. Bring me an unreasonable harvest even from previously-dead fields. Water my seed and provide for all my needs.
Father God, I need Your comfort. So let the Holy Spirit comfort me today. Encourage me and lift me up. Show Yourself to me as my Glory and the Lifter of my head. And I know that as I focus on You, You will make all things new in my life.
Papa, thank You. I give You all the glory and all the praise. Thank You for hearing and answering my prayer.
Thank You for all the times You've set me free from captivity–so much so that I felt like I was dreaming. Thank You that You're going to do it again. You've always been faithful to me, and I know You always will be. Help me to see and notice the answers to my prayers, and I thank You in advance for setting me free.
In Jesus' name, amen."
Did you pray that prayer with me? If so, please leave a comment below. I'd love to hear how the Holy Spirit ministered to you through His Word!
Related: Read these posts to build your faith and help you pray for the radical blessings God promises in His Word!