The Blessing of the Bride: Radical Prayer #8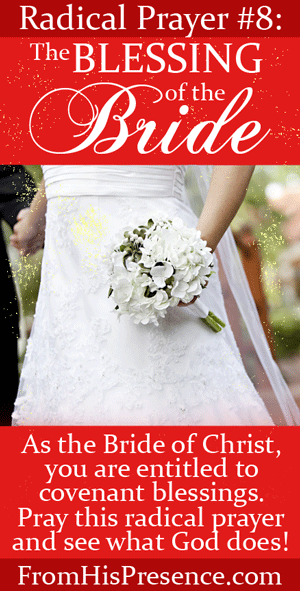 Did you know that Jesus is an ardent, jealous Lover who enjoys nothing more than to shower His Bride–the Church, the Body of Christ, which includes YOU–with the blessing of the bride?
It's true. Because we are in covenant with Him as His bride, we have a certain standing with Him. It's not a distant standing, either. It's a close one that entitles us to covenant blessings.
As believers in Christ, we have high priority to Him. Scripture appears to show that we have a higher priority than anything and anyone else except the Father and the Holy Spirit. Think about it. Angels sinned, but Jesus didn't redeem the fallen angels. He did, however, sacrifice everything He had to get you and I back. And still today, Isaiah 43:4 tells us that He continues to give up other men/people for our lives.
You and I are important to the Lord. Yes, YOU are important to Him. YOU.
We are Jesus' Bride. He gave up everything for us once, and He continues to pour out today.
So, because of our covenant place at His table as the Bride of Christ, I firmly believe that it's time for us in the Church to ask our Lord and Savior–our Bridegroom and Kinsman Redeemer–for the blessings of the Bride.
I've come up with a list of some things that, to me, are the blessings of the Bride. The Lord may show you many others. (Please leave a comment below with any other bridal blessings you can think of!)
Here are some of the blessings of the Bride for which I believe we can and should pray:
1. A passionate love relationship with Jesus.
Song of Solomon, which pictures not only covenant love between a husband and wife, but also the love between Christ and His Bride, contains many passages that are great examples of this. One of my favorite passages says:
Set me as a seal upon your heart, as a seal upon your arm; for love is as strong as death, jealousy as cruel as the grave; its flames are flames of fire, a most vehement flame" (Song of Solomon 8:6).
Don't you desire to love Jesus like that, and to feel His fiery love for you as well? I know I do. And I love Jesus, but I know I could love Him so much more. I even sense His love, but I want to sense it so much more.
You may be the same way. You love Him, but you want more intimacy; more closeness; more passion for Him. We should all want that.
And guess what? As His Bride, the Lord has promised to give us that intimacy with Himself.
Jeremiah 31:33-34 says:
But this is the covenant that I will make with the house of Israel after those days, says the Lord: I will put My law in their minds, and write it on their hearts; and I will be their God, and they shall be My people.

No more shall every man teach his neighbor, and every man his brother, saying, 'Know the Lord,' for they all shall know Me, from the least of them to the greatest of them, says the Lord. For I will forgive their iniquity, and their sin I will remember no more."
We shall know Him … and the Hebrew word for "know" isn't a dull, boring intellectual knowledge. It's the same kind of intimate getting acquainted with that God wrote about in Genesis 4:1, when He said: "And Adam knew Eve his wife; and she conceived …." That's right. By His covenant, God has promised that He will cause us to know Him deeply, intimately, familarly, lovingly.
Wow. That's an awesome blessing of the Bride, don't you think?
2. Unexpected encounters with God.
Look how the Beloved (Christ) wooed His Bride in Song of Solomon:
My beloved spoke, and said to me:

'Rise up, my love, my fair one, and come away. For lo, the winter is past, the rain is over and gone. The flowers appear on the earth; the time of singing has come, and the voice of the turtledove is heard in our land.

The fig tree puts forth her green figs, and the vines with the tender grapes give a good smell. Rise up, my love, my fair one, and come away!

O my dove, in the clefts of the rock, in the secret places of the cliff, let me see your face, let me hear your voice; for your voice is sweet, and your face is lovely.'"
The passage above was just one of several unexpected encounters between the bride and her Beloved in Song of Solomon. And just like Solomon wooed his bride, Jesus woos us unexpectedly.
How does Jesus woo us unexpectedly?
I would bet you've felt His wooing before, even if you didn't realize what you were feeling. For example:
That time when you woke up in the middle of the night, completely unexpectedly and totally awake. After a minute of wishing you could sleep, you had the spontaneous thought that you should sneak away to be alone with the Lord. Whether you actually got up or not, that spontaneous thought was most likely Jesus, calling to you.
When you're driving in your car, and you suddenly sense His presence. Maybe it was in the middle of a worship song on a CD. Maybe it was just while you were driving in peace, or praying. Those are unexpected encounters with the Lord.
When you're sitting at your office and you get a sudden urge to pray about something. It's not in your head. Jesus is encountering you, and He needs you to agree with Him about something that is on His heart.
When you're thinking about going out in the evening, but you feel a drawing from the Holy Spirit to spend some time with Him at home instead.
All of these situations are unexpected encounters with Jesus. And why does He woo us unexpectedly? I'm sure I can't give a comprehensive answer, but I do know that He loves romance. He loves spontaneity. He loves to surprise us by showing us that He's been thinking of us, and how important we are to Him.
Tip: You don't have to wait to feel a special wooing from the Lord in order to have an intimate encounter, either.
Jesus' bridal relationship is equal-opportunity. Your heart can and should also yearn for His, so that YOU're the one wooing Him! That's what the bride did in Song of Solomon 1:2-4, when she said:
Let him kiss me with the kisses of his mouth–for your love is better than wine. Because of the fragrance of your good ointments, your name is like ointment poured forth; therefore the virgins love you. Draw me away!"
Solomon's bride wasn't waiting for him to come to her. She asked him to draw her away! And you can do the same thing. If you're hungry for the Lord, get away from work, school, or washing the dishes and sneak into your secret place with Him.
EVERY time I have done this, without fail, He has encountered me there with power. Getting away from the hubbub of life for even a few minutes can be a real sacrifice, but Jesus will reward your sacrifice. Every time.
3. Unexpected revelation, strategy, vision, and understanding.
Every time Jesus woos us, He has something special to show us. Just like Solomon wanted to show his bride the beauty of spring, the Lord loves to show us amazing things unexpectedly:
Sometimes He wants to fill us up with a fresh dose of His love.
Sometimes He wants to download strategy and blueprints for the next season of your life.
Sometimes He wants to teach us. Sometimes He just wants to hug us.
I can't tell you how many times I've felt dry inside and the Lord has woken me up in the middle of the night, asking me to come away with Him. I'm sorry to say that I haven't always obeyed. But every time I have–without exception–He has encountered me with power. He has comforted me, drawn me deep into His glory, and baptized me again with love, hope, and courage.
Every time.
He loves to download vision into us too. I just got back from a writing retreat, and the Lord woke me up earlier than expected twice and drew me into His Word.
The first time, as I studied and prayed, He spoke a prophetic word into my spirit that really meant a lot to me. It comforted me about a very specific thing that had been going on in my heart, and you all told me in your comments that it meant a lot to you too. That word was an unexpected thing the Lord woke me up to receive.
The second time, He told me to start writing down my blog strategy for 2016. I got out my journal and started writing, and He started downloading. He gave me so much that, pretty soon, paper and pen weren't enough. I got out my computer and started typing there instead. Within a very few minutes, the Lord just downloaded month after month of article titles, article series, and strategies for 2016.
It was unreal. I was in awe. I've never had a strategy this clear, and I couldn't have come up with it on my own. But I would have missed the whole thing if I hadn't responded to His wooing.
Unexpected revelation. Unexpected teaching and gifts. He's a generous God, and He loves to shower His bride with gifts of all sorts.
Are you ready for these blessings of the bride? Pray this with me:
Heavenly Father,

I come before You in Jesus' name. Father, I love You so much. Thank You for saving me and making me Your own. Thank You for redeeming my life and forgiving my sin. Thank You for making me the Bride of Christ.

Father, I know that You love me. I know that Jesus and the Holy Spirit love me too. And Father, I desire to love You like You love me. Specifically, I desire to love Jesus and treat Him as a bride should. Father, would you help me?

Father, I ask in Jesus' name that You would give me a passionate love for Jesus that exceeds every love I've ever had before. Help me to honor Him and adore Him with my words, thoughts, heart, and actions. Help me to think of Him always. Help me to abide in Jesus the way You asked me to.

Father, I pray that You would fan the flames of passion for You, Jesus, and the Holy Spirit in my heart. Consume me with love for You. Help me to receive Your love, also; to feel it and sense it; to eat it and drink it; to breathe it and smell it. Help me to roast and sozzle and marinate in Your love all day, and in the love of Jesus.

Lord Jesus, I ask also that You would help me to encounter You in ways I expect and in ways I don't expect. Help me to go aside during the day and just be with You. When You woo me unexpectedly, help me to answer You. Help me to come away with You every time. Help me to realize that it's You calling me, that You are wooing me, and that it's not something I made up.

And Lord, when I answer Your call to draw away with You, please help me to encounter You with power every time. Help me to receive everything You have for me. Help me to hear Your voice, feel Your kisses and Your embrace, and see Your face. You promised that if I love you, You would manifest Yourself to me. So I claim that promise in Jesus' name.

I love You, Father. I love You, Jesus. I love You, Holy Spirit. Please shower me with every blessing of the bride today, and draw me closer to You than I have ever been. Thank You. Thank You for hearing and answering my prayer.

In Jesus' name, amen.
Does your heart yearn for more of the blessing of the bride? If so, leave a comment below! And if you can think of other blessings of the bride, please share your thoughts also!
Related: Read these posts to build your faith and help you pray for the radical blessings God promises in His Word!