Radical Prayer #3: Wild Ideas and Witty Inventions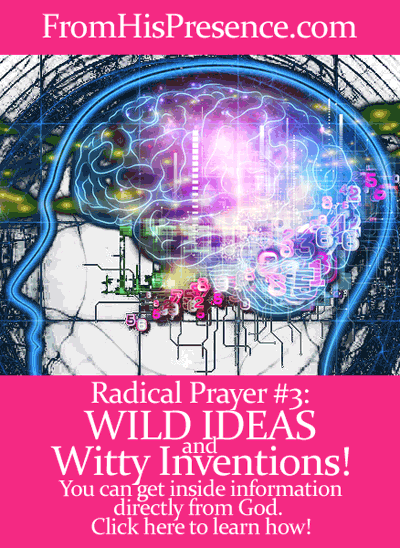 Did you know that God wants to give you amazing, wild, million-dollar ideas and witty inventions?
God is a radical God. He loves to answer radical prayers. His Word is full of radical promises you can claim so you can see His radical answers.
We already talked about how wild it is that God wants to honor you, and that Jesus became poor so you could become rich. Today, we're going to talk about how God wants to give you wild ideas and witty inventions.
The backstory:
I used to pray for God to bring breakthrough in my life by working miracles on my behalf. I wanted to see Him work through big, miraculous displays of power. Deep down, I wanted Him to just, BOOM!, one day change everything. To back up that prayer, I claimed the promise of Jeremiah 33:3, which says:
"'Call to Me, and I will answer you, and show you great and mighty things, which you do not know.'"
The only problem was that my prayer wasn't usually getting answered. Then I noticed something one day:
God didn't say in Jeremiah 33:3 that He would DO great and mighty things. He said He would SHOW ME great and mighty things.
Now, if I had been from Missouri, the "Show me state," I might have been a little quicker to understand that. However, I'm not, so it took me awhile to notice that I had been reading it wrong for years.
After I finally noticed that, however, I pondered on it awhile. What did God mean when He said He would show me great and mighty things that I do not know? This is the understanding I finally came to:
"Showing me" something refers to God teaching or revealing something I didn't KNOW before.
The Hebrew word here for "show" means to tell, make known, declare, announce, report, and inform of.
So God is talking about telling me new things I didn't know. He's talking about conveying knowledge and ideas here. He's talking about expanding my current reality.
The things God wants to show me could pertain to any area of my life:
He could give me totally new ideas about my business.
He could show me how to better teach my LifeGroups at church.
He could show me how to manage my home, my marriage, my friendships, etc.
He could tell me about things that are currently not even part of my reality.
After all, God is into giving His people million-dollar ideas and witty inventions.
Proverbs 8:12 talks about wisdom (which is the Holy Spirit manifesting Himself into everyday situations), and God says:
"I wisdom dwell with prudence, and find out knowledge of witty inventions."
This passage tells us that one of the ways God manifests Himself is by giving His people witty inventions.
History is full of inventions that God downloaded to men and women through dreams, visions, and just plain wild ideas. For example, here are some things God downloaded in dreams alone:
Mendeleyev created the periodic table from a dream.
Frederick A. von Kekule solved the structural riddle of the benzene molecule (a closed carbon ring) from a dream in which he saw a snake seizing its own tail.
Frederick Banting isolated insulin with help from his dream.
Elias Howe finished his lock-stitch sewing machine from a dream.
The inventor of the compound bow received the idea for the invention in a dream.
Einstein's theory of relativity was inspired by a dream.
The last movement of Handel's Messiah was given to Handel in a dream.
I think you get the picture. God is full of good ideas. All good ideas come from God, and He loves to give His people witty inventions. That means He wants to give YOU witty inventions and wild ideas too.
But here is the biggest key: God wants to surprise us.
He said the things He will show us are things we do NOT already know. That means it's not possible for us to anticipate exactly what He wants to show us, because the new things He wants to show us are totally outside our current reality.
So to claim this promise and pray properly, we have to ask God for the things we don't know how to ask for. How funny is that? 🙂
What happened when I started getting it:
When I started to understand this, I was blown away. I had been praying it wrong all these years! So I started praying like this:
"Heavenly Father, Your Word says that if I call on You, You will answer me and show me great and mighty things that I do not know. So I'm calling on You. Please answer me and show me the great and mighty things I don't know.

Surprise me, Lord. I have no idea what to ask for, but I ask You to let me see these awesome things You want to show me. Thank You. In Jesus' name, amen."
When I started praying that prayer, awesome things started happening.
I started getting inside information about things that matter to me–information to which I ordinarily would not have had access. Also, I started having radical ideas come to me out of nowhere. Things like:
Business ideas.
Investment ideas for my family's personal finances.
Ministry ideas.
Discipleship ideas; He started showing me how to love people better, and how to help them through what they're going through.
Teaching ideas; He started giving me awesome illustrations that help people grab hold of His love for them.
It's just been wild. So I have continued praying this radical prayer, and God has continued to show me things. It's uncanny that the answers have all been SHOWing me things, too. God has not been DOING the things for me; He's been SHOWING me what to do.
And I suppose, after all, that that must be better. After all, we don't grow when He does it all for us. We grow when He guides us and we follow.
So are you in the mood for some wild ideas and witty inventions? Do you want your Heavenly Father to show you great and mighty things that you do not know?
If so, pray the prayer I prayed. Ask God to answer you and show you the great and mighty things that you do not know. Then hang on tight. According to the Word of God, you are in for a wild ride. 😉
Have you ever had a wild idea that you knew came from God? If so, please leave a comment below and tell me what happened!
Related: Read these posts to build your faith and help you pray for the radical blessings God promises in His Word!
Image courtesy of Saad Faruque on Flickr.