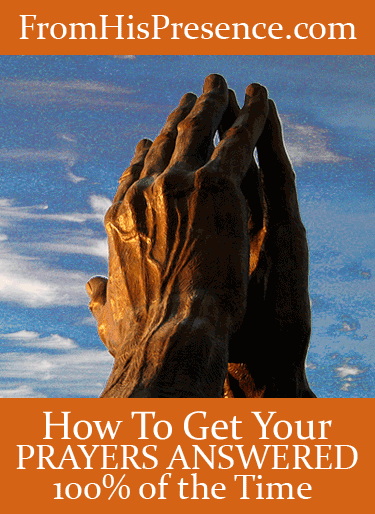 Would you like to receive what you ask God for–100% of the time?
I know I would! Who wouldn't, right? Well, the good news is: YOU CAN!
I promise. 🙂 And today, we're going to talk about HOW exactly you can pray rightly such that God will answer every single prayer you lift up to Him. 🙂
I've been receiving questions lately from people who want to know how to pray, or how to pray more effectively.
This is a subject I love because prayer is our supernatural connection to the Father Himself. There's nothing more rewarding than going "boldly to the throne of grace, that we may obtain mercy and find grace to help in time of need" (Hebrews 4:16).
Unfortunately, however, many people don't pray at all. Others pray, but they get frustrated because they don't see the answers they desire.
If you find yourself in either of those categories, you may be eager to know that there is a way you can get your prayers answered 100% of the time.
Here's how to get your prayers answered 100% of the time: Pray God's Word back to Him.
If we want to get our prayers answered 100% of the time, it's logical that we should figure out what God already wants to do, and pray for Him to do it. That way, we're always praying in agreement with His will.
How can you figure out what God's will is?
Well, that's easy. God's will is clearly outlined in the Bible. Every single situation that you and I will ever encounter in our lives has a solution and an answer (usually more than one) written in the pages of the Bible. Everything. The Bible either says specifically what we should do in every situation, OR it contains principles we should apply to figure out the answers based on God's principles.
God's Word, the Bible, contains His entire plan for humanity.
It contains His entire will, spelled out verse-by-verse. Therefore, if we pray God's Word back to Him, we are giving Him permission to do the things on the earth that He has been wanting to do anyway… but had to wait to do until we ask.
Make sense?
So how do you start praying God's Word back to Him?
Find a Scripture passage that speaks to you. It may be:
a promise you want to see manifest in your life;
something that describes the way you feel right now; or
even a theological passage to which you want to see your heart conformed.
Some easy books to get started in as you peruse your Bible are:
Psalms;
Proverbs;
Ephesians;
John;
Galatians;
Matthew; and
Philippians, just to name a few.
So first, you'll want to look for a promise from God in the Bible.
One of my favorite promises is found in Psalm 32:8:
"I will instruct you and teach you in the way you should go; I will guide you with My eye."
If you were praying this passage back to God, you would pray something like this:
"Father, Your Word says You will instruct me and teach me in the way I should go, and that You will guide me with Your eye. Please instruct me and teach me today. Show me where to go, what to do, and what to say.
Lord, I don't know how to handle the things I'll encounter today, and I need Your help. Please guide me with Your eye and keep me in Your perfect path at all times. Thank You, Father."
An example of praying about the way you feel right now:
One of my favorite passages to pray when I'm dealing with tough emotions is Psalm 3. I won't quote the whole thing here for the sake of space, but you can get the picture from the first three verses:
"Lord, how they have increased who trouble me! Many are they who rise up against me. Many are they who say of me, "There is no help for him in God." Selah. But You, O Lord, are a shield for me, my glory and the One who lifts up my head."
If I'm going through a hard time and am upset, I often pray this verse. My prayer would sound something like this:
"Father, You see the things that are troubling me. It might look like there is no solution. But Father, You are my Shield. You're my Defense. You're my Advocate and my Lawyer and my Helper. You always restore me to glory. So save me, Father, out of this thing.
Lord, lift my head back up and restore me to my place of authority. You are my Shield and I know You will protect me and defend me. YOU advocate for me today and solve this thing, and I'm going to rest in You and watch You move. Thank You, Father."
Finally, here's an example of a theological passage that you'd want to pray:
Ephesians 1:17-18 contains one of the most beautiful passages I can imagine. It's actually something the Apostle Paul was praying for the Ephesians to experience in their lives:
"…that the God of our Lord Jesus Christ, the Father of glory, may give to you the spirit of wisdom and revelation in the knowledge of Him, the eyes of your understanding being enlightened; that you may know what is the hope of His calling, what are the riches of the glory of His inheritance in the saints…"
Wow! Who wouldn't want that, right? You can pray this passage, and any other passage that talks about your relationship with God, right back to God. Your prayer would look something like this:
"Father God, I thank You that You are my Father. I pray that You would give me the spirit of wisdom and revelation in the knowledge of You. Open my eyes. Give me understanding and enlightenment. Fill me with Your hope. Help me to walk in Your calling on my life every single second I'm alive.
Lord, help me to know the riches of Your glory. I thank You that You have made me part of Your inheritance. Help me to walk in the richness You desire for me in every area of my life. Thank You, Father. In Jesus' Name I pray."
By praying God's Word back to Him, you come into agreement with His pre-determined purposes for your life. When you do that, you open the doors for Heaven to invade earth in your life.
When you pray for God's own will to happen, He can answer your prayers 100% of the time.
Do you pray God's Word back to Him? What is your experience? Leave your thoughts in the comments, and please share this post also if it blessed you!
Related: Read these posts to build your faith and help you pray for the radical blessings God promises in His Word!
Image courtesy of C Jill Reed on Flickr (cropped and slightly adjusted).