Radical Prayer #10: Decreeing Light Into Your Darkness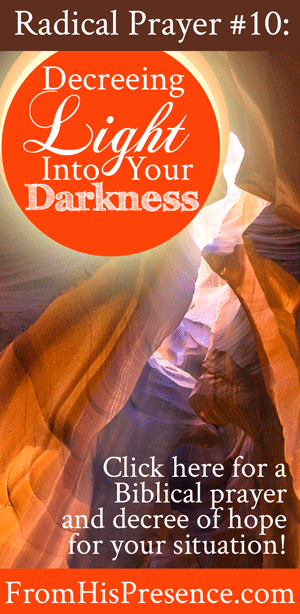 This morning, I was reading Psalm 112, and God socked me right between the eyes with a radical prayer about decreeing light into your darkness.
Psalm 112:4 says:
Light dawns in the darkness for the upright; he is gracious, merciful, and righteous" (Psalm 112:4 ESV).
Did you get that? God promised us here that light dawns in darkness for the upright. It means if we have given our lives to Jesus and are seeking Him and obeying His commands, then HE will shine light into the darkness for us.
How do I know He will do it? Because God IS light, and in Him is no darkness at all (1 John 1:5). He is the Source of light. So all He's promising to do is manifest Himself in our situation. Simple for Him … but life-saving and life-giving for us.
Because we all need light in the dark places.
No matter what you're going through right now, if you see darkness on any side, you need to see light there instead:
Where the devil tempts you to see hopelessness, you need to see hope.
Where you see no progress, you need to see progress.
Where you have no idea where to go, you need the God's light to illuminate your path so you'll know which steps to take.
And God's Word says that light DOES dawn in the darkness for the upright. The wicked do not have this covenant. They cannot appropriate this promise. But if you're a child of God, YOU can appropriate this promise for yourself.
It's a radical prayer, but it's God's Word. He promises right now that He will shine light into your darkness, no matter how dark that darkness is.
Partnership program update: I need your help as I move into full-time missions work here in my hometown. So far, the Lord has brought about 20% of the partners I need–and in less than a month! I'm so grateful. But I'm praying that He would accelerate the work and bring the remaining 80% of what I need in order to begin focusing on this blog and serving in my local church's prophetic/inner-healing ministry full-time. Is God calling you to help? If so, please go here to see what's in it for you, and sign up to be a monthly partner for only $8 a month.
And thank you in advance for your precious partnership!
So right now, pray this radical prayer with me, decreeing light into your darkness:
(And speak it out loud, by the way, since it's part prayer and part decree.)
Heavenly Father, in Jesus' name, I thank You for Your promise in Your Word. I thank You that You are light, and in You is no darkness at all. I thank You that You see my situation; you know my situation; and You know me. You know every fiber of my being, and You care about me and love me more than I could ever imagine.

So Heavenly Father, because I know that You love me and that Your promise is for me, I receive Your Word right now. I claim Your promise for myself and lift it back up to You as the physical evidence that I can and do have what I ask for. And Father, what I ask for is this:

Father God, in Jesus' name, THIS VERY DAY shine light into the darkness in my life. Seek out all the dark places–even the ones I don't know about–and shine Your light into them this very hour. Father God, show me what You are doing as You work. And Father, I name this specific dark place: ___________ and I ask You specifically to shine light through Your Holy Spirit into it today, and let me notice, see, and recognize that light as coming from You.

Father God, I thank You that Your Word says that weeping may endure for a night, but JOY comes in the morning. Father God, Your Word also says that those who go forth weeping, bearing seed for sowing, shall doubtless come again rejoicing, bringing the sheaves of harvest in with them. Father God, the weeping has gone on long enough. Comfort me and help me to trust You. Encourage me and cheer me up today. Manifest Yourself to me as my Glory and the Lifter of my head.

Father God, help me to dwell in the secret place with You today. Keep me as the apple of Your eye, and hide me under the shadow of Your wings from those who lie in wait for me. Let Your Kingdom come and Your will be done on earth as it is in Heaven in my life today.

And now, Father God, I decree according to Your Word:

Let hope arise in my heart right now, in Jesus' name.
Let strength arise right now in my heart, in Jesus' name.
I command strength, courage, LIGHT, and help from on high into my life and my situation right now, in Jesus' name.

And I confess that I am the righteousness of God in Jesus Christ, and I shall NOT be moved. I wait upon the Lord, and I shall not be put to shame.

Father God, thank You for Your Word. Watch over Your Word to perform it, and show me Your Word at work in my life. Show me the answers to my prayers, and help me to give You all the praise.

Thank You, Father God. I love You and I give You all the glory. In Jesus' name, amen.
Did the Holy Spirit speak to your heart with this radical prayer? If so, please leave a comment below. I'd love to hear from you!
Related: Read these posts to build your faith and help you pray for the radical blessings God promises in His Word!