Pray: Lord, Your Bills Are Coming Due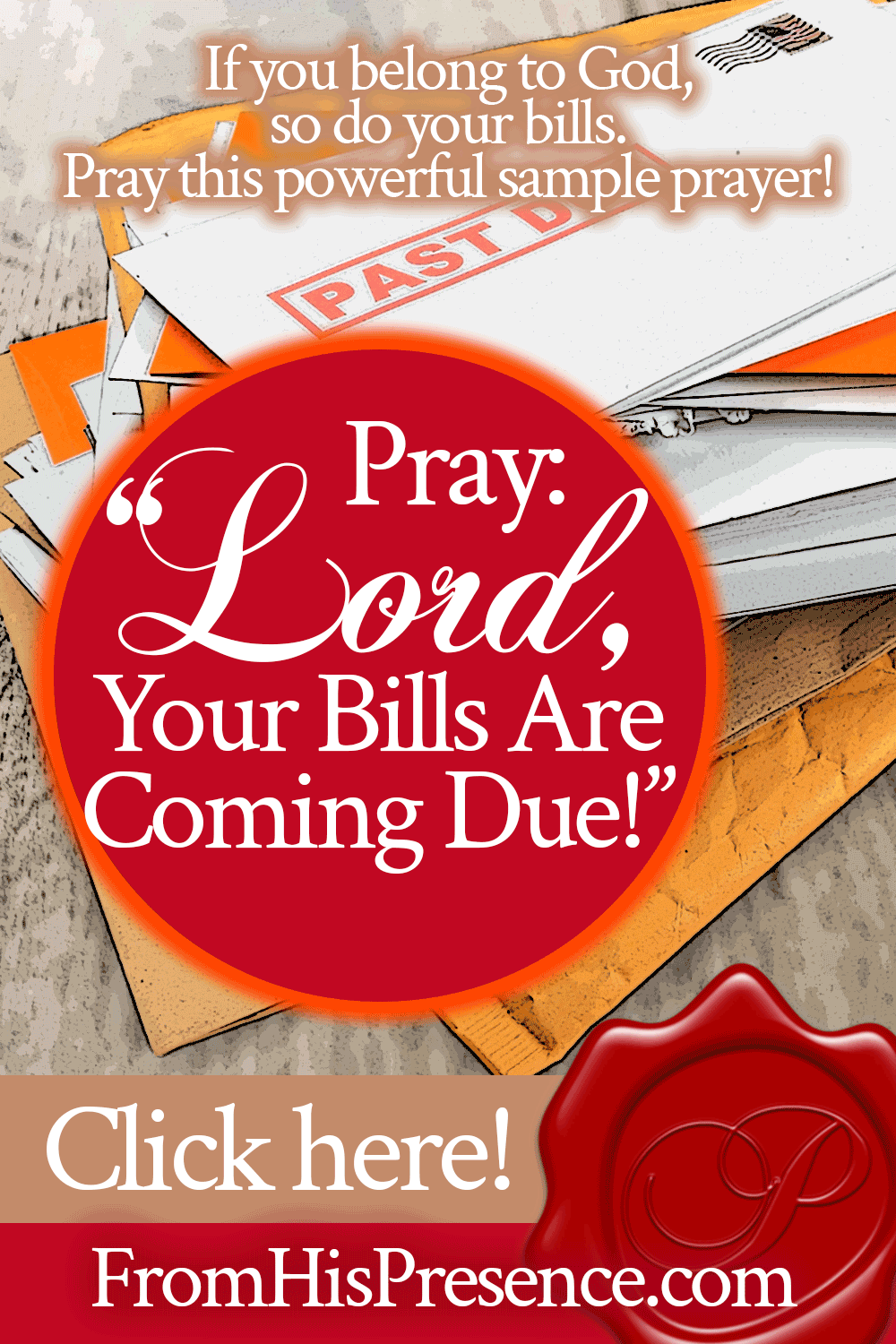 Do you feel overwhelmed with bills you cannot pay today? If so, it's time to remind yourself and the Lord that everything in Heaven and earth belongs to Him–even you and your bills! And this simple prayer of "Lord, Your bills are coming due" will help you do that.
Friend, I want to build your faith for God's watchcare over you today.
You do not belong to yourself. You were bought with a price–the price of the precious blood of Jesus. You are now God's child. And friend, God never abandons His children.
God will always be faithful to you.
Each and every day provides another opportunity for Him to be faithful–and each and every day, He proves Himself anew. Remember the powerful words of Lamentations 3:
"Through the Lord's mercies we are not consumed, because His compassions fail not. They are new every morning; great is Your faithfulness" (Lamentations 3:22-23 NKJV).
The message of God's great faithfulness has been a comfort to me my whole life.
Even before I truly gave my heart to Jesus, I still heard about His faithfulness–and it brought me comfort. But after I gave my heart to Jesus, it has brought double or triple or a hundred million times the level of comfort.
Everything you see was created by the spoken word.
So if you have nothing except the ability to speak, you can still create anything you want. You can be like God and speak those things that are not as if they already were (Romans 4:17)!
To help you, Jamie wrote a book of hundreds of Biblical confessions for you—especially in the area of your finances. It called Speak Life Volume 1: Chart Your Course With Your Words, and it's our most popular book ever! Get your copy today and begin speaking LIFE over those things that concern you!
Because you see, my friend, the moment you gave your heart to Jesus, you became a child of God.
Even before you became a child of God, you still belonged to God. Psalm 24:1 says this:
"The earth is the Lord's, and all its fullness, the world and those who dwell therein. For He has founded it upon the seas, and established it upon the waters" (Psalm 24:1-2 NKJV).
So you have always been His possession, even before you gave your life to Him. But now, You are not only His belonging, but also His child–and He will never let you down.
Beloved, the fact that you belong to God is a privilege you can call upon in prayer.
Remember also that you don't own anything. Your clothing, your home or apartment, your smartphone, your vehicle, and everything else that you "own" actually belongs to God. So not only do YOU belong to your Father, but all that you own is His too.
As King David himself prayed to the Lord:
"Therefore David blessed the Lord before all the assembly; and David said:
'Blessed are You, Lord God of Israel, our Father, forever and ever. Yours, O Lord, is the greatness, the power and the glory, the victory and the majesty; for all that is in heaven and in earth is Yours; Yours is the kingdom, O Lord, and You are exalted as head over all.
Both riches and honor come from You, and You reign over all. In Your hand is power and might; in Your hand it is to make great and to give strength to all. Now therefore, our God, we thank You and praise Your glorious name.
But who am I, and who are my people, that we should be able to offer so willingly as this? For all things come from You, and of Your own we have given You" (1 Chronicles 29:10-14 NKJV).
Everything in Heaven and earth is His. And friend, that means that the bills in your hands–the very bills you can't pay–are not actually your bills; they're God's.
Again: The bills in your hands are God's.
And if they're due, that means God's bills are coming due.
You will have to cooperate with Him to get them paid, yes. You may have to take a new job or an extra job, or cut back on expenses, or sell something, or start tithing and sowing, or whatever He talks to you about. But regardless, the bills belong to God–and God's bills are coming due.
It will greatly relieve your mind and build your faith if you will pray about it in this way.
When you imagine in your own head that you are the total solution to any of your problems, you are believing a lie. But when you acknowledge that you can do nothing without Jesus and everything through Jesus, then you have the truth of God's Word as it applies to your bills which are coming due.
So are you ready to pray?
AVAILABLE IN EBOOK OR PAPERBACK FORMAT!
Over Not Under: Financial Prosperity God's Way
Do you want God to empower you to get wealth, as He promised in Deuteronomy 8:18? Then this book is for you!
Over Not Under will help you gain deep insight about God's financial principles—and about how to activate His provision, blessing, and abundance in your life!
After you pray, be sure you act, too. Do whatever the Father tells you to do. But most of all, depend on Him and stand in faith. He will help you to get all your bills paid. He WILL provide all your needs according to His riches in glory!
Let's pray this sample prayer today:
"Dear Heavenly Father, I come to You in Jesus' name.
Abba Father, Your Word says that we should enter into Your gates with thanksgiving, and into Your courts with praise. So I thank You today, and I praise You, for You are my Provider. The cattle on a thousand hills belong to You, and You will always be faithful to me.
Abba Father, Your Word says that everything belongs to You–and that I own nothing.
I am only a steward; I am not an owner. Even I belong to You, for not only am I Your child, but also Your Word says in Psalm 24:1 that the earth is Yours, and the fullness thereof; the world, and all who dwell therein.
So Lord, I am both Your child and Your possession. And since You own everything else too, then every aspect of my life is really Yours, not mine.
Father, You see the bills I am facing.
(Feel free to spread them out on your table before the Lord, or so some similar action, even in your imagination–or on your smartphone! It will build your faith!)
And Lord, I cannot pay these bills. I do not have the money. I have stood on faith and acted by faith and done everything I could to obey You in each moment, but I still cannot pay all these amounts listed on these bills.
But Lord, these bills are Yours. Your bills are coming due.
The food bill, the grocery bill, the electric bill, the car repair bill, the cell phone bill, the fuel bill, the insurance bill, my child's school tuition, the business bills … All of these bills are coming due, and they all belong to You.
These bills aren't mine, Father; they're Yours. These bills are for Your house, Your cars, Your groceries, Your cell phone, Your children. They are for Your business, Your ministry, Your apartment, Your everything. All that I have, and all that pertains to me (including my own self), is Yours.
success tools
Wondering how to seek first the Kingdom of God?
Jesus said, "But seek first the kingdom of God and His righteousness, and all these things shall be added to you." But how does one do that?
Lord, You've got quite a few bills to pay–and I'd be grateful if You would pay them right now.
It's not a matter of Your helping me pay them, Father. I will certainly be diligent and continue to work hard with all my might, as unto You. And I will obey You in whatever You tell me to do, whether You tell me to take an extra job, sell something, move to another lodging to reduce expenses, or whatever it is You want me to do.
But, Lord Jesus, I remind You today that Your Word says in John 15:5 that without You I can do nothing. So even though I commit myself now to obey You in all things, without You I can do nothing.
Jesus, when it comes to these bills and everything else, You are going to have to help me do it all.
In truth, You will have to do it all. I know You will choose to use me to do it, but I know You will do it all–even though it's through me.
Lord Jesus, I depend on You completely to pay these bills. I also depend on You completely to help me cooperate with You to be a good steward of Your money.
But Father, Your Word says that Your grace is sufficient for me, for Your strength is made perfect in weakness.
So not only do I present these bills to You today, Lord Jesus, but I also present my weakness to You as a fragrant offering. Lord, please make Your strength perfect in my weakness. Use my weakness as a potting soil for Your strength to be made famous on the earth, I ask, in Jesus' name.
Father God, Lord Jesus, Your bills are coming due.
I can't pay them, and I need Your help:
Please pay these bills on my behalf, for they are Yours as I am Yours.
Pay them quickly, supernaturally, easily, and miraculously, I pray.
Pay them while You are also teaching me to steward Your resources well in all things.
And glorify Your own name in me, for I am Yours and I depend on You.
Thank You, Abba Father. Thank You, Lord Jesus and precious, divine Holy Spirit. You are my Shield and my exceeding great reward. Thank You for being You, and for perfecting all things that concern me.
In Jesus' name I pray, amen."
Friend, did you remind the Lord that His bills are coming due today?
Does it bring you comfort and relief to remind yourself that both you and those bills all belong to Him? Leave a comment below if so, and stand firm in faith today!