How To Enter Into Deep Prayer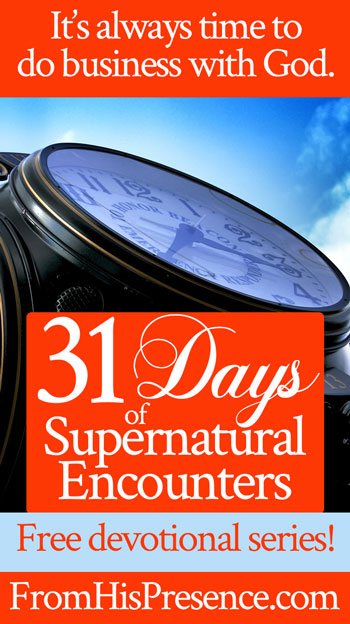 For Day 27 of our 31 days of supernatural encounters (series index here), we are talking about how to enter into deep prayer.
Read: Psalm 100
Know:
Do you remember a time in which you began to pray, and you suddenly felt the Presence of God soooo powerfully? When you poured your heart out to the Lord, just knowing that He was listening … and felt your burdens roll away as you prayed?
If so, can you also remember a time when you tried to pray, but you just couldn't focus? When everything felt dry and ineffectual? When it felt like you were talking to yourself instead of talking to God, and you didn't go out changed at all?
The two kinds of prayer experiences are as different as night and day.
I've experienced both, but I can tell you that I MUCH prefer the first type of prayer! Don't you? The first type of prayer is a supernatural encounter with God. The second is a dry, boring exercise.
So how can you enter into deep prayer every time?
How can you connect with God in that amazing, intimate way without ever having to experience dry, boring prayer again?
Here's what I have learned about how to enter into deep prayer:
1. Every time you go to pray, ask Holy Spirit to pray through you and intercede for you.
Romans 8:26-27 says:
Likewise the Spirit also helps in our weaknesses. For we do not know what we should pray for as we ought, but the Spirit Himself makes intercession for us with groanings which cannot be uttered.

Now He who searches the hearts knows what the mind of the Spirit is, because He makes intercession for the saints according to the will of God."
Nearly every time I begin to pray, I pray this promise FIRST. I ask Holy Spirit to pray through me and intercede for me. If I remember to pray this promise first, my prayer time is amazing. It's powerful, fruitful, and brings me into intimate encounter with God.
But if I forget to pray this promise first, then–every time I forget–my prayer time is dry. I can't focus, don't know what to say, and don't feel the Presence of God.
Moral of the story? If I'm in a time of dry prayer, then I remember why. I back up and ask Holy Spirit to intercede for me and pray through me. And as soon as I do, everything changes and I'm suddenly in deep prayer.
Huh. Must be all about Holy Spirit after all, huh? 🙂
2. Enter into His gates with thanksgiving.
After step #1, the next step is to begin your prayer by giving thanks. As Psalm 100:4 says:
"Enter into His gates with thanksgiving, and into His courts with praise. Be thankful to Him, and bless His name."
The "gates" are the first thing you cross when you're going in somewhere. And the Bible tells us that we enter His gates with thanksgiving.
It's amazing how thanking God will help bring you into deep prayer.
Related: 10 Prayers That Draw Me Closer To God Than Any Other Prayers
In fact, giving thanks will bring you into intimate encounter with God anywhere, even if you aren't specifically sitting down to pray! But when you do begin to pray on purpose, start out by giving thanks.
How? If you're feeling thankful, then it's easy. Start out by giving thanks for everything you're feeling thankful for, and go from there!
And if you're not feeling thankful, you can give thanks too.
When I'm not feeling very thankful–e.g. if I'm upset about something–then I know I need to give thanks anyway, and do so purposefully. So I start out just thanking God for everything around me.
If you heard me do this, you'd probably think I was silly or crazy. But it works! I say things like:
"Thank You, Father, for the house I'm sitting in."
"Thank You for the carpet under my feet."
"Thank You for the clothes on my body."
"Thank You for the food in my kitchen."
"Thank You for these Bible study supplies sitting on the desk in front of me."
"Thank You for my husband."
"Thank You for my cat."
I just start thanking God for any little thing I see around me; for anything I can think of. And you know what? If I start out with a bad attitude and don't feel thankful, pretty soon giving thanks changes my attitude.
So either way–whether you feel thankful or not–enter into His gates with thanksgiving.
3. Enter His courts with praise.
After you've asked for Holy Spirit's help to pray, and after you've entered into His gates with thanksgiving, it's time to enter into His courts with praise.
The "courts" are the very place where God sits. When you're in His courts, you're in the inner place of His Presence. It's a great place to be! So how do you get there? You progress from thanking God to praising Him!
Praise is different than thanksgiving.
Thanksgiving means thanking God for what He has done. But praise means to tell God who He is, and to worship Him for who He is.
Thanksgiving says, "Thank You for saving me, Father. Thank You for providing for me. Thank You for loving me."
But praise says, "Father, You are holy! You are faithful! You are my Salvation! You are righteous and good and pure and true! You are awesome! Hallelujah! I love You, Lord!"
Praise gets you into the inner courts of the Lord.
So if you want to enter into deep prayer, with Holy Spirit's help, start with thanksgiving and then move into praise. It works every time! And after you're in His inner courts, pour out all your heart to Him. Holy Spirit will help you, and you'll have a powerful time of prayer that is a supernatural encounter with the Living God.
Pray this:
"Heavenly Father, I come to you in Jesus' name. Father God, thank You for Your Holy Spirit who lives inside me. Thank You, Holy Spirit, for interceding for me and through me. Please pray through me and for me right now.
Lord, I want to enter into deep prayer every time I commune with You. And Lord, I want to commune with You every moment of every day. I don't want there ever to be a time when I feel separated from You.
So Father, please help me to always remember to ask Holy Spirit to help me pray and pray for me and through me. Help me to remember to thank You and bless Your name, and help me to praise You all day every day.
Lord, I want to be a person of prayer.
So please do a work in my heart and teach me to pray. Help me to enter into Your gates with thanksgiving and into Your courts with praise always, and help me never to go out. I don't want to go in and out of Your Presence, Lord. I just want to stay with You and remain. Help me do that, Father, and thank You.
I love You, Father. Thank You for hearing these deepest cries of my heart. Thank You for helping me, and thank You for drawing me to Yourself. In Jesus' name, amen."
Listen:
Listen to Eddie James singing "Lord, make me a house of prayer!" and ask the Lord to make YOU a house of prayer too–and that the fire on your altar would never go out!

Does this word encourage your heart today? If so, please leave a comment below. I'd love to hear from you!
Would you help me with my work of reaching people for Jesus as a domestic missionary? I need you; we are in this together!

This blog, and all of the Kingdom work we do in this community together, are made possible through your partnerships, donations, and product purchases. If you'd like to help, please check out the partnership details and products available for sale here. And, thank you in advance for helping make this blog and everything we do together for the Kingdom possible!