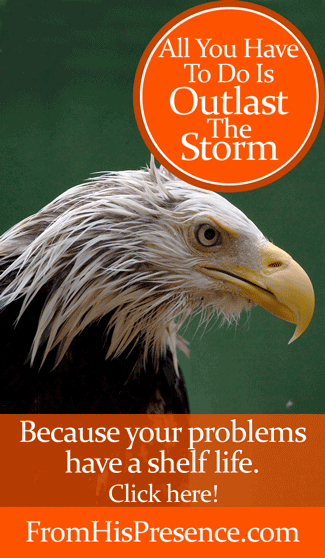 From the archives: After having been through a challenging time lately, I was encouraging myself in the Lord by reminding myself that every difficulty has a shelf life. All problems will expire sometime! And I was reminded of this post. I thought it would encourage you if you're worn out too. – Love, Jamie
I was really discouraged earlier this week. I've been in a season of proverbial death for a few weeks, and as fun as that is, it does get a little old. 😉 Have you ever been there? If so, you can probably identify.
Anyway, I've been hunkering down and getting alone with God, and He's been helping me through. But the pressure has been intense. And the whole time, He's been talking to me about right responses, about clean hands and pure hearts, and about the resurrection that is to come.
And the other day, the Holy Spirit spoke this word to me that encouraged me so much. I thought it might encourage you today too.
This is what He said to me:
"All you have to do is outlast the storm."
That meant a lot to me for several reasons:
1. I can't control the storm.
And that can be frustrating. When you have no control over things that are happening to you, you feel at the mercy of the storm. But you're not. You're at the mercy of God, and His mercies are new every day.
2. I can't fix the storm.
When unjust things happen, I can ask God to fix them, and He will. But I can't fix them myself, so I feel helpless.
But you know what? Even though I'm helpless to fix the storm, I can watch over the most important thing: my responses. That's why I wrote Wednesday about responding rightly when you're squeezed. Even if you can't fix the storm, you CAN make sure that the only thing that comes out of you when you're squeezed is the fruit of the Spirit.
Related: Pray This Prayer To Reverse Unjust Situations
3. But I can outlast the storm.
I love the eagle picture I used for today's graphic/pin (pin it on Pinterest!) because you can tell that eagle has been under duress. He's not enjoying the storm. He doesn't look particularly happy. He is one wet, raggedy bird.
But you know what? He's still alive. And that is a raggedy, sopping wet bird that I can identify with. Because, during the storm:
I don't have to enjoy it.
I don't have to know where it came from.
I don't have to understand why it's happening to me.
I don't even have to think it's right.
All I have to do is outlast it.
And when I don't know where the storm is coming from …
When I am powerless to stop it …
When there's no reason for it …
When unjust things occur …
I can't fix the storm. But, praise God, I can outlast it. Because I'm not going anywhere. The rain can fall all it likes. The wind can blow as hard as it wants to. But when all is said and done, by the grace of God, I'm still going to be here. I'm going to be right where I am (or higher), in my place, seeking God and doing what God has called me to do.
Did you hear that, world? Come hell or high water, I'm NOT. GONNA. QUIT.
So let the wind blow if they need to. Let the rains come if they need to. I'm going to hunker down in the shadow of the Almighty, and He'll keep me safe through the storm. And all I have to do is get through it. All I have to do is outlast it. One breath at a time, one response at a time, one day at a time.
And that's all you have to do too. All you have to do is outlast the storm … because every storm in history has stopped sometime.
There's not a single storm that's ever been, on the face of the whole earth, that hasn't stopped. Not one. That means your problems have a shelf life. Your storm has an end. The winds of adversity cannot blow forever.
And all YOU have to do is outlast the storm too.
You don't have to enjoy it. You don't have to know why it's happening to you. You don't have to know where it came from.
You ARE responsible for responding rightly. But if you will do that, all you have to do is outlast that thing … and the storm WILL stop. Eventually, whatever you're going through will be over.
Your problems truly do have a shelf life. And if you will let God do His work in your heart during this time–if you will respond rightly in your situation–at the end of the storm, you will look up:
The sky above you will clear.
The sun will shine on you again.
You'll fluff your feathers and preen each one back into place.
You'll feel fresh and new again, and
You'll take to the skies one more time.
And I'm willing to bet that you'll be better off than you were before … because that's just God's way.
I'll leave you with this one encouraging promise from the inerrant, infallible Word of God:
Most assuredly, I say to you, unless a grain of wheat falls into the ground and dies, it remains alone; but if it dies, it produces much grain.

He who loves his life will lose it, and he who hates his life in this world will keep it for eternal life. If anyone serves Me, let him follow Me; and where I am, there My servant will be also.

If anyone serves Me, him My Father will honor" (John 12:24-26).
Jesus Christ Himself promised that your storm is not without purpose. If you can just follow Him and outlast that thing, there will be a resurrection. You will bear much fruit. You WILL experience a harvest.
All you have to do is outlast the storm. And, bless God, YOU can do that!
Does this message encourage your heart today? If so, please leave a comment below. I'd love to hear from you!
You'll get an email when new content is posted. You'll also receive my free, printable blessing cards and my ebook–The Presence Seeker's Creed–for free when you confirm!
Image courtesy of Todd Ryburn on Flickr via Creative Commons license. Image has been cropped and graphics added.
This post is linked up at Cornerstone Confessions' Titus2Tuesday.