Weeping May Endure For A Night, But Joy Comes In The Morning!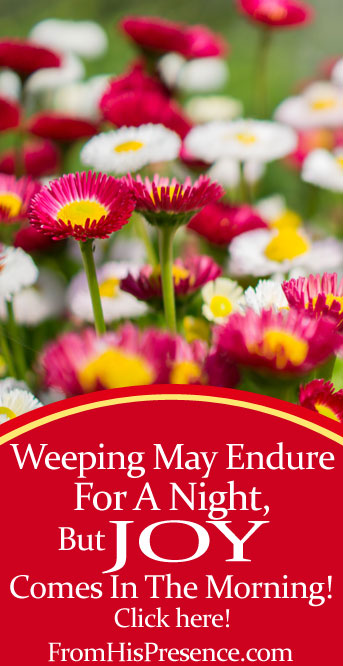 Dear reader who's been crying,
I felt like the Lord wanted me to encourage you today. Because…
He saw you, the other day when you were so upset. Last night when you were crying. When you were hurt; when you were angry. He saw you. And He has not forgotten.
He sees the pain in your heart. He sees you right now. And He knows.
He knows what it's like. He knows what it's like to feel despised and rejected. He knows what it means to not have a single friend in the world. He knows what is hurting your heart right now.
And He cares.
You see, this thing that is happening to you is not God's best for you. It's not His will for you to mourn or grieve or be sad. It's not His will for you to hurt, physically, emotionally, or mentally. He loves you, and He's a good Father. He desires only the best for you in all things.
But we live in a fallen, sinful world. We live with imperfect circumstances and imperfect people all around us, who are also hurting. And sometimes that makes us hurt worse.
But you know what? There's hope. God has this thing for justice, and vengeance, and reward, and for sticking up for those who can't take care of themselves.
That's why He cares so much about widows and orphans. Nobody else is taking care of them, and something about their need just lights God up. So He reaches down from Heaven and takes care of them Himself. He takes them under His Own wing and hides, shades, and shelters them. He loves them so much.
God loves helping broken people so much that He even names Himself after them. He calls Himself "a Father to the fatherless" and "a Defender of widows" (Psalm 68:5).
And you know what? Something about your need drives God to stick up for you too.
You may not be an orphan or a widow (although maybe you are). Maybe you're heartbreakingly lonely. Maybe you're facing injustice. Maybe you're hurting through no fault of your own. Maybe you're burned out, tired, broke, worn out, got nothin' left. Maybe you're in a tough marriage, or a tough work situation, or chronically ill, discouraged, or depressed.
Maybe, like Abraham, you're waiting for your dream to happen in your life. Maybe God has promised you something and the years have passed, but the dream seems far away.
Maybe you feel like you can't go on.
If that's you, God sees. And He has a promise for you today. That promise is that joy comes in the morning.
The Bible tells us:
…Weeping may endure for a night,
But joy comes in the morning" (Psalm 30:5b).
You've been weeping. You've been upset. There have been tears, and pain, and heartbreak. But you know what?
Your sorrow won't last forever. God is on the move.
His Word says that, even if you cry all night long–all the way through your dark night of the soul–the morning is still coming. And with the dawn comes a fresh breath of hope. With the first rays of sunlight, He's sending a new beginning. He's rending the Heavens and coming down Himself into your situation, to fight on your behalf.
He's answering your prayers. Right now, this very moment, while you're reading this letter. He's thinking about you right now. He's working this situation out for your good, your highest desires, and your best future. Your Papa has not forgotten you.
I know things look dark, beloved. But, I feel like the Lord wants me to tell you today:
"Look up!"
Your weeping has endured for the night, but morning is dawning. Heaven's rays of early light are beginning to shine into your situation right now. And with the dawn, God is sending you joy.
It's His way. He always sends joy to restore and repay you for what you've been through. He restores you BETTER than you ever were before.
So the morning is coming. And joy is on its way. And when He brings joy, He ALWAYS does a terrific job.
What God is going to do for you is beyond your wildest imagination. When He brings change in your situation, it's going to astound you.
And one day you will look back and say, "I wouldn't trade it for the world… because look what God has done."
So in Jesus' name, I say: let a new hope and courage dawn in your heart right now.
Let the joy of the Lord come forth in your heart in Jesus' name. Let the fresh wind of the Holy Spirit blow a refreshing breeze across your body, soul, and spirit right now in Jesus' name.
A new day is dawning. A new start is coming. A new joy is arising in your heart right now.
Because weeping may endure for a night, but joy comes in the morning.
Let it be done now in Jesus' name.
I felt like I needed to write this as a specific word to someone (or some people). I felt like Papa wanted to lift someone's chin and let them know that it wouldn't be too much longer until they have their joy back, and they will be better than they were before. If that person is you and God used this message to speak to your heart today, would you let me know? Please leave a comment below. Thanks!