No Need To Fear Your New Season (My Story About a Season That Hurt)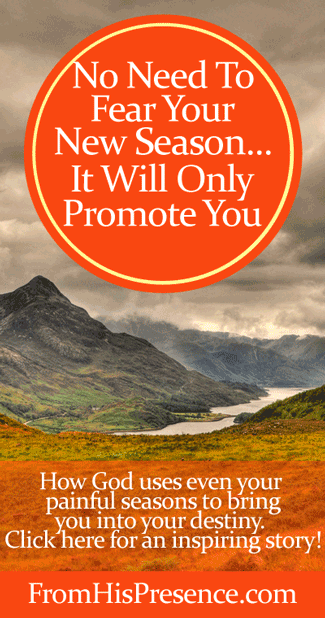 I'm going to be very open and transparent with you today and tell you about a season I went through awhile ago that hurt.
Why does it matter? Because one of the questions that you, my readers, have asked me is: "Will my new season hurt? Why does a new season scare me?"
Related: Read this week's whole New Season series:
I don't blame you for wanting to know if your new season will hurt. The thing is, though, most seasons are NOT going to hurt hurt. The Kingdom of God is in righteousness, peace, and joy, and God wants to bring us into greater measures of those things. Always.
But sometimes you have to go through a process to get to that next level of peace and joy.
Sometimes there are seasons in which He allows a stripping away of things that don't look just like Jesus. Or, there are seasons in which you're tested on things you've learned.
Or, there are times when, like Job, He may allow something difficult to happen in your life because He needs a big fat giant for you to kill so you can become king. He's ready to promote you, but sometimes there has to be a dying first.
But the truth of God's Word is this:
Even if you have to endure a painful season, God will work it out for your good and use it to promote you.
Therefore, there's no reason to fear; even the hardest things will elevate you to a new level in Christ and bring you further into your destiny. It's true, every time, because He promised.
Check out what happened to me:
As I mentioned in Heavenly Downloads For Your New Season, God told me I had entered into a new season at the end of Memorial Day weekend this year. It was right after I took a team to give free dream and tattoo interpretations at the tattoo convention. Our team had experienced a crushing victory there, encouraging so many people and seeing God love on hungry, hurting hearts.
Therefore, reasonably so, I imagined that the new season would be a season of further victories. I was very excited about that possibility.
But very quickly thereafter, something terrible happened. Someone I loved stabbed me in the back really hard and, figuratively speaking, left me for dead. I felt like they had ripped out my heart. I was bleeding all over the parking lot, and I had no emotional or spiritual life remaining in me.
It was a really hard time.
I wanted to walk away from ministry and God's people forever. I didn't want to love people anymore, because love hurts. I wanted nothing to do with anyone and was ready to walk away from all relationships except my marriage.
And right after it happened, when I crawled up in Papa's lap with my Bible, looking for any kind of comfort and strength, I heard Him say this about my new season:
"It's a season of death."
I heard it as clear as a bell. And trust me, it was not what I wanted to hear.
Uhhhhh… on second thought, Jesus, can I get out of this new season, please? I didn't do anything to deserve this. So I'd really appreciate it if You'd reverse the circumstances and stick up for me. Smite 'em, God.
Uh huh. You laugh, but you've been there too, I suspect. 🙂
A season of death. Well, that wasn't what I signed up for. I began to read the Word, hoping to hear some word about justice and vengeance. But as I started to read, the words that leapt off the page were:
But Jesus answered them, saying, "The hour has come that the Son of Man should be glorified. Most assuredly, I say to you, unless a grain of wheat falls into the ground and dies, it remains alone; but if it dies, it produces much grain.

He who loves his life will lose it, and he who hates his life in this world will keep it for eternal life. If anyone serves Me, let him follow Me; and where I am, there My servant will be also. If anyone serves Me, him My Father will honor" (John 12:23-26).
He also said:
Therefore if you bring your gift to the altar, and there remember that your brother has something against you, leave your gift there before the altar, and go your way. First be reconciled to your brother, and then come and offer your gift.

Agree with your adversary quickly, while you are on the way with him, lest your adversary deliver you to the judge, the judge hand you over to the officer, and you be thrown into prison" (Matthew 5:23-25).

and…

"Blessed are you when they revile and persecute you, and say all kinds of evil against you falsely for My sake. Rejoice and be exceedingly glad, for great is your reward in heaven, for so they persecuted the prophets who were before you" (Matthew 5:11-12).

and…

"Remember the word that I said to you, 'A servant is not greater than his master.' If they persecuted Me, they will also persecute you. If they kept My word, they will keep yours also" (John 15:18-20).
There were lots of other Scriptures that the Lord brought to my attention, but I don't have time to list them all here. Suffice it to say, they were all about dying to oneself, making things right with your enemies, and not expecting people to just love you all the time… but forgiving them anyway.
And as I read, I realized I had two options:
Either I could dig my heels in, fight on my own behalf, and try to prove the other person wrong … which would only mean I'd get to go around and around this same mountain, experiencing who knows how much more agony, until I finally submitted.
OR, I could accept that the Lord told me it was a season of death, submit to His Word NOW, and let Him do His thing. And hopefully get it over with quickly.
I realized that the first option would only work out badly. That left the dying part. I wanted to get THROUGH this season and leave it behind me, so I decided to jump on God's bandwagon and die to myself in this.
So I did. After the initial gut reaction, I didn't lash out. I was hurting, but God helped me. I forgave, tried to make things right, and somehow got through it.
And you know what? After I got on God's bandwagon and submitted to His work, it turns out that this rough season didn't last very much longer.
It was a season of death. As soon as I decided to cooperate, God did His thing in me. After only a few weeks, I heard Him say:
"The season of death is over."
And at first, I almost had to pinch myself. I didn't think I heard correctly. How could such a season be so short? Surely I needed to suffer longer?
But no. Even though I didn't quite believe the season of death was over, I started seeing new life right after God switched the seasons. I started seeing the promotion and open doors I had hoped for. And ever since that time, I've been in a season of vibrant life. God has done things that were beyond my wildest dreams.
But looking back, I can see that God used that season of death to promote me.
He did this in several ways:
He strengthened my faith and prayer life, because I prayed continually and claimed His promises about working things out for my good during this time.
He taught me that the words that Jesus speaks are spirit and life; that soaking in the words of Jesus will revive even the most wounded heart. This is a key lesson not only for myself, but also that I can pass on to the people I mentor.
He published two articles I wrote about that experience on nationally-known websites: Your Trouble Will Be Worth It on (in)courage.me and When Loving Your Sheep Hurts on Christianity Today's Gifted For Leadership. (Both of these were huge honors for me. I'm ever so grateful.) 🙂
He's done other, bigger things that I won't mention, but you get the point. So in the end, I didn't need to fear the new season of death… because God had promotion in line all along.
It's like I've heard Tommy Tenney say:
"The size of your enemy is a clue to the size of your destiny."
I had an enemy and that enemy hurt. BUT GOD planned to work it out for my good all along. He just needed me to cooperate.
So, dear reader, the message I pray you will take home is this:
I hope your next season of life–the one you're entering into right now–is fun, fabulous, and filled with promotion. However, even if it's not…
… even if you are about to go through something tough …
… even if you are going through the worst season of your life right now …
… the Word of God will hold true for you. God has promised to work all things together for your good, and He. will. do. it.
Romans 8:28 tells us:
And we know that all things work together for good to those who love God, to those who are the called according to His purpose."
You don't need to fear your new season. Even the worst-case scenario–a painful season–still can't harm you. God will work ALL THINGS together for your good. He has promised, and God is not a man that He should lie (Numbers 23:19). He will ALWAYS keep His promise to you.
So you can enter into your new season with joy and expectancy now.
I feel like I'm giving a graduation speech, and I am! Go forth and graduate into the next thing God is doing in your life. Be bold like a lion. Carpe that diem:
Get alone with God.
Get His downloads and His specific prayer directives.
Ask Him what He wants to do in your heart next.
Go on your vision retreat (even if that's in your bathtub!) and ask Him what your next step is.
Then DO IT!
There's no need to fear. No matter what your new season looks like, it will only promote you. God is in charge, and He will perfect all things that concern you.
Does my story speak to you about any concerns you've had? If so, please leave a comment and share your thoughts! I'd love to hear from you. 🙂
Image courtesy of mendhak on Flickr via Creative Commons license. Image has been edited and the text and graphics have been added.