Heavenly Directives For YOUR New Season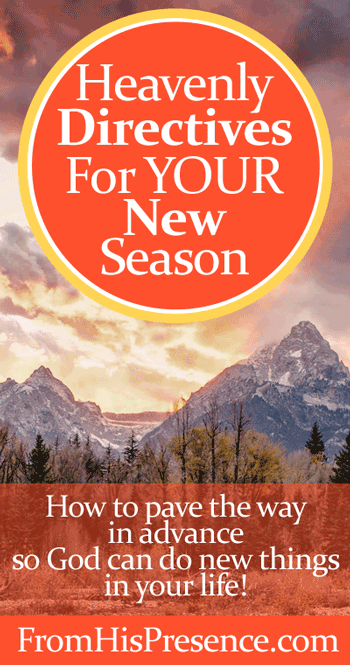 This is post #2 of a 5-post series about the shift in spiritual seasons. This is one of the most impactful subjects about which I've ever written. I feel an urgency to get this information to you NOW. So I pray that God will use it to bless you mightily, and also to transform everything in your life that needs to be transformed.
To recap, here's a look at what's ahead and what we've already covered:
Quick recap:
The spiritual season has changed, and it's changed for you too. When God changes the seasons, He does so across the entire Body of Christ. This means it's a new day, pregnant with new opportunity for YOU. You're part of this thing, and God wants to tell you all about it.
He will help you discern the times and seasons in your own life.
He will tell you what He wants to do.
And Jesus said you DO hear His voice if you are His sheep!
God started teaching me how to discern His timing and receive His downloads for new seasons years ago. And this one thing has changed everything for me:
It builds my faith when I see the things God has told me about actually happen.
It has given me favor and influence in many areas.
It has helped me focus my efforts on God's plan, so I don't get sidetracked.
It has increased my productivity a gazillionfold.
God will do the same for you as you begin to receive His downloads and directives for your new season too!
And you can have God's heavenly directives for your new season!
Whenever God has brought me into a new season, He has always given me heavenly directives. Since He's no respecter of persons, I know He wants to give you heavenly directives for your new season too.
How do you know God will show you His heavenly directives for this new season?
Because He said so in Psalm 32:8, among other places:
I will instruct you and teach you in the way you should go;I will guide you with My eye."
Praying strategically is also practical wisdom, and God promised that He'll give you abundant wisdom if you'll just believe Him for it:
If any of you lacks wisdom, let him ask of God, who gives to all liberally and without reproach, and it will be given to him.

But let him ask in faith, with no doubting, for he who doubts is like a wave of the sea driven and tossed by the wind. For let not that man suppose that he will receive anything from the Lord; he is a double-minded man, unstable in all his ways" (James 1:5-8).
So our loving, generous Father has promised to give you ALL the instruction you need in this new season!
So what's a heavenly directive?
Well, the way I'm referring to it, a heavenly directive is a specific instruction from God that unveils His strategy for your next season. When God downloads His heavenly directives into you, you can start praying and moving into His strategic plan as He opens doors–and you can start preparing those doors to open.
For example: In the last season of my life, God gave me several specific kinds of directives. There were:
Prayer directives;
Attitude directives; and
Action directives.
All three of these are important. I'm going to cover prayer and attitude directives today, then talk about action directives in tomorrow's post, "Heavenly Design For Your New Season."
Are you ready for His instruction? Let's get some prayer directives!
What are prayer directives?
Prayer directives are specific instructions from God to pray for very specific things in your life. Prayer directives will generally feel unusual to you simply because you have not prayed them before; or if you have, you haven't prayed them with the same burden, passion, and fervor as you will have now.
Prayer directives are always related to God's strategy. However, you very often may not see the connection until God begins to answer the prayer!
In my most recent season of life, I have had a number of very clear prayer directives. Three of them are:
1. Directive #1: Pray for God to reveal the hidden things.
God told me specifically to ask Him to reveal the hidden things and show me things I don't even know to ask about. He reminds me to pray for this nearly every day, and sometimes multiple times per day.
The Scriptures that I pray back to God to support this directive are:
'Call to Me, and I will answer you, and show you great and mighty things, which you do not know'" (Jeremiah 33:3)

and

"For nothing is secret that will not be revealed, nor anything hidden that will not be known and come to light" (Luke 8:17).
And God has answered in uncanny ways:
He's sent me inside information that I would never otherwise know (and not through gossip, either);
He has alerted me through word of knowledge when people I'm discipling were in trouble;
He has exposed things from which I needed to steer clear, when I didn't know beforehand that I needed to steer clear.
2. Directive #2: Pray for God to deliver me and honor me.
This directive is from Psalm 91:15, which says:
He shall call upon Me, and I will answer him;
I will be with him in trouble;
I will deliver him and honor him."
I know it sounds weird to ask God for honor. After all, all honor is His, right? Yes, but it's like God's cloak; and it tickles Him to drape His cloak of honor over His kids and watch them run around with it. The honor isn't theirs and it's ten sizes too big, but it's fun for everybody to play dress-up. 🙂 (See my post here about how God wants to honor you for more information.)
So I started praying for God to honor me. And sure enough, He has. Over and over. In totally unfathomable, unexpected, delightful, astounding ways.
And you know what? (Whispers…)
I like it.
Honor is fun. It beats dishonor any day of the week. So I'm extremely grateful for God's directive in this area, and I'm in awe of His answers to prayer.
3. Pray for favor with people by name.
This was a wild directive for me, too. Based on Luke 2:52, we should increase in favor with both God and men in order to become more like Jesus. I'm all for that.
However, the thing that shocked me was who God told me to pray for favor with. He told me to pray for favor with a bunch of people I didn't know, didn't work with, didn't talk to, and didn't think I'd need to know. So I did.
And you know what happened?
All of a sudden, doors started opening up that meant I needed to work with those people–and right from the beginning, I already had favor with them.
Why?
Because God told me in advance to pray for favor with specific people. I had no idea why at the time. I didn't anticipate needing those relationships. But God had surprises up His sleeve, and He gave me the directives I'd need in advance so that His purposes could unfold smoothly.
It has been wild, I'm telling you. Wild! 🙂
So here's the crucial thing you need to know about prayer directives:
God gives you prayer directives because He is ready to do a new thing in your life. In a new season, He is going to open new doors.
So He asks you to pray in advance. Your prayers give Him permission to operate radically in your life. Your prayers allow Him to open strategic doors for you, even when you don't realize the doors are important at all.
Even when you feel like your prayer directives are totally random, God doesn't. He alone knows His entire master plan:
God knows what relationships you will need to enter into your destiny.
He knows what skills you will need and when you will need them.
He knows how much influence you will need, and how you can gain it (by serving, loving, and praying before you ever need that influence).
He knows what information you will need to know–and just as importantly, of what you need to be ignorant!
God alone knows how the pieces of your life need to come together. And prayer directives pave the way for His plans and purposes.
There is always a strategic paving of the road before God makes a sudden move. Isaiah 40:3-5 tells us about paving the way for God:
The voice of one crying in the wilderness: "Prepare the way of the Lord; make straight in the desert a highway for our God.

Every valley shall be exalted and every mountain and hill brought low; the crooked places shall be made straight and the rough places smooth; the glory of the Lord shall be revealed, and all flesh shall see it together; for the mouth of the Lord has spoken."
Prayer directives are God's bulldozers. They're His heavy, earthmoving equipment. When you follow God's prayer directives, your prayers get things into position and alignment before you ever need to build.
Then, when God moves suddenly and it's time for the building to rise, the foundation you need is already in place–because you obeyed and prayed.
How to get your own prayer directives:
Prayer directives come from the Word. Every time. And that's a good thing, because you can't pray righteous prayers without making sure your prayer aligns with God's Word. Any prayer you didn't get from the Word–or can't support with the Word–is in danger of being a witchcraft prayer.
Related: How To Avoid Witchcraft Prayer
So how do you get your prayer directives out of the Word?
Sit down with the Holy Spirit and your Bible.
Ask the Holy Spirit for revelation out of His Word. Ask Him to open it up to you and help you understand it. Ask Him to speak His on-time, right-now word to you out of it.
Ask Him where He wants you to read. Listen for His spontaneous voice in your spirit.
Open your Bible and read. Take copious notes. Meditate on what you read. Chew, chew, chew on God's yummy Word.
When key phrases jump out at you that seem to pertain to your life right now (or where you want your life to go), write them down and pray into them.
You can build your list of prayer directives over time. You don't have to get them all at once. Just start praying into what you do have when you get one. 🙂
Every Scripture passage is good for prayer and study. But some passages will really grip you. They will really summarize the desire and hunger that's in your heart right now. Those key passages will often be God's promises, and they are things that you will suddenly have faith to believe for.
Those are your prayer directives.
Some of them may be more pressing than others. But the Holy Spirit will lead you and teach you how to pray if you will ask! First John 2:27 promises you this:
But the anointing which you have received from Him abides in you, and you do not need that anyone teach you; but as the same anointing teaches you concerning all things, and is true, and is not a lie, and just as it has taught you, you will abide in Him."
It doesn't matter if you don't know what you're doing. Just ask the Holy Spirit to guide you, and He will!
And ask God for prayer directives about very specific things.
For example, you might want to ask Him to show you how to pray about:
Your future spouse, if you're single and want to be married;
Your finances;
Your business;
Your job;
Your children;
Your ministry.
God wants to talk to you about every part of your life.
Another key thing about prayer directives is this: prayer directives are urgent, so you'll often see very fast answers.
When I started asking God to honor me, He did–the VERY NEXT DAY. It was a fast answer, because it was a crucial part of His strategy for my life in my new season.
When you start praying into the prayer directives God lays on your heart, begin looking for answers right away. (I always ask God to show me the answers, so I don't overlook them amidst the busyness of life. I'd recommend you do the same.)
And especially when you start to see rapid answers, take those answers as confirmation that you heard your prayer directive clearly. Then PRESS in to God and keep on praying. You'll start to see a trend in certain areas of your life, as God builds momentum and carries you forward.
(By the way, what you bless and thank God for will increase in your life. When you give thanks for small answers, He brings bigger answers and grows that thing in your life. Click here to read my personal example in Giving Thanks For Small Beginnings.)
The next crucial point about prayer during your new season:
Prayer is of UTMOST importance if you want God to do new things in your life.
Prayer draws you closer to God.
Prayer helps you hear God better. You'll often hear Him speak spontaneously to you during prayer, because prayer is a two-way conversation.
Praying will help you release your burdens and anxieties and find rest in Jesus.
Prayer–especially intercessory prayer–forms the character of Christ in you. Jesus is the Ultimate Intercessor. When you intercede for someone else, you become more like Jesus.
Prayer gives God permission to answer.
You might already be a committed pray-er. But maybe you're not. If you're not, don't beat yourself up.
If you don't have much of a prayer life yet, there's no time like the present to begin. Even starting with 5, 10, or 15 minutes of prayer each day will make a huge difference in your life. Ask God to help you, and to increase your capacity for prayer.
Then pray these specific things to develop a love for prayer, and to grow in powerful prayer:
1. Ask God for the spirit of grace and supplication that He promised in Zechariah 12:10:
And I will pour on the house of David and on the inhabitants of Jerusalem the Spirit of grace and supplication; then they will look on Me whom they pierced. Yes, they will mourn for Him as one mourns for his only son, and grieve for Him as one grieves for a firstborn."
The spirit of grace and supplication makes prayer easy. It draws and compels you to pray.
2. Ask God to teach you to pray, like the disciples asked Jesus in Luke 11:1:
Now it came to pass, as He was praying in a certain place, when He ceased, that one of His disciples said to Him, "Lord, teach us to pray, as John also taught his disciples."
3. Ask the Holy Spirit to intercede for you, as He promised to do in Romans 8:26-27:
Likewise the Spirit also helps in our weaknesses. For we do not know what we should pray for as we ought, but the Spirit Himself makes intercession for us with groanings which cannot be uttered.

Now He who searches the hearts knows what the mind of the Spirit is, because He makes intercession for the saints according to the will of God."
4. Ask God to use you in the extremely powerful ministry of intercession.
Therefore I exhort first of all that supplications, prayers, intercessions, and giving of thanks be made for all men" (1 Timothy 2:1).
Related: 5 Ways To Ask God To Increase Your Prayer Life
Prayer works. Every time. God responds to prayer. And when we pray through the specific prayer directives God has put on our hearts, we often see rapid answers. Puzzle pieces start to come together. New things start happening. And when doors start to open, you can look back and see how your prayer directives opened them.
So now let's talk about attitude directives:
An attitude directive is something in your heart that God wants to cultivate NOW. These will also be of utmost importance for your new season, but their importance isn't limited to just the next season of your life. God's work in your heart in these areas will be permanent changes because attitude directives always make us more like Jesus.
The comforting thing is that God never gives us more than we're ready for, so usually you'll get like one attitude directive. Or maybe two. It won't get overwhelming; He's just merciful like that. 🙂
Here are some of the attitude directives God has specifically given me in recent seasons:
1. Loyalty.
Loyalty is so key in relationships, but it's easy to neglect.
Our flesh always wants to do what will make us feel good at any given moment. And unfortunately, being loyal to someone often does not make us feel good… because we're only tested on loyalty when it's hard.
But loyalty is worth it. Jesus was loyal and faithful to the Father, even when it cost Him His life. He refused to disobey or walk away from the Father. Yes, He begged for the cross to pass from Him… but when Father said no, Jesus stuck with Father.
I've been tested on loyalty a number of times in recent years. I've failed some of the tests. I hate to admit that; I wish I hadn't. But some of the most important relationships I have exist because of the times I have been loyal. And now God is using those relationships powerfully in my life.
2. Honor.
Honor is the currency of God's Kingdom. When you choose to honor other people–regardless of their station in life–God will honor you.
What is honor? Here are a few examples:
Honor is when you respect your leader even when he or she is younger than you, newer than you, or a different gender than you… and you choose to submit to their authority.
When the travelling missionary had to sleep in his car last night and you find out about it, honor means your heart is grieved because he should have been provided for (and you would have met the need, had you known).
Honor is when you refuse to bash your boss or your pastor in the hallway committee, the water cooler committee, the parking lot committee, the after-church committee… you get the point.
Honor is when you bless your pastor, parent, boss, or mentor with a gift, just because you're grateful for what they have sown into your life.
When I began to really cultivate a heart of honor, God responded powerfully. He rewarded me with new and increased relationships, with honor from others, with favor and with influence. And even if He hadn't, I would have wanted it anyway because honor makes you more like Jesus.
Giving honor to others is important to God. Cultivating a heart of honor is key to your spiritual growth.
Related: Read about my personal experience getting a revelation about honor here, in We Need a Culture of Honor. Also, read You Have the Right To Talk About Your Pastor and tell me if you agree!
I could go into other attitude directives God has given me, but we don't have time here. But know this:
Attitude directives are heart changes, and you don't have to do the heavy lifting. God will change your heart if you ask Him to. Just submit to His work and conviction, one moment at a time.
And don't expect yourself to be perfect.
You may not get it right the first time. That's ok. Don't get overwhelmed. I have messed up many, many times.
But you know what? We serve a faithful, merciful God, and His mercy and grace outshines our sins every day of the week. The blood of Jesus covers our sins and gives us a fresh start–every. single. day.
Just remember this if you mess up:
If we confess our sins, He is faithful and just to forgive us our sins and to cleanse us from all unrighteousness" (1 John 1:9).
So how do you get your own attitude directives?
The same way you got your prayer directives. You get alone with God and ask Him what He wants to cultivate in your heart right now. It may be thankfulness. It may be wisdom. It may be sensitivity to the Holy Spirit.
Whatever He wants to work on, let Him. Remember His promise in Ezekiel 36:26:
I will give you a new heart and put a new spirit within you; I will take the heart of stone out of your flesh and give you a heart of flesh."
We cannot change ourselves, but God can and will change us if we will submit to His leading, molding, and shaping.
And then there are action directives. Action directives are the specific next steps you need to take in order to embrace your new season.
Action directives are where the rubber meets the road. They are where faith gets shoe leather. They are the manifestation of the new thing God is doing in your life.
And God will tell you exactly what they are and when to do each step. In tomorrow's blog post, I'm going to share EXACTLY how to get all the action directives you need for your next season.
Sound exciting? Trust me; it is. Getting God's action directives is absolutely thrilling. So check back tomorrow and let's talk some more!
In the meantime, would you leave a comment below and tell me your thoughts on prayer and attitude directives? I'd love to hear your questions and feedback!
Image courtesy of Elizabeth Haslam on Flickr via Creative Commons license. Image has been cropped and text and graphics added.