5 Ways to Ask God to Increase Your Prayer Life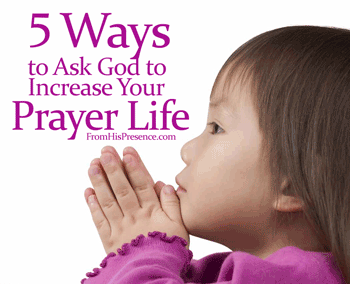 When I first gave my life to Jesus, I could not pray. I just couldn't tolerate it.
It's not that I didn't know how to pray. I literally had no capacity for prayer. I didn't like prayer, and it couldn't hold my attention. It was the same with Bible study: I couldn't read more than one or two verses in the Bible each morning. I couldn't tolerate much of the Bible.
But I knew this was a problem. I was truly saved, and I truly wanted to get to know God. I knew that prayer and Bible study were essential parts of building the relationship with God that I desired.
So I asked God to do the heavy lifting. I prayed five specific prayers that literally asked Him to change me, and to build my prayer life for me.
I thought these 5 prayers would help you too. If you want to increase your prayer life–no matter if you've never prayed before or if you're a seasoned prayer veteran–ask God for these things:
1. Lord, teach me to pray.
Even the disciples had to ask Jesus to teach them to pray. Luke 11:1 says, "Now it came to pass, as He was praying in a certain place, when He ceased, that one of His disciples said to Him, "Lord, teach us to pray, as John also taught his disciples.""
The Father is eager for us to spend time with Him in prayer, so if we ask Him to show us how to do that, He'll do so!
2. Lord, help me pray, pray through me, and intercede for me.
The Bible tells us that the Holy Spirit literally helps us pray and actually intercedes for us. Sign me up for that, right? Nobody can pray better than God.
Romans 8:26-27 says, "Likewise the Spirit also helps in our weaknesses. For we do not know what we should pray for as we ought, but the Spirit Himself makes intercession for us with groanings which cannot be uttered. Now He who searches the hearts knows what the mind of the Spirit is, because He makes intercession for the saints according to the will of God."
One of my heroes, Charles Finney, wrote: "Let it never be forgotten that no Christian ever prays aright, unless led by the Spirit. He has natural power to pray, and so far as the will of God is revealed, is able to do it; but he never does, unless the Spirit of God influences him; just as sinners are able to repent, but never do, unless influenced by the Spirit" (Finney: Power, Passion, and Prayer, page 141).
We need the Holy Spirit's help. Almost every time I sit down to pray, I ask Him to help me pray and intercede for me. I can really tell a difference in how my prayer flows, and how fervent it is, when I ask the Holy Spirit to pray through me (as opposed to when I forget to ask).
3. Increase my capacity for prayer and for the Word.
The Kingdom of God always increases. Isaiah 9:6-7 says, "For unto us a Child is born, unto us a Son is given; and the government will be upon His shoulder. And His name will be called Wonderful, Counselor, Mighty God, Everlasting Father, Prince of Peace. Of the increase of His government and peace there will be no end … The zeal of the Lord of hosts will perform this."
When you pray for God to increase your capacity for prayer and the Word, you are praying for His government, His kingdom, and His and Lordship to increase in your life. You're asking Him to change your heart. He loves that prayer and always answers it!
4. Open Your Word up to me.
The Bible is meant to be prayed through, not just read. It's our vocabulary for prayer. But without the Holy Spirit, we cannot understand the Bible. The apostle Paul wrote in 1 Corinthians 2:14, "But the natural man does not receive the things of the Spirit of God, for they are foolishness to him; nor can he know them, because they are spiritually discerned."
Every time I sit down to study the Bible, I always ask the Holy Spirit to open it up to me and help me understand it. The Holy Spirit illuminates everything for us, if we will let Him. After all, God is light, and in Him is no darkness at all (1 John 1:5). When God shows up, things start to make sense.
5. Sear Your Word into my heart like a brand.
I blogged about this on Day 5 of my series, "21 Days to the Manifest Presence of God." Please check out that post (and the song by Misty Edwards that I included with it).
Basically, when I pray this, God changes the landscape of my heart and spirit, making His Word part of who I am. This helps me to remember what I read and learn.
When I got saved, I started to pray these five things every day. And little by little, He answered! Now I enjoy prayer more than any other thing. It's my time with God that makes everything all right in my life.
He will answer you the same way! If you will ask Him to do so, God will increase your capacity for prayer and will give you the unction to pray.
Is there another prayer you know of that helps you build your prayer life? Please share it in the comments if so!